Entertainment
Maximillion Cooper Reaching Goals With Wife! No Room For Divorce Feels
Sometimes finding the right partner is really hard.
Don't believe us, just ask Maximillion Cooper, who had been married for 11 years with his business partner wife prior to their divorce.
For Maximillion Cooper and his then-wife Julie Brangstrup, who jointly co-founded Gumball 3000 Car Rally which is on its 20the year, having it all did not stop them from getting a divorce.
Ex-wife Julie not only had four kids with him but also made lots of money together. After the separation, Maximillion found himself a lovely second wife, with whom he created new life goals.
Gets Divorce With Ex-Wife, Second Wife Gets Along With His Kids
Maximillion Cooper, a British entrepreneur/fashion designer, got divorced and separated from his ex-wife Julie Brangstrup back in May 2010. On the same year, he got acquainted with his now-wife rapper Eve, after they met at a Gumball 300 rally in 2010. They reportedly began dating in the very same year.
See Also: Cody Nickson & Wife-To-Be Pregnant With First Child | Family Of Four
However, according to Eve Jihan Jeffers-Cooper, their romance nearly came close to not even getting started when she found out about Maximillions kids.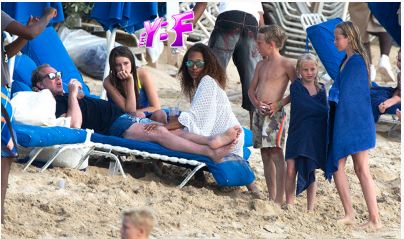 Maximillion Cooper and Eve pictured with their kids during a vacation in Barbados (photo: theybf.com)
In an interview with Sohh magazine in 2013, three years after starting her romance with Maximillion, she was quoted saying it took her about one minute to digest the fact that she would not only be becoming Maximillion's life partner, but also a mother to his four kids.
She said at that time:
"It took a minute. I was like, 'I'm not sure this is what I want to be my life.' You know? But honestly, it's been three years now and we've gone on vacations together, and they're the sweetest kids."
Maximillion not only got a loving and caring life partner in Eve, but he also found a lovely mother to his kids.
Happily Married, Plans For New Addition In The Family
When asked about what made their relationship so great in an interview with PEOPLE in April 2016, Eve gave all the credit to mutual respect and loyalty.
She was quoted as saying:
"Honesty and loyalty. You know we take it day by day, month by month. We respect each other, we are the realest. It's the realest relationship I've ever had. He's my homie. All those sound like cliches but really it's working."
Maximillion, on their marriage's fourth anniversary in 2018, shared the photo of the couple wishing his dear wife anniversary on an auspicious day. He exclaimed at how they had already spent four years together and called themselves best for still staying strong. On the post, he wrote,
"Happy anniversary Mrs Cooper! 4 years married already... We da best!"
Maximillion celebrates the fourth anniversary on 15 June 2018. (Photo: Maximillion Cooper's Instagram)
Don't Miss: Angela Sun, American Ninja Warrior Host Ethnicity | Boyfriend Revealed
Maximillion and Eve exchanged their wedding vows and got married in a beautiful ceremony on 14 June 2014 in Ibiza Spain after the end of the Gumball 3000 rally where they actually met.
Eve said that they were planning to have their own children during the 2016 PEOPLE interview in April. She said:
"We can't wait to have kids of our own, Whoever is in charge, make it happen. I can't wait."
Asked in the same interview if she was having fun trying to get conceived, she provided a funny response, stating:
"All the time! All the time!"
Well, the couple has yet to welcome their first child together. But, it only seems a matter of time before they actually make an addition to their big, happy family.
Maximillion, through his various business ventures, has earned a vast amount of money, and his net worth in 2018 stands at a whopping $80 million.
You May Also Like: Jocko Sims Married & Wife | Family Insight Of 'The Last Ship' Actor
With an enormous amount of money and support of lovely wife and kids, Maximillion Cooper, seems to have everything a man wants.