Entertainment
How Much Is Maxine Waters Salary & Net Worth? Here's Detailed Biography
US politician, Maxine Waters has been a vocal supporter of black rights and protection to minority groups since she first started her path in politics.
Maxine, who herself witnessed poverty during her childhood, knew that strong legislation should be passed so that no person is left behind while receiving basic necessities and social treatments.
Getting her career started with a menial job, Maxine is now one of the most famous politicians and she reveals her struggle story through her biography!
Biography Of Maxine Waters: Age, Education, And More
Born in St. Louis, Missouri on 15 August 1938, Maxine was raised among her twelve siblings. Her biography suggests that Maxine grew up in a low-income family in a St. Louis Housing community and her single mother, Velma Moore Carr, had to work odd jobs to sustain the family.
Maxine, aged 80, described her childhood as competitive because she had to struggle even to get heard by others.
You May Also Like:- Adrienne ElrodAdrienne Elrod Bio: Did She Get Married Secretly? Tweets Scream Yes
Maxine, along with her husband and children, moved to Los Angeles in 1960, where she started doing some mediocre jobs to earn a living. In the late 60s, she joined California State University and got enrolled in sociology and completed her education with a Bachelor In Arts degrees.
The African-American representative's political start dates back to when she joined LA councilman David Cunningham as the chief deputy. She later worked for election campaigns of other politicians including Senator Alan Cranston and Tom Bradley.
Maxine also served in the California State Assembly for 14 years, becoming successful in earning fame as a fighter and the most influential black woman in politics.
Later, she was appointed to the U.S. House of Representatives as a member representing California in 1990. During her tenure as a member of Congress, Maxine advocated laws that would aid the poor and the minority community while also fighting against apartheid that was prevailing in South Africa.
She also passed legislation on women and minority tenants' right and tried to put a limit on police strip searches of the black population. However, the law took nearly eight years to make.
Loving Family With Husband And Children, Daughter Following Mother's Path?
Maxine, who is married twice, first tied the knot with Edward Waters soon after completing her high school education in 1956. The couple shares two children, but not much about her ex-husband has been revealed.
Take A Look At:- Political Column Pat Buchanan Wiki: Trump Talks, Books, Net Worth & More
Maxine and her first husband eventually separated in 1972. Post her divorce with the partner; she started dating former football player and diplomat, Sidney Williams. The couple later got married in 1977 before Maxine's husband was sent to the Bahamas as American ambassador.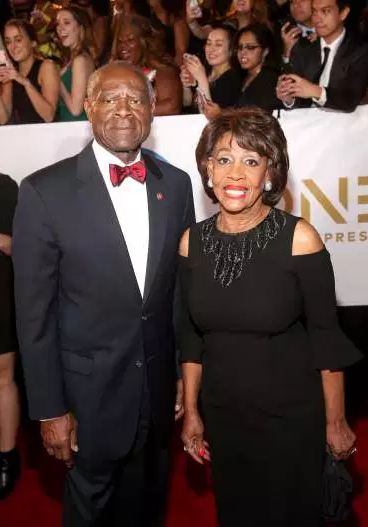 Maxine Waters with husband, Sidney Williams (Photo: Heavy.com)
Maxine, who possesses a net worth of $2 million, currently reside in a $4.8 million worth home in LA. When asked how could she afford the mansion, Maxine did not reveal her salary but explained that she had made investments in different sectors and also had liabilities which nearly equalled her assets.
You May Also Like:- Geno Auriemma Salary & Net Worth; Among Richest With Inspiring Quotes
Talking about her family life, Maxine's daughter Karen Waters has also served as her mother's assistant and has even helped during her mom's election campaigns by running the slate mailer operations. It seems like Karen has been following her mother's path and someday hopes to be a politician herself.