While Michael Cooke Kendrick might not be as famous as his actress sister, the actor has certainly paid his dues to Hollywood. Known for movies & TV series like Looking for an Echo, Celebrity Ghost Stories, and Celebrity Close Calls, Michael is an uprising talent in the acting industry.
Although he is yet to make a lasting effect as an actor, his devotion and hard work are paving a path to greatness.
Michael's Bio: Age, Height & Career
The 36-year-old actor is a native of Portland, Maine. Michael made his career debut in 2000 appearing alongside Armand Assante in the drama movie, Looking for an Echo.
Although he has performed in only a single film till date, Michael has been more regularly featured on TV. He made appearances in shows like Celebrity Ghost Stories and Celebrity Close Calls.
Recommended:- Inside Thylane Blondeau Modeling Career Now & Detailed Info Of Parents
Talking about his body measurements, the actor proclaims a height of 5 feet & 5 and a half inches (1.66m).
Family: Actress Sister And Parents
Michael was born in a middle-class family to parents, Janice and William Kendrick.
His mother is an accountant by profession while his father works as a history teacher, which makes Michael's accomplishments look great on the surface. However, he isn't the only heavyweight in the family.
Michael's younger sister, Anna Kendrick is a one-time Oscar-nominated actress for her role as Natalie Keener in the 2009 movie, Up in the Air. Further, she was nominated for a Tony award at the age of 12, making her the third-youngest child actress to gain the achievement.
Anna's Ex-Boyfriend:- "Hot Fuzz" Star Edgar Wright Dating Status After Actress Girlfriend; Another Hottie?
Anna - who is known for her attractive body physique and maintains a constant weight of 48 kgs - has also performed in several other successful films like The Accountant, Twilight, Pitch Perfect 2 & 3, Into the Woods, and more.
From her career as an actress, Anna has accumulated a net worth of $14 million to date, but the number is set to go way up in the future.
Dating Life, "Badass" Wife
Many might have a hard time believing, but Michael is a married man. And, just like his sister overshadows the actor's career, Michael's wife is the dominating force in the marriage.
Michael is married to a woman named Liza Kendrick. The couple could have been married for years, but the pair have not discussed openly on their wedding and how they commenced their relationship.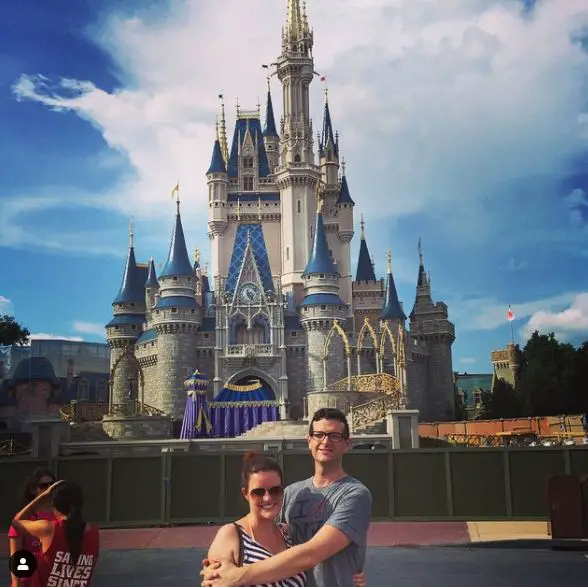 Michael Kendrick with wife Liza Kendrick at the Disney's Magic Kingdom in August 2015 (Photo: Michael Cooke Kendrick's Instagram)
Liza is more like a crazy girlfriend than a caring wife. She is an avid gun-lover, as Michael often calls her a "badass." However, the love between the two is uncanny, and something exceptional, which can't be put into words.
As for the past, Michael's dating life before meeting his wife seems non-existent as the actor has never spoken on any of his former girlfriends.