Entertainment
Michelle Fairley Secretly Married And Has A Husband? Gives Explicit Insight Inside Life In An Interview
The life of celebrities that fans usually fantasize doesn't only come with pros; there are equal amounts of cons as well. It is hard maintaining privacy, as the media is always hungry for content and constantly keep tracking all the activities a celeb does.
Despite all the media attention; Michelle Fairley, known for her role as Catelyn Stark in Game of Thrones, has been able to keep things under the radar. Has she kept her marital status a secret or is she yet to walk down the aisle with somebody? Read along to find out!
Married Woman With Husband & Children? Any Lesbian Partner?
Michelle, who stood out from her performance in Game of Thrones as Catelyn Stark, is found to be very adamant about giving away information about her personal life.
Fellow GOT Star:- Rose Leslie & Kit Harington Married; Recited Wedding Vows In Front Of 'Game Of Thrones' Crew
She has maintained the ultimate privacy when it comes to talking about her relationship; no wonder the media is yet to figure out what her relationship status is.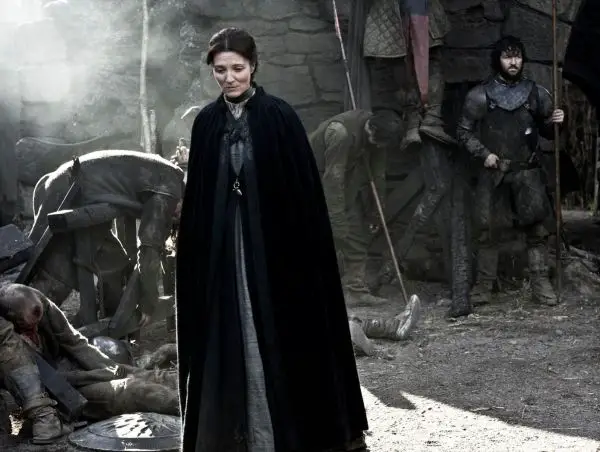 Michelle Fairley in GOT as Catelyn Stark, a devoted mother and fiercely protective of her family (Photo: thevoiceofnation.com)
However, she is probably single since she revealed some information in an interview with The Telegraph. She talked about a whole lot of things in the discussion and also mentioned about her past relationship that ended because she wanted a change.
Michelle didn't give away the information of the man she dated and how the relationship was brought on board, but she did reveal that it was a seven-year-long relationship.
Talking about the separation, Michelle mentioned,
"My decision to be on my own was my decision, There are times when you have to face the truth, you have to face reality in your life and you either go in with someone or you go, 'No, I want a change, I need a change. It's my life'. It was a voice in your head that you can't not listen to. Though you ignore it for a long time."
Despite the seven years long romance, Michelle and her partner didn't get married. She also doesn't have a child of her own but admits; she is a godmother to many children.
When asked if she isn't interested in having a child, she gave a candid reply,
"I missed the gene. I was never born with that in my psyche, in my body. My sister Simone, from very young, you could tell instantly she did. I have many nieces and nephews and I am godmother to many children but it's never been in me. Sounds awful, doesn't it, "I expect people to always go, 'Oh my God, cold b----'. Why? Why have children just because I've got a womb?"
Since the media didn't have the precise information about Michelle's relationship back in the days, some people even formed an opinion of her being a lesbian.
Well, now that she has cleared the air, it's evident that the prior speculation didn't hold any grounds.
A Little Insight On Michelle's Family
Daughter of Theresa Fairley and Brian Fairley, Michelle Fairley was born in Coleraine, Northern Ireland. She has walked past fifty-five years of her life as she was born in January 1964.
Irish Actress In Our Vault:- Katherine Ryan Thoughts On Having Boyfriend | Keeps Daughter In Private
She grew up in Co Antrim, where her father owned some pubs, and her mother worked as a nurse before taking the time to raise her children. Nobody else from her family acts, though they are "big readers and musicians."
Her career as an actress started in 1986, and she is continuing to date. She began her career appearing in some British television shows and has acted in few films, including Harry Potter and the Deathly Hallows - part one, The Invisible Woman and few more.
A strong work ethic, respecting others while being truthful to everybody is what Fairley learned from her parents. Reading books is her hobbies as she revealed, she has read the A Song of Ice and Fire books - Game of Thrones is the TV adaptation. And she thinks reading those books aided in her performance.
Michelle's Time At Game of Thrones
The writers of the Game of Thrones signed her up after they saw her play Iago's wife, Emilia, in Othello at the Donmar Warehouse in 2008. She played as Catelyn Stark in GOT, where Sansa Stark (Sophie Turner) was one of her daughters and Eddard Stark (Sean Bean) was her husband.
Despite the fact Catelyn got excluded in the series' fourth season, she impacted the viewers with her work.
More GOT Content:- Game of Thrones Season 8: GOT Final Season Airing In April, A Holocaust
A fan favorite among the Game of Thrones fandom, Michelle's character Catelyn appeared on the first three seasons.
Of all the episodes, she garnered most recognition for her scintillating performance came during the chapter called The Rains of Castamere. Writing about her acting on the very matter, Time said:-
"Michelle Fairley's fantastic performance captures the horror, with the edge of desperation, anguish, and madness of a woman... "
Following the Red Wedding chapter, Theresa's character's storyline diverges from the original book. Per the stated novel's plotline, Lady Stoneheart is the resurrected persona of Catelyn.
Ahead of the premiere of the season eight of Game of Thrones, the showrunner D.B. Weiss made a startling revelation -- after shooting Catelyn's death scene, Theresa didn't answer the producers' call because of the emotional toll the filming took on her.