Fast and Furious star Michelle Rodriguez has tasted her share of relationships with both men and women alike. Although it took the actress a few years to open up about her flexible sexuality, her list of past romances made it apparent to viewers.
Michelle's movie roles were also a crucial factor in the initiation of gay rumors surrounding her.
But there's no need in getting deeper into her sexual preference as her relationship history says it all.
Dating History 
The artist's earliest known relationship is with a Muslim boyfriend from back in 2000. She was almost on the way to making him her husband, but the religious differences between them led to their break up.
A year later, she dated actor Vin Diesel, her co-star from the Fast & The Furious franchise. Their relationship lasted for only a year, but the two continued to remain in good terms and went onto appear alongside in several movies together.
Her attraction to co-star didn't end with Vin. In 2003, Michelle started seeing actor Colin Farrell, her co-actor from her movie, S.W.A.T. 
Colin Farrell's Co-Star:- Lake Bell Husband, Baby, Movies, Net Worth
After a few months of the relationship, she moved on to date another co-star from the same film. This time it was Oliver Martinez, who played the role of the antagonist in the movie.
Rumors of her affair with the actor got out after the two were spotted kissing at P. Diddy's yacht in France. Unfortunately, Oliver was also dating singer Kylie Minogue at that time, so the relation wasn't going anywhere.
Things took a more exciting turn in 2003, as the performer started showing interest towards the same gender. Rumors surfaced that she was dating adult star, Jesse Jane.
On top of that, in 2006, she started forming an intimate relationship with actress Kristanna Loken. The pair had met one another while working on the movie, BloodRayne.
This relation too lasted about a year, and she succeeded in keeping her personal life lowkey for about almost six years. In 2014 though, her rumored relationship with model and actress Cara Delevingne created quite a buzz. Michelle was spotted getting passionate with Cara at a basketball game on 7th January the same year.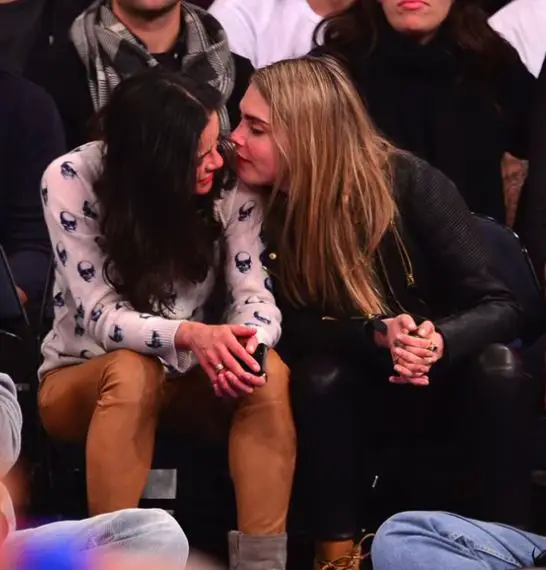 Michelle Rodriguez and rumored partner Cara Delevingne get intimate during a basketball match in 2014 (Photo: YouTube.com)
However, Michelle separated with her rumored girlfriend in June 2014.
Likewise, her last known confirmed relationship was with actor Zac Efron.The pair dated from June to August of 2014.
Partner Now, Age
As of now, the 41-year-old actress doesn't seem to be dating anyone. There is also a probability that she wants to keep a low-key profile on her personal life. Michelle is mostly seen accompanied by her best friend Mohammed Al Turki in several red carpet events, including the 2019 Cannes Film Festival.
Spotted In Cannes Film Festival:- Scott Disick Ignites Dating Rumors; Takes Bella Thorne To 'Cannes'
The two besties have known each other for a long time, dating back to 2015. Since then the S.W.A.T beauty hasn't shied away from expressing love for her BFF. However, Michelle is yet to reveal her dating status as of 2019.