Entertainment
Finally! Morgan Stewart Ready to Be Pregnant With First Child With Brendan Fitzpatrick
Finally! Morgan Stewart Ready to Be Pregnant With First Child With Brendan Fitzpatrick In an exclusive interview with In Touch, Rich Kids of Beverly Hills alum Morgan Stewart announced that she is all set to welcome a baby with her husband of one year, Brendan Fitzpatrick after opposing the idea of conceiving a baby in the past.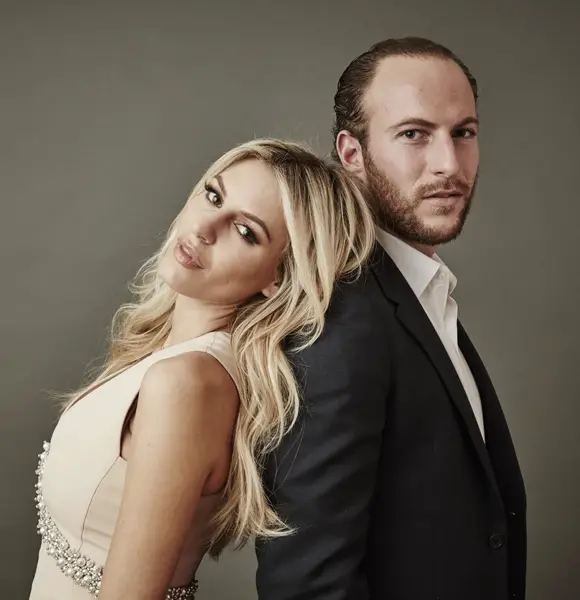 The name Morgan Stewart from Rich Kids of Beverly Hills is a well-known face in the industry. She has managed to grab huge attention from her ability to enjoy her life with positivity. Morgan, who enjoys a lavish lifestyle, is not only a reality star but is also a socialite with a large fan following.
Whether it's on Twitter or Instagram, the reality star speaks her mind. She created quite a stir when she floated the idea of carrying her husband Brendan Fitzpatrick's first baby.
A closer look at Morgan's wiki will reveal more including her parents' net worth, wedding, and more!
Floats Being Pregnant With Brendan Fitzpatrick's First Baby
In an exclusive interview with In Touch, Rich Kids of Beverly Hills alum Morgan Stewart announced that she was all set to welcome a baby with her husband of one year, Brendan Fitzpatrick after opposing the idea of conceiving a baby in the past.
Don't Miss:- Rachel Weisz Welcomes Baby Girl, First Child With Husband Daniel Craig!
Her earlier decision to not have a baby made her husband say that he liked to find a lady who wanted kids. On 31 July 2016, the reality star took Twitter to reveal her idea of pregnancy. She tweeted:-
"If one more person asks me if I'm pregnant or trying to get pregnant..."
Right after a year, Morgan revealed that she would like to get pregnant and have her first child, but at an appropriate time. She explained:-
"Kids are definitely closer to happening. Listen, I love kids and I definitely want to have them with Brendan. I think when the time is right, we will make sure it happens."
The reality star began dating her then-boyfriend since November of 2012 as evidenced by her anniversary tweet. The pair would eventually get married following four years of courtship.
Morgan Stweart Wiki Unveils Her Parents' Net Worth & Lavish Wedding 
Morgan and her long-time boyfriend Fitzpatrick got married on 7 May 2016, in a lavish wedding ceremony at the Hummingbird Nest Ranch in Santa Susana, California.
Discover:- Katherine Waterston Age 38 Bio: Pregnant With Baby, Who Is Her Husband?
The pair performed the nuptials in front of their family, friends, and co-stars which included EJ Johnson, Johnny Drubel, Dorothy Wang.
Morgan and her husband Brendan on the day of their wedding (Photo:- Morgan Stewart's Instagram)
Morgan previously talked about her plans for a wedding in an interview with PeopleStyle, where she revealed that planning her wedding is something over the top experience, which is very stressful. She explained:-
"I feel like we went into this whole thing thinking 'We're the best couple in the whole world, we love each other, we've never fought… well we've never fought more except for this wedding,' " she laughed. "Like the things that you don't think you care about and then all of a sudden you have to make a decision about how your 'B' is going to look on your invitation — and that becomes a 35-minute discussion."
The pair got engaged a year before they tied the knot. The real estate agent Brendan Fitzpatrick proposed Morgan with a very captivating 4.25-carat oval diamond ring in an episode of Rich Kids of Beverly Hills in June 2015.
Read Also:- Lydia McLaughlin Age 37 Wiki Reveals Parents & Hefty Net Worth In Detail
The reality star marked their second wedding anniversary by penning a heartwarming Instagram post. The caption which accompanied a snap of the two from the day of their wedding read:-
"You may not be my number one priority on social media but you're definitely my number one priority in REAL LIFE!"
Also, Morgan surprised her husband of two years on his 30th birthday by throwing a bash at Mr. Chow.
However, things went downhill from then onwards. The loving couple who had been married for three years took it upon themselves to separate and start a new life. Both Morgan and Brendon mutually decided to part ways and announced the news in July 2019.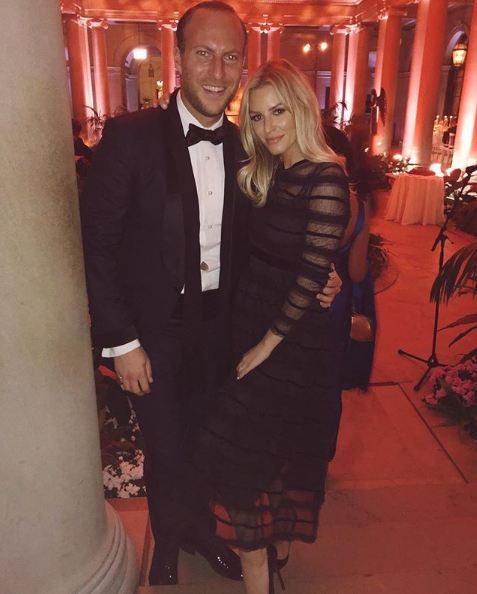 Morgan and her ex-husband Brendan in March 2019 (Photo: Morgan Stewart's Instagram)
Though they are not together the two are on good terms with each other. Likewise, Brendon was seen enjoying some family time with his father going out on fishing in August. On the other hand, Morgan was more focused on her professional career as she continued to promote her clothing line.
Adding to the same, the hilarious fan-favorite Morgan Stewart of E! reality series Rich Kids of Beverly Hills freely admits to living off her parents' income and her net worth is estimated to be $1 million.
Her lifestyle is supported by her father Herb Stewart's earning who is a successful architect. According to Herb's wiki, he is also a president and owner of H Construct, Inc.
Interesting:- ESPN's Ramona Shelburne Surprising Salary & Net Worth | Bio Uncovered
With every passing year, Morgan seemed more than eager to follow her father's footsteps all the while making a name for herself as a fashion designer as well as a TV show host. Her clothing deal with TLA saw her pocket big bucks and also received favorable reviews online. Also, she constantly boasts about her clothing line and promotes it on her Instagram Handle.
As of August 2019, she is working on women sportswear which goes by the name Morgan Stewart Sport on Instagram.
As for her TV gig, she and Nina Parker hosted a half-hour weekly series Daily Pop, starting from 29th October 2018. The show primarily focussed on everything in pop culture.