Entertainment
NBC News' Jenna Wolfe and Her Lesbian Girlfriend. Not yet Married But Have 2 Children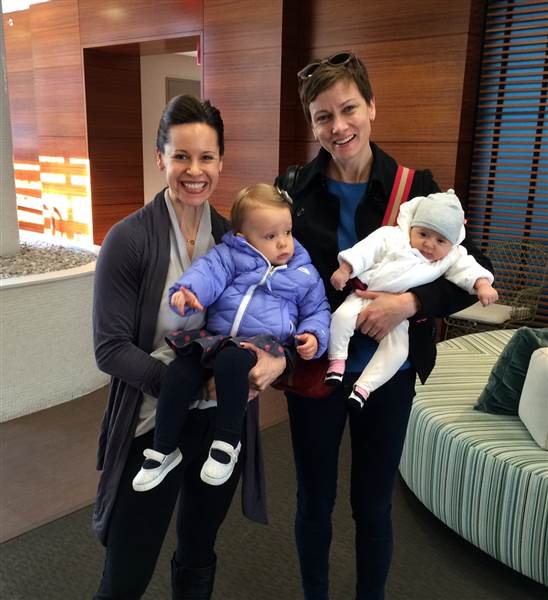 Quick Information
Divorce/Split

Not Yet

Lesbian

Yes

Eye Color

Dark Brown

Hair Color

Dark Brown

Hair

Long

Feet (Shoe) Size

8.5 (US)

Weight

62 kg (137 lbs)

Height/ How Tall? 5'6" (168 cm)
College

Binghamton University

High School

SUNY-Geneseo

Net Worth

$2 Million (Estimated)

Dating/Affair

Stephanie Gosk (2012–present)

Girlfriend

Stephanie Gosk (2012–present)

Date of Birth Feb 26, 1974
Relationship Status

Dating

Daughter/s

Quinn Lily Wolfeld-Gosk, Harper Estelle Wolfeld-Gosk

Mother

Sheila Greenfeld

Father

Bennett Wolfe

Ethnicity/Race

Jamaican

Birth Place

Kingston, Jamaica

Religion

Judaism

Zodiac Sign

Pisces

Birth Name

Jennifer Wolfeld

Profession

Journalist

Nationality

American
Unlike many journalists, NBC News correspondent Jenna Wolfe has not concealed her life, keeping a low profile. Instead, her personal life is as open as her professional one. 
If you don't know, Jenna is a mother of two daughters, yet she is not married. She had, in fact, declared herself as a lesbian on March 27, 2013.
Must have been pretty scary doing it, but Jenna dared it. Want to know who her partner, or rather say, who her girlfriend is?
Who is Jenna Wolfe's Girlfriend?
Jenna is currently cohabiting with girlfriend Stephanie Gosk, who is also a correspondent for NBC News. According to Jenna, they started dating in early 2010, and on March 27, 2013, she revealed that she is dating her girlfriend as well as expecting a child with her girlfriend Gosk (Wolfe reportedly underwent artificial insemination with an anonymous donor).
Read More on: Entertainment NBC News' Stephanie Gosk is Happy With Her Lesbian Partner
Here is a video of Jenna uncovering the biggest secret of her life on-air regarding her girlfriend and her being a lesbian.
Caption: Today Show's Jenna Wolfe comes out on air and announces pregnancy with her girlfriend (2013)
In an interview with Today Parents (2013), she said:
"Of all the jaw-dropping, head-turning, and eye-popping things I've ever told my friends and family ('I swam with killer sharks,' 'I jet-packed 30 feet out of the water,' 'I scaled the tallest building in Canada'), nothing garnered more shock and awe (and, yes, some tears) than when I told people I was pregnant." 
"Just writing those words -- 'I'm pregnant' -- is surreal to me," she continued. "After all, I was never the kid that ran around playing house. I never had daydreams about being a mom and raising a family...As a kid, I would have chosen raising my adrenaline over raising children any day of the week. But then a funny thing happened on my way to adulthood...I grew up."
Jenna's two angels
Harper Estelle Wolfeld-Gosk
On August 21, 2013, Jenna and girlfriend Stephanie welcomed a baby girl and named her Harper Estelle Wolfeld-Gosk. Harper even has her Twitter account. 
Quinn Lily Wolfeld-Gosk
Almost two years later on February 4, 2015, the couple was blessed with another baby girl and named her Quinn Lily Wolfeld-Gosk. Here is a picture of when Quinn was born.
Both the sisters are too cute and adorable, and when they sit side-by-side, they break the scale of cuteness. Here are some photos of the two little sisters together.
According to a source, they previously went through artificial insemination with an anonymous donor. We do not know if that is true or not, but whatever it is, Jenna is very happy with her girlfriend Stephanie and their two daughters.
Being a personal trainer and fitness expert, Jenna Wolfe has also managed to establish herself as a renowned journalist. Currently working as an NBC News correspondent, Jenna is an acclaimed and self-inspired personality.
Jenna Wolfe Demoted for being Pregnant?
Jenna Wolfe was once NBC's star on the weekend edition of 'The Today Show' alongside Lester Holt. The two meshed quite well and seemed like good partners and friends; however, when Jenna was abruptly replaced by Erica Hill.
You might like: Ron Stallworth and His Wife- An Old Love Story that Rekindled
The change was not welcomed that well, and many questioned NBC's decision and wondered why Jenna was demoted. However, fellow Journalist Rick Sanchez raised some intriguing questions everyone meant to ask.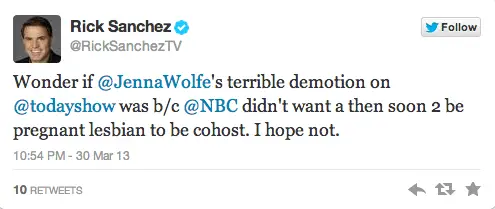 Caption: Rick Sanchez has an intriguing question (source: mediaite.com)
Speculation was made that Jenna had to choose between her job and her child, and she chose the latter. Of course, Rick had no backing for this assumption, and when it was reported that the truth was far different, his ideas were pushed back even more.
According to sources, there's no animosity between Erica, Wolfe, and NBC; the demotion is a complete logical course of action. It was reported that NBC had been trying to get a hold of Erica for quite some time and when she agreed to work on 'The Today Show,' Wolfe had to make space.
It was further reported that Jenna only reported her pregnancy after the demotion, and Erica herself provided advice and suggestions to Jenna regarding childbirth and pregnancy. Seems it's all in the books now, and it's all fair and good. 
However, Jenna did leave 'The Today Show' about a year later when she took on the role of the Online correspondent for lifestyle and fitness for NBC news. This eventually led her to create her current identity of the fitness advocating Jenna we know of. Great to know it turned out quite fine!
More on Jenna Wolfe's
Wolfe was born on February 16, 1974, in Kingston, Jamaica, and currently ages 48 years old. In 1996, Jenna graduated from Binghamton University with a Bachelor of Arts degree in French and English. 
Her first recorded work was when she worked at a Madison Square Garden Network in Philadelphia as the first female sportscaster, and later in 2004, when served as a weekend sports anchor for WABC-TV's Eyewitness News in New York City.
It was in 2007 that she joined NBC News, and currently, she serves as a Today lifestyle and fitness correspondent.
Stay with us for more updates!