One could easily assume that as the daughter of a professional wrestler, Noelle Foley would also take up a career in wrestling. She indeed chose a profession in WWE but, just not on the ring.
She became a presenter of WWE and also worked hard to establish herself as an actress. Explore more to learn about her wiki profile, dating life, and family details.
Noelle Foley Wiki & Family
Noelle Foley - age 25 - is the daughter of WWE legend, Mick Foley. Her family consists of her mother Colette Christie, father, and three brothers: Michael Jr, Hughie, and Dewey.
WWE Star Wife & Family:- Chris Jericho Wife, Gay, Age, Net Worth
Being the only daughter in her family, Noelle was always her daddy's favorite. Following Mick's footsteps, she also tried pursuing a career in WWE as a wrestler. However, Noelle left after she suffered an injury. She started working as a TV presenter for WWE Monday Night RAW.
Further, she is trying her luck in acting. Along with a tall height of six feet, and a beautiful body, Noelle has all credentials to become a successful actress. And, for good, the Georgia native has already appeared in several reality TV shows including Beyond the Mat, Holy Foley, and WWE Kitchen Smackdown. 
As of today, she possesses a net worth of $1 million. 
Dating Clown Boyfriend
While Noelle didn't succeed in becoming a successful WWE superstar, she can still compensate by the fact that her boyfriend is a professional wrestler. 
Noelle has been dating Frank Mustari - who goes by the stage name "Frank The Clown" - for years now. Frank, who resembles actor Elijah Wood in appearance, has shown his talents on Pro Wrestling, but is yet to make his debut on WWE.
Also See:- Lauren Bushnell Age, New Boyfriend, Parents
Known for his distinctive outlook, Frank even wooed his girlfriend while dressed as a clown.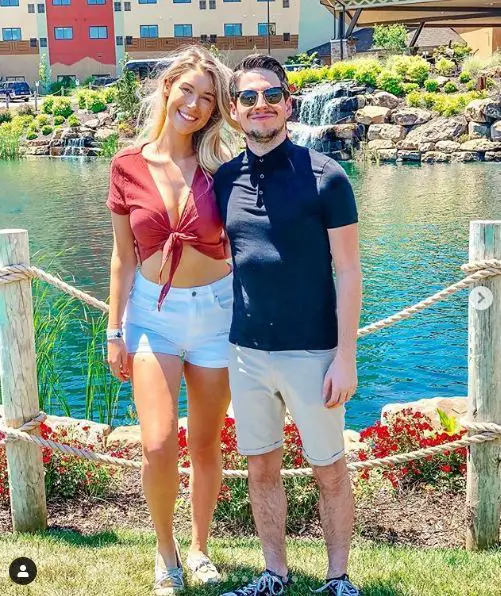 Noelle Foley and boyfriend Frank "The Clown Mustari" celebrate Valentine's Day 2019 with a romantic date (Photo: Noelle Foley's Instagram)
Noelle explained during an interview that she was instantly attracted by the weirdness of Frank when she saw him for the first time. She later followed him on Twitter, and the rest is history. 
Having been together with her boyfriend for so long, Noelle can remember a time when she was single. However, Frank was not the first choice of Noelle.
First Crush, Sniffs Randy's Shirt 
Noelle's first crush was none other than WWE superstar, Randy Orton. Back in 2016, she mentioned her first meeting with Randy when she was backstage with her father. 
She stated that the former World Heavyweight Champion dropped his shirt and later asked her to have it. Noelle disclosed that she sniffed his shirt, and it was a satisfying experience for her. 
Brec Bassinger's Crush:- Did Brec Bassinger Start Dating and Turn Co-Star Into Boyfriend Or is That Just A Fluke? Talks About Crushes And Nervousness
Noelle exclaimed that Randy had a pretty fruity smell. However, at the time, Randy was married to Samantha Speno. So, having an affair with him was a distant possibility for Noelle.