Pat Sajak is a game show host...one of the longest-running game show hosts in TV history...he has had two marriages till now...first marriage was with Sherill Sajak...his first marriage didn't last long...married for the second time with Lesly...has two children with Lesly...not gay despite the rumors...is of 73 years of age...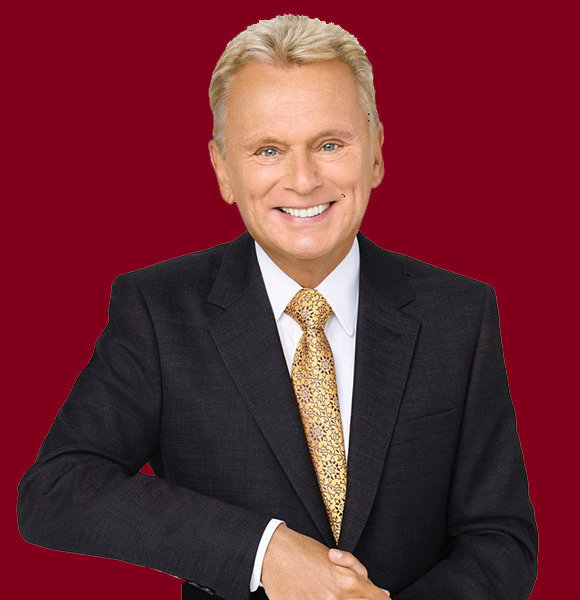 Once a gay rumor surrounding a person surfaces online, it never seems to die down.
Pat Sajak, TV's one of the longest-serving game show hosts, is one of such rumors' victims. Despite coming out as a heterosexual person five years ago on Twitter, the gay stories don't seem to stop haunting Pat.
Amid these rumors, people seem to have forgotten, or perhaps ignore Pat's extraordinary married life. So, what is so out-of-the-box about Pat's marriage? Let's find out!
Pat Sajak's Bio
Before getting into Pat's fairytale-of-a-marriage, let's know a bit about Pat himself.
Born in Chicago, Illinois, on 26th October 1946, as Patrick Leonard Sajdak, the Wheel of Fortune host, started from scratch. He suffered from poverty in his early life but was determined to change his fortune.
On the way to overcoming his economic struggles, he initially served as a radio host for the US National Army during the Vietnam War. Pat also worked as a weatherman at WSM-TV Nashville.
Read More:- Dawn Steele Husband, Married, Parents,
After his time at Nashville, he moved to KNBC in 1975, where he landed the role of the host on Wheel of Fortune. And, the show has been his career's biggest highlight.
An accomplished helicopter pilot, a huge hockey fan, and an actor, Pat is easily one of the most recognizable faces in the show-biz. A handsome guy even at the age of 73, Pat has a height of 5 feet 10 inches (1.78 meters).
Married Life, Wife
Pat is married to his second wife, and the TV show host has had his ups and downs when it comes to married relationships.
The Chicago native's first nuptial relationship was with Sherrill Sajak. They got married in 1979. Unfortunately, the knot wasn't meant to last, and the ex-couple divorced in 1986, just after seven years of being together.
But, Pat's second marriage is where things get interesting. Pat and Lesly Brown, his partner now, have been married for 20 years.
However, as Pat recalls it, the relationship wasn't a "love at first sight." He and Lesly initially started as friends, and they had a long-distance friendship over phone calls.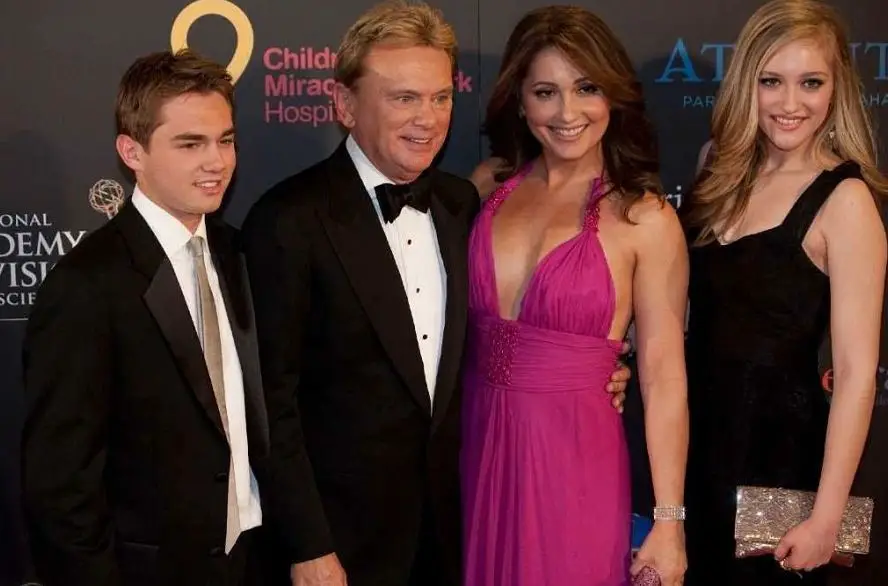 Pat Sajak, Lesly Brown Sajak, and their children at a function (Photo: Legit.ng)
But what's meant to be will be. As time passed, they started to like each other romantically and began dating.
Over time, the relationship turned into something earnest. So, the couple got married on 31st December 1989 in Saint Mary's Roman Catholic Church in Annapolis, Maryland, and have been leading a happy married life together ever since.
Recommended For You:- Harrison Gilbertson Dating, Family, Net Worth
The couple has two children together - a son and a daughter. Patrick Michael Sajak, their son, was born on 22nd September 1990. After five years, on 5th January 1995, their daughter Maggie Marie Sajak came into this world.
Despite having two children with his wife of 20 years, the gay rumors don't seem to simmer down for Pat Sajak. But, it is safe to say that Pat is not gay and never has been one, either. 
Health Issues In 2019
As people grow with age, mortality catches up to them. For Pat, the case remains no different.
On 9th November 2019, the host of Wheel Of Fortune was announced to have gone emergency surgery and was in the process of recovery. According to the game show, its legendary host had to undergo a correctional surgery for a blocked intestine.
After the surgery, Pat's taking a short leave of absence from hosting the show. While he is recovering from the surgical procedure, his role as the host will be filled by non-other than American TV personality and Pat's co-host, Vanna White.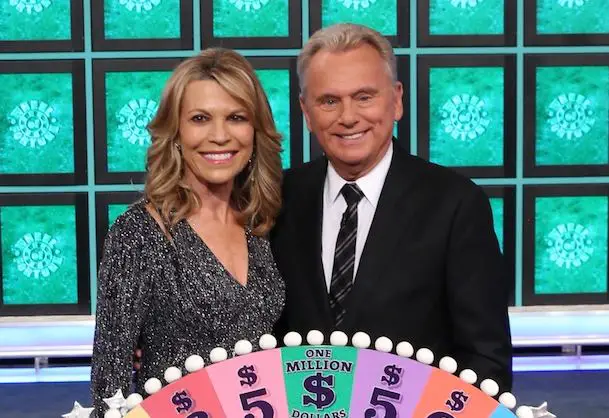 Pat Sajak with co-host Vanna White on the sets of Wheel Of Fortune (Photo: tvline.com)
Vanna had previously stepped in the same shoes back in 1996 when Sajak had laryngitis. For a fact, Pat and Vanna have co-hosted the show long enough to celebrate their 7000th episode together.
Interestingly though, neither the show nor Pat commented about the duration of his absence from the show. Since Pat and Vanna both have contracts renewed through 2022, it is quite sure he will be returning sooner or later.