Entertainment
Channel Nine Reporter Yvonne Sampson Reveals Her Family Secret of 5 Decades! Wondering What It is?
There is always something that is hidden by a person. Even if, a person opens up about his secret, there is always another remaining in the form of happiness, pain or sorrow. Many people prefer to make a knot of their secret while some people have guts to reveal them out.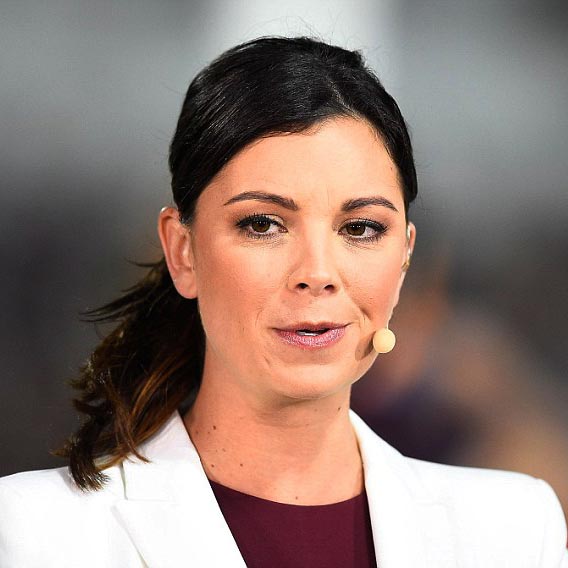 There is always something that is hidden by a person. Even if, a person opens up about his secret, there is always another remaining in the form of happiness, pain or sorrow. Many people prefer to make a knot of their secret while some people have the guts to reveal them out.
Likewise, Former Channel Nine Reporter Yvonne Sampson hasn't hesitated to reveal her family secret of five decades. Wondering what kind of secret she has revealed? 
Yvonne Sampson Bio Unveils Family Tragedy
Will you be surprised if we tell you that Yvonne Sampson was adopted by a very adoring adoptive family? Well, this is one of her dark secrets which she revealed to Fairfax Media's sports columnist Danny Weidler through an email. 
Other Yvonne In Our Vault:- Yvonne Orji Reveals She's Been Dating; Keeping Something Till She Gets Married With Husband
She was adopted by a couple living a rural farm who struggled to have children of their own. Yvonne, by the very young age, knew that she was adopted. In an email to Danny Weidler, she wrote:-
"Growing up in a beautiful, rural setting, riding horses and stealing strawberries from the farm next door, I never would have thought my family was a victim of racism. Like any family, mine also has its deeply held secrets, buried to protect or to avoid shame and the secret we recently discovered has changed my identity."
The Australian journalist followed up by writing:-
"I've always known I was adopted. As soon as I could ask 'where did I come from?' my mother and father carefully explained they couldn't have children of their own, so they waited and waited until finally I came along."
As Yvonne grew up, she had the knowledge about her biological parents. When Sampson turned eighteen, she met her birth parents and found them as wonderful people. 
She came to know that her mother got pregnant as a teen and the pregnancy at a very young age was the reason for her parents to give her up for adoption. She has explained about her meeting with her birth parents in the same email.
"Luckily, when I turned 18 I met my birth parents, who turned out to be wonderful people who fell pregnant as teenagers and decided they were too young to raise a child. Thankfully, my birth parents and I have maintained a loving relationship ever since."
Well, her adoption is not only the secret that was buried, but there is also another bombshell which traumatized her and shattered her family.
"Charters Towers, 1964, a 21-year-old mother was told her infant died of pneumonia. Secretly, the baby boy was perfectly healthy and given to another family to raise. Why? Because the young woman was Aboriginal. A mother was left to grieve a baby who didn't die, while the boy grew up never knowing his mother or her heritage."
The boy who grew up knowing nothing about his mother was Sampson's birth father. On Boxing Day, Yvonne Sampson's received a heartbreaking phone call from her birth dad where he said that his mom was alive who was said to be dead in car accident fifty-one years ago.
Read Also:- Brody Jenner A Step Closer To Getting Married! A Happily Engaged Man Sharing His Moments
For around five decades, the truth about a son's mother was buried and avoided as she was aboriginal. As they solved the puzzle, they found that the mother who was said to be not alive was working as a nurse helping other young Indigenous women.
After discovering the racial identity, bio and family history, Yvonne said:-
"While I'm slowly piecing together the rich tapestry of my background, I'm so grateful secrets are being solved, wrongs are being made right and to have a connectedness to Indigenous Australia."
Suffice to say, Yvonne's tragic family saga will make Shakespear's greatest tragedies cower in shame!
Allegedly Dating Cricketer Boyfriend Amidst Lesbian Rumor
Though Yvonne, who had to fend lesbian rumors every now and again, has revealed the dark secrets of her family which have been buried down for decades, she hasn't publicized her personal life and love life.
However, she was once linked with cricketer Chris Lynn, but she said that she hadn't met him even once.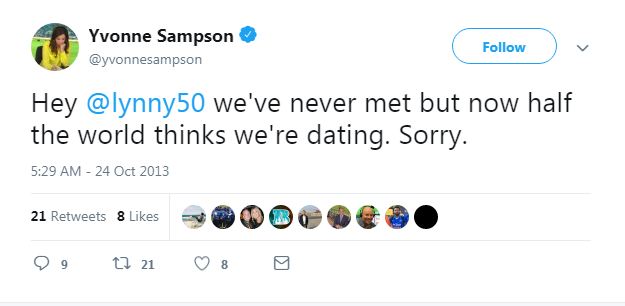 Yvonne clears the air surrounding her relationship with Chris (Photo:- Yvonne's Twitter)
Sampson, who is in her mid-thirties, hadn't always revealed information about her partners before her engagement to Channel Nine reporter Chris O'Keefe.
Don't Miss:- Is Vanessa Marquez Married Or Dating Someone? A Glance At Her Personal Life
Yvonne & Her Boyfriend's Star-Studded Wedding; Who's Her Husband?
After years of failed courtships with her numerous ex-boyfriends, Yvonne finally agreed to marry the man of her dreams.
Yvonne's partner Chris O'Keefe is an accomplished political reporter who's currently working for Nine Network Australia. Before joining the Sydney-based news network in 2013, he worked for Network Ten and Fairfax Media.
The Fox Sports presenter took to Instagram to announce her engagement with her then-boyfriend Chris in April of 2017. Brandishing the engagement ring, Yvonne looked smitten as she posed next to Chris. The post was accompanied by a caption that read:-
"I Love Him." 
At the time of their engagement, the pair had been dating for more than two years, having initially met at Channel Nine Brisbane Newsroom.
In October 2018, about one and a half year after getting engaged, Yvonne married Chris in a lavish wedding ceremony in the New South Wales Southern Highlands.
All in all, the wedding was a star-studded affair, featuring star guests including NRL CEO Todd Greenberg, former football player Gorden Tallis, and Fox Sports presenter Jess Yates.
Discover:- Lucy Spraggan & Wife A Lesbian Power Couple; A Teary Story To Bliss
Two days after the wedding, Yvonne shared a picture of her and her life-partner Chris from their wedding day on Instagram.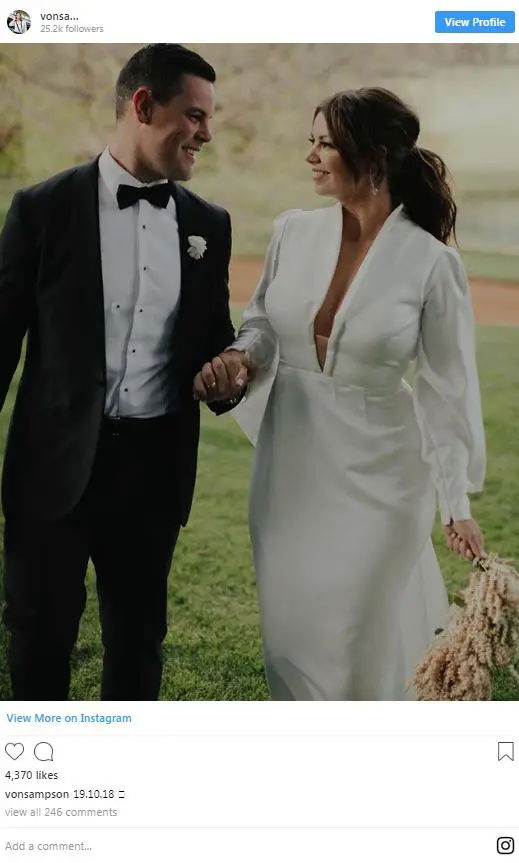 Yvonne shares a pic from the day of her wedding (Photo:- Yvonne Sampson's Instagram)
As for their honeymoon destination, the newlyweds had opted to vacation in "Paris and Parts of Europe."