Entertainment
Who Is Rodney Hood Girlfriend Turned Wife & What Is Salary? Age To Contract
Coming from a family full of athletes, American basketball player Rodney Hood was influenced to play the sport since a young age. The game not only brought fame and money for the young Rodney but, also helped him secure a loving relationship with his girlfriend, who would eventually become his wife.
As the partners have come a long way into their romance and have even started a family of their own, the couple is inseparable and even seems to be so for the rest of their lives.
Married To Girlfriend-Turned-Wife; Family Of Five
Rodney met his then-girlfriend and now-wife, Richa Jackson while playing for the Duke University. His girlfriend was a fellow women basketball player at Duke, and the duo immediately hit it off beginning their dating life in October 2012.
It's Official:- AGT's Hunter Price Age 25 & Kathryn Dennis Are Officially Dating
Richa, age 27, is a year older than her partner but, age is just a number in the lovers' case, right? With all the bliss, the couple became parents to their first child: a baby boy in January 2016.
The couple would go on to welcome two more children into their family but not before they tied the wedding knot. Rodney and Richa married in a romantic ceremony attended by family and friends on 29 July 2016.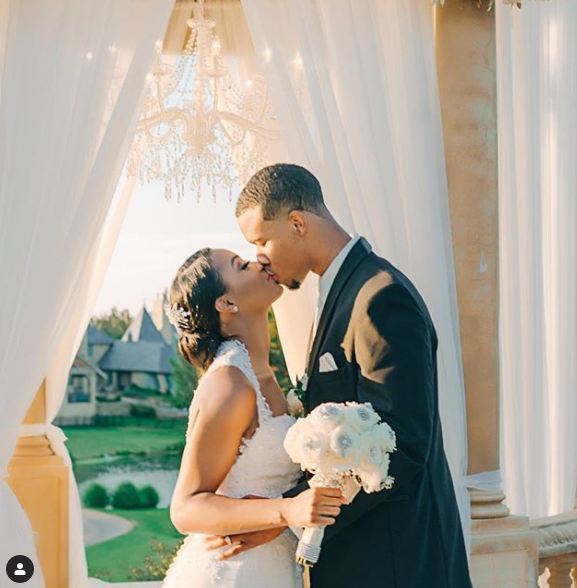 Rodney Hood and wife Richa Jackson at their wedding on 29 July 2016 (Photo: Richa Jackson Hood's Instagram)
While Rodney and his wife were raising their little son, the couple got surprised with Richa's second pregnancy in mid-2017.
Wedding Fever:- The Beautiful Monica Beets Wedding, Meet Husband - Who She Married?
The family's happiness was amplified when Richa gave birth to twins in April 2018, whose gender and names have not been disclosed. The pair also celebrated their six years of togetherness in October 2018, and with their loving family of five, Rodney and his wife are living the American dream.
Hails From Basketball Family; Salary & Net Worth Discussed
Rodney belonged to a family of basketball players, which made him have the interested in the sport at an early age. All of his family members including his father, mother, and siblings played basketball during their youth.
Rodney, who attended the Meridian High School, got enrolled in basketball during his schooling years. His tall height of 6 feet and 8 inches and weight (now 206 pounds) helped him stay and excel in his game.
He later played college basketball for the Duke University and the Mississippi State University.
Rodney was appointed as the 23rd Overall by the Utah Jazz during the NBA Draft 2014 and played for the team for four years. In 2018, he signed a mid-season one year contract with the Ohio based Cleveland Cavaliers.
More NBA Players:- Kemba Walker Found Wife To-Be? Here's What Mystery Girlfriend Looks Like
The contract guarantees him a salary of $3.4 million, and it could extend with a rise in his salary if the athlete performs well during this season. Rodney's partnership with the Cavaliers has made him a millionaire, even though the exact amount of his net worth is not revealed.