Entertainment
Gay Ronan Farrow Reveals Screenwriter Boyfriend! Romantic Dating Status
The American Pulitzer Prize-winning journalist, Ronan Farrow finally made his way out of the closet revealing about the romantic relationship. Ronan, who was previously opened for a romantic relationship with both men and women, has finally found his grounds. While most of us were following his gay rumors, he has addressed his personal life openly in the media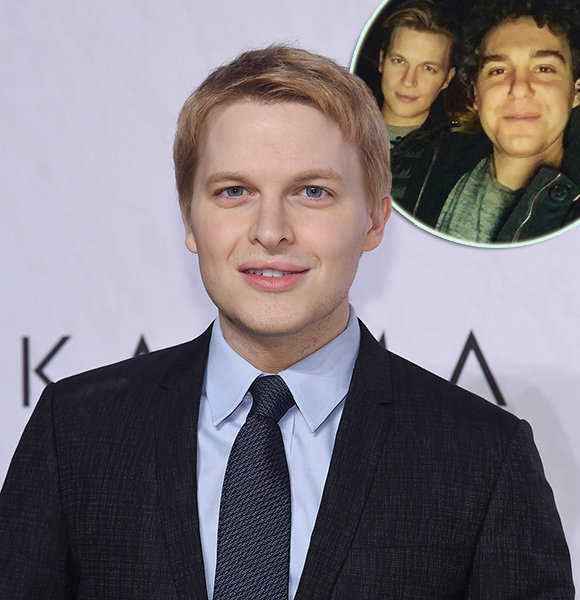 Quick Information
Date of Birth Dec 19, 1987
Nationality

American

Birth Place

New York, United States

Profession

Journalist, Lawyer

Ethnicity/Race

Mixed

Father

Woody Allen

Mother

Mia Farrow

Relationship Status

Single

Boyfriend

Jon Lovett

Gay

Yes

Net Worth

$12 Million

High School

Yale Law School

Education

Oxford University

Height/ How Tall? 5 Feet and 10 Inches
Hair Color

Blonde

Eye Color

Blue
The American Pulitzer Prize-winning journalist Ronan Farrow finally made his way out of the closet, revealing about his romantic relationship. Ronan, who was previously opened for a romantic relationship with both men and women, has finally found his grounds. 
While most of his fans were following his gay rumors, he eventually addressed his personal life openly in the media
Well, hop in to take a tour through the insights of his romantic dating status!
Is Ronan Farrow Gay? "Been With Guys, With Girls"; Support From Boyfriend
Ronan, the former government advisor, did not prefer to define himself based on the romantic relationship that he shares with the fellow person he found attractive; he refused to be characterized depending on his sexual orientation. 
See Also: Genevieve Gorder & Christain Dunbar Married In Stunning Morroco Wedding
Back in 2013, the Yale-educated former Obama administration aide, Ronan, was revealed to be involved with both men and women. Ronan shared a bed with both genders, simultaneously having a girlfriend as well as a boyfriend. 
During that time, he was pressured to reveal his sexual preferences from the LGBT community, but he held his lips tied. Even though he denied speaking of his romantic status, one of his friends gave insights regarding the matter. The unnamed source spoke with Page Six in November 2013 revealing,    
 "He's not in the closet. He's been with guys, but he's also been with girls. He's open about both."
Adding to it, another acquaintance of Ronan opened about how Ronan preferred romantic relationships without labels. The source talked about how Ronan denied to reveal himself as gay or bisexual or straight. The source stated,  
"[Ronan] doesn't want to be labeled as gay or straight or bisexual. People should be careful of labels. Life is more complicated than that."
Well, supporting this matter, a girl pal of Ronan also told the perfect time the pair spent together. Ronan had worked his magic on her, and the duo was even dating.
Adding to it, Ronan, who is a high-profile LGBT journalist, was romantically linked fashion designer Tory Burch to heiress Jemima Khan. Ronan was also photographed with singer Selena Gomez draped around his neck in December of 2012. 
Moreover, he was also closely linked with Jon Lovett, a former Obama speechwriter, who is openly gay.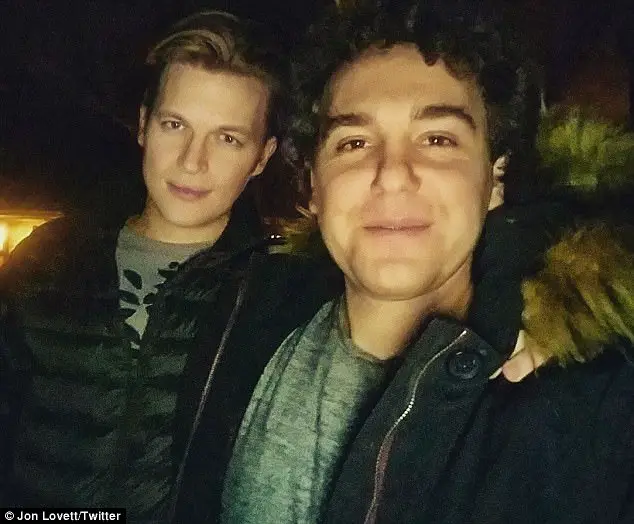 Ronan Farrow with Jon Lovett  (Photo: dailymail.com) 
Likewise, Ronan finally addressed his personal life for the first time in January of 2018. Ronan revealed the relationship that he shared with Jon stating that they have been close over the years. 
Don't Miss: Is U.S Senator Cory Booker Gay? Married/Girlfriend Detail Amid Scandal
The pair had even been traveling around together! 
Not just that, Ronan celebrated his birthday with Jon at Jon's home in Los Angeles. Not only the happy moments, but Jon has also been with Ronan during the times when he was unraveling the Harvey Weinstein stories.
Jon even tweeted about the times he watched Ronan relentlessly reporting the Harvey Weinstein stories. Jon further disclosed how protecting, listening, and deeply caring he was for his sources. Jon wrote,
"I watched @ronanfarrow report this story over the course of a year. He was relentless. Relentless! Unraveling what Harvey Weinstein had done and managed to cover up. Protecting and listening to and deeply caring about his sources - women who took such a risk to come forward..."
Well, despite being close to Jon, Ronan has divulged that he would not explicitly label Jon as his partner.
Engagement Proposal Through Book
Ronan's important significant moves in his life went hand in hand. His highly awaited book Catch & Kill, released in October 2019, became a defining and eye-raising work in his career as it shed light on the controversial Hollywood producer Harvey Weinstein's efforts to cover-up his heinous sexual act against several women.
The book presents the interviews he had undergone with Alexandra Canosa, one of Harvey's sexual harassment victims and the challenges he went through while working towards exposing the producer's true colors.
Interestingly, the journalist took the opportunity to step up his love life through his book, as he sent the first draft of the book to his boyfriend, Jon. In it, he proposed his lover for marriage with a question writing,
"Marriage? On the moon or even here on earth'" 
Although his partner accepted the proposal, the two never disclosed their expected date of the wedding. The two first met in 2011, after his fiance left his job as a speechwriter for former President of US Barack Obama. But they haven't yet disclosed the actual date when they started dating officially.
Adopted Father's Sexual Molestation Allegation; "Beyond Awful" Story
But in spite of not a name to their relationship, Jon showed the ultimate support for Ronan and his family. While Ronan's family is facing allegations from Soon-Yi Previn, Jon has openly shown his support.
Turns out, Soon-Yi Previn, who is an adopted daughter of Mia Farrow, Ronan's mom, painted Mia as the abusive mother while rejecting Dylan's (Mia's other daughter) claim that Soon's husband Woody Allen, had molested her when she was 7. 
Soon's claim came through an article in New York Magazine, which was written by Woody's pal. In turn, Jon rejected an invitation to appear at the magazine's festival, showing support for Ronan and his family.
Ronan Farrow Parental Clash :- Frank Sinatra Real Father, Woody Allen Claims
Jon declined to appear at New York mag's Vulture Festival, where he was invited to do an episode of the podcast. He said he would instead do a live show at  [conservative convention] CPAC than participate in this event.
He even called the story in the magazine "beyond awful."