Entertainment
Zach Roerig: After Winning Sole Custody of Daughter From Jailed Wife, Is He Dating Someone?
The American actor, Zach Roerig is the handsome actor who won the hearts of massive fans through his role from the American TV series, Vampire Diaries. In 2013, it was revealed that he was secretly married and had a daughter.
Despite having a wife and daughter, Zach started dating a beautiful actress from the Vampire Diaries, which we will uncover today.
Past Dating Affairs:
In 2011, Zach was reportedly dating one of his Vampire Diaries co-stars, Candice Accola. Both Zach and his ex-girlfriend, Candice kept their offscreen dating affairs fairly low-key while being in the relationship.
See Also:- Leighton Vander Esch Age 22 & Girlfriend, Dating To Engaged Details
Zach dated Candice throughout the year 2011 but later broke up as their couple's split news came in May 2012. Zach's ex-girlfriend later married Joe King, guitarist of the band 'The Fray' in October 2014.
Zach Roerig Was Married: Wife's Shocking Identity
After his dating rumors, Zach was involved in legal custody in July 2013 which revealed he was secretly a married man all along.
The Vampire Diaries star was married to a woman named Alanna Turner and even had a daughter, which was revealed after he filed the legal documents in Georgia court in July 2013 asking for sole custody of his then two-year-old daughter.
What added more shock was that Zach's wife was in prison when he filed for his daughter's custody. His wife, Alanna was pleaded guilty to "several charges" which were not revealed.
Don't Miss:- Will War Machine Ever Get Married Given These Terrible Dating Record?
Though the charges against Zach's wife was not known, one of the Alabama news sites reported the woman named Alanna Elizabeth Turner's involvement in a Georgia-based scam involving the sale of fraudulently obtained electronics on eBay, in August 2012. She was further sentenced to six months in prison in April 2013.
However, it was not cleared whether the guilty Alanna was indeed Zach's wife or just a coincidence by the same name.
Daughter's Custody: Wife In Prison
The 2013's incident not only revealed Zach was married but also disclosed that his daughter was born in January 2011. Few months after filing the custody of his baby daughter, Zach Roerig received the full custody of his daughter in October 2013.
Georgia judge awarded Zach full custody which made the 33 years old actor the sole decision-maker regarding his daughter's future.
Dive In:- What Is Miranda Cosgrove Ethnicity? Parents, Dating Status & More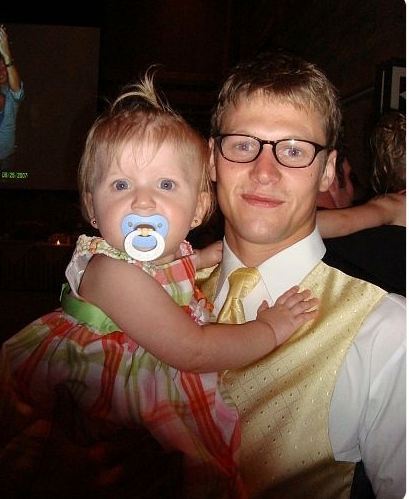 Zach Roerig with daughter (Photo: Woodbrev's Twitter)
Along with getting the full-custody of a daughter, Zach also found the new love of his life.
Dating Life With Nathalie Kelley Ends!; Girlfriend Has A New Husband
Though the Ohio native was married to Alanna, he started dating another Vampire Diaries co-star, Nathalie Kelley, after they first met on the Vampire Diaries' sets in 2016.
Both Zach and his girlfriend, Nathalie confirmed their dating scenario through Instagram. Zach shared an Instagram image on 20 November 2016 with the heart emoji caption, where his girlfriend was spotted sitting in his lap in the image.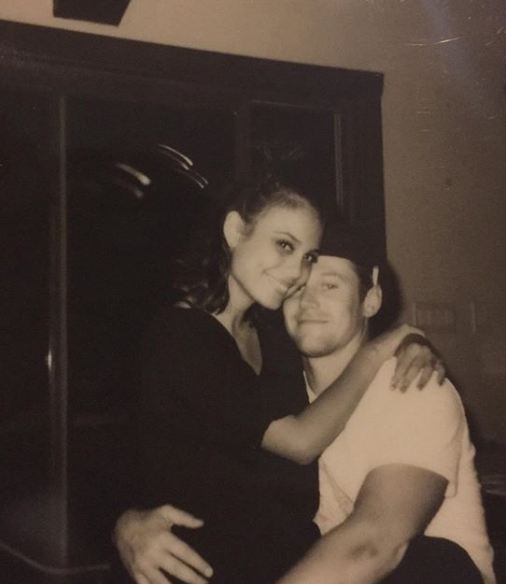 Zach Roerig, Nathalie Kelley first picture together (Photo: Zach Roerig's Instagram)
After confirming their dating scenario, Zach's girlfriend also talked to US Weekly in September 2017 about their married life in which she claimed that they aren't yet ready to go into that step.
Discover:- Luke Mably Dating & Girlfriend | Meet The Girl He Might Get Married To!
The co-star girlfriend, who revealed Zach is "always helpful and supportive" to her career, also added in the interview that she would discover her ways of supporting her boyfriend.
Zach's actress girlfriend even shares the good relationship with his daughter, as per Zach's Instagram image shared on 13 March 2017. Both Zach and his girlfriend were spotted enjoying their vacation days with Zach's daughter on Joshua Tree National Park.
Zach, ex-girlfriend Nathalie with Zach's daughter (Photo: Zach Roerig's Instagram)
Moreover, their dating life of Zach couldn't reach the wedding aisle as the couple parted their ways in late 2017 after a long two years of dating.
Following their split, Nathalie quickly embarked to the dating life with Jordan "Jordy" Burrows. The couple was quick enough embrace each other into more romantic bonds.
The Peruvian-born actress was the first one to pop the question and only in two months of getting engaged, the couple got married in an intimate ceremony in Australia in earlier 2018.
Zach Roerig's Short Bio:
Zach Roerig was born on February 24, 1985, in Montpelier, Ohio, USA. He studied at the Barbizon Acting and Modeling School located in Cleveland. He graduated from Montpelier High School where he played football and wrestled. Later, he went on to work for his father and grandfather to make gravestones.
Debuting from the TV series, Law & Order, Zach has made the name in both TV and movies world. With the best projects like Vampire Diaries, The Originals, Rings, The Gifted, he enjoys the net worth of $4 million.
He will be recently seen in the movie, The Last Full Measure, where he will be portraying the role of Young Ray Mott.