Entertainment
Rumored To Be Gay Mehcad Brooks On Dating Affair; Has A Girlfriend Or Not?
Being one of the young, talented, charming and attractive male actors in Hollywood means a large number of a fan base. When you are one of the desirable actors, you might break many hearts with your affair or rumors regarding dating.
Mehcad Brooks is also one of those actors who has shattered many hearts with such kind of rumors. No matter how many times he is linked with, he was once cheated and left heartbroken.
And this time, the dashing heartthrob has found the "Queen" of his life. He has been spending most of his time with his girlfriend and they are going strong than ever!
Let's have a look at his love life.
Dating In Dark; Girlfriend Is Queen Of His Life
While gushing Netflix as his girlfriend in February 2017, Mehcad is now in a relationship with the beautiful lady, Frida Kardeskog. The couple has been flaunting their adorable dating life in the social media account but is yet to reveal the exact date of their dating life.
Seemingly, the love bird is dating since early 2017. The 38-year-old actor hummingly calls his girlfriend as Queen and his best friend.
On 18 May 2017, Mehcad wished the happiest birthday to his partner on Instagram and adored her presence in his life. Also, on 19 June 2018, sitting by her girlfriend's side, he claims that this is the family he chose.
See Also:- Luke Mably Dating & Girlfriend | Meet The Girl He Might Get Married To!
Similarly, on his 2018's birthday, his girlfriend Frida, who loves to call Mehcad as her king, shared the adorable picture of the duo on 27 October 2018, referring him as her warrior, light, lesson, blessing and best human.
Also, the couple walked on red-carpet together for the first time during Nobody's Fool New York Premiere at AMC Lincoln Square Theatre on 28 October 2018.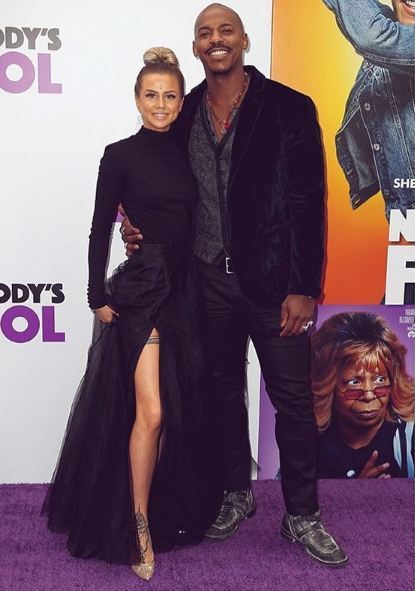 Mehcad Brooks, girlfriend Frida Kardeskog on 28 October 2018 (Photo: Mehcad Brooks' Instagram)
Also, Frida has already introduced her boyfriend to her Swedish parents and they seem to be overwhelmed with their daughter's man.
Moreover, Mehcad welcomed the year 2019 along with his girlfriend writing, "to the year that will change everything."
The couple is going strong with their relationship and it seems the wedding bell is going to ring sooner than later.
Don't Miss:- Lauren Sanchez Is Dating Jeff Bezos For Months, Facts About Relationship
Dating History:
Dashing actor, who is rumored to be gay, was once linked with actress Serinda Swan. Brooks and his co-star from the Blood In Blood, Serinda were spotted together enjoying a romantic dinner in New York City's West Village at Po restaurant in June 2010. Since then, the couple were rum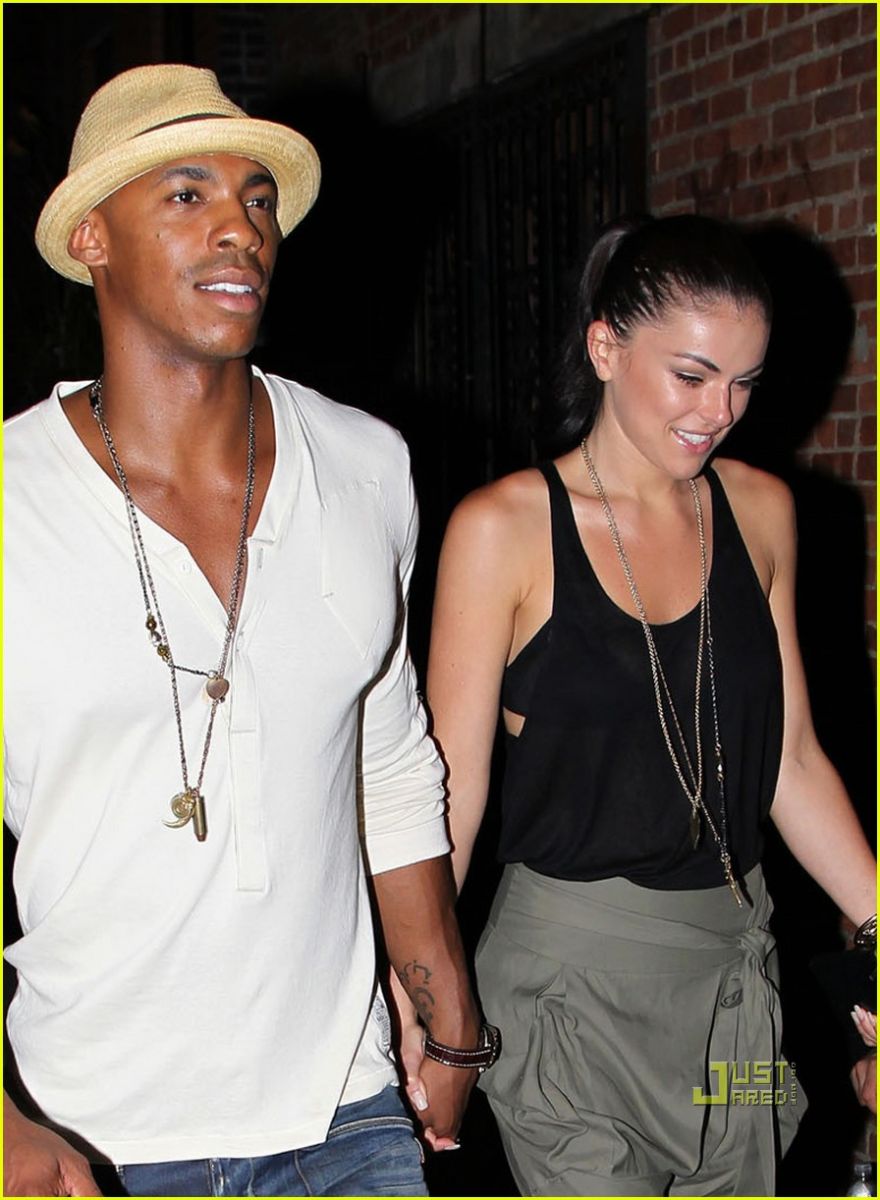 Caption: Mehcad and Serinda leaving the Po restaurant after enjoying a romantic dinner in June 2010 (Photo: Just Jared)
However, the news about them being an item ended as a rumor when Mehcad was found to be in a relationship with George Clooney's ex Elisabetta Canalis. Serinda is now in a relationship with Jimmi Simpson since September 2012.
Mehcad and Elisabetta were first spotted together at a romantic dinner at STK steakhouse in L.A. in early October 2011 where TMZ popped a question to Mehcad about how they met. He answered "We didn't meet. I have no clue what you're talking about" with a big guilty smile.
Dive In:- Lee Min-ho Dating Status Now; Who Is Korean Hearthrob's Girlfriend?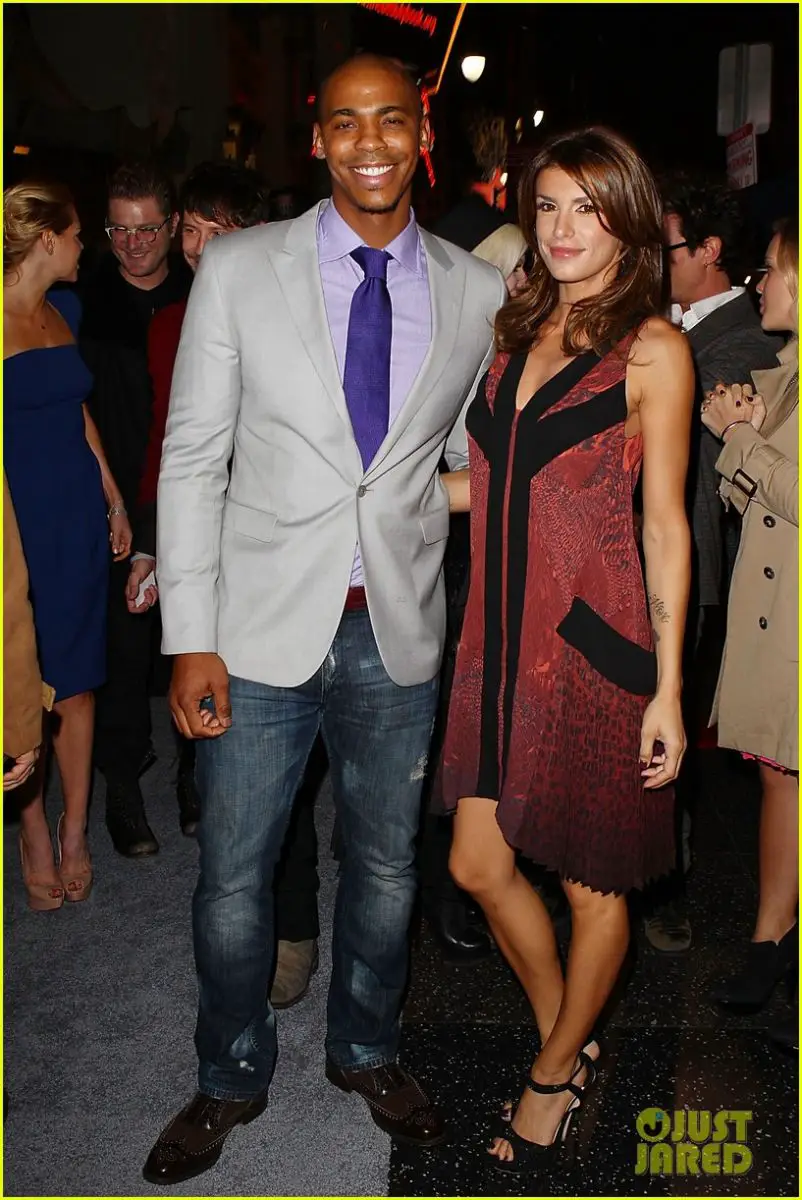 Caption: Mehcad and Elisabetta Canalis at an LA event on November 14, 2011 (Photo: Just Jared)
Since then the pair made their public appearance regular until they separated in December, the same year. After having a furious argument in Elisabetta's apartment, the pair had a split. According to an eyewitness, the pair had a dispute in the lobby. Talking about the argument, the witness said,
"At first they were trying not to call attention to themselves. But after a few minutes they couldn't contain themselves anymore and their voices started to escalate. They both became so angry, it was like they were oblivious to the fact that they were out in public: At one point, Elisabetta shoved Mehcad really hard, and he shouted right back at her to stop acting crazy."
Similarly, in June 2015, Mehcad revealed the heart-breaking situation of his dating life. He stated that his girlfriend cheated on him on 2009.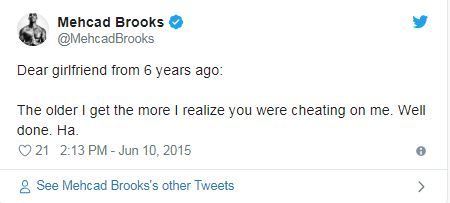 Mehcad Brooks' ex-girlfriend cheated on him (Photo: Mehcad Brooks' Twitter)
Meanwhile, in 2015, the "True Blood" star tweeted saying that he was cheated by his long-term girlfriend. However, he didn't mention the name. Who was the lady, was she Elisabetta or was it someone else?
Elisabetta is now happily married to Orthopedic surgeon, Brian Perri. They tied the knot on 14th September 2014.