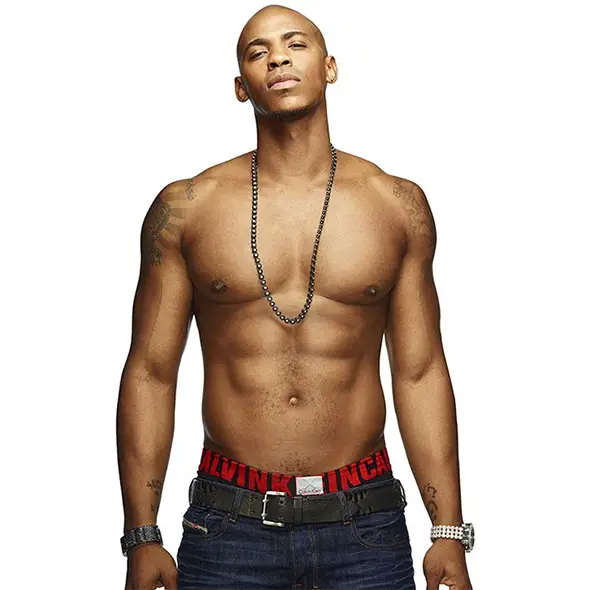 Being one of Hollywood's young, talented, charming, and attractive male actors means a large fan base. When you are one of the desirable actors, you might break many hearts with your affair or rumors regarding dating.
However, American actor Mehcad Brooks shattered many hearts after making headlines about being gay. 
Let's find out if the news is true or not. 
Is Mehcad Brooks Gay?
Mehcad, age 41,  is one of the actors who break the hearts of his fans with his dating rumors. But fans were startled to read news about him being gay. 
However, the information was incorrect. The rumors about him being gay blew up after he supported same-sex marriage.
Don't Miss:- Lauren Sanchez Is Dating Jeff Bezos For Months, Facts About Relationship
In an interview with Honey Magazine, Mehcad showed his support for gay marriages and the LGBT+ community. He said, 
I find it really offensive. I just find it really problematic when you start throwing people's rights away. Until we get our gay brothers and sisters back into a realm of consciousness that everyone else is in, it's just not right. A woman who's getting married — it's probably going to be a gay man who made her dress, and a gay man who's doing her hair and makeup, but he can't get married. How messed up is that?
Fans were glad to learn that he is not gay and pleased to see that their favorite actor supports the LGBT+ community.
However, his fans were again heartbroken to know about his marriage. 
Mehcad Brooks's Wife
Yes, the Supergirl actor is finally married. Mehcad has always kept his personal life private, so much so that his fans learned about his wedding through his wife's social media.
See Also:- Luke Mably Dating & Girlfriend | Meet The Girl He Might Get Married To!
Mehcad married his long-time girlfriend, Frida Kardeskog. Mehcad used to share many images of his girlfriend on social media, but he removed them all one day, leading everyone to believe they had broken up.
But their relationship appears to be moving forward as husband and wife, and all the assumptions were proven wrong with just one wedding photo.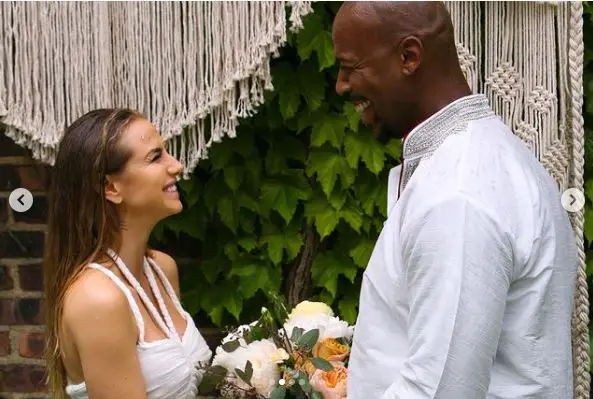 Mehcad gets married to his long-term girlfriend, Frida. (Source: Instagram)
However, Mehcad has never revealed the exact date he met his current wife. But it seems like they have been dating since 2017 and married in 2021. 
Mehcad's married automatically cleared his rumors about him being gay. However, he currently lives a blissful life with his partner, whom he calls his Queen and best friend, whereas Freda calls her husband, her King. 
Dive In:- Lee Min-ho Dating Status Now; Who Is Korean Hearthrob's Girlfriend?
But, Mehcad had to go through many heartbreaks before finding his perfect wife.
Mehcad Brooks's Dating History
Mehcad was once linked with actress Serinda Swan. Brooks and his co-star, Serinda, from the Blood In Blood, were spotted together enjoying a romantic dinner in New York City's West Village in June 2010. Since then, the couple has been rumored to be dating each other. 

Mehcad Brooks and Serinda Swan leaving the Po restaurant after enjoying a romantic dinner in June 2010 (Photo: Just Jared)
However, the news about them being an item ended as a rumor when people found out Mehcad was dating George Clooney's ex, Elisabetta Canalis.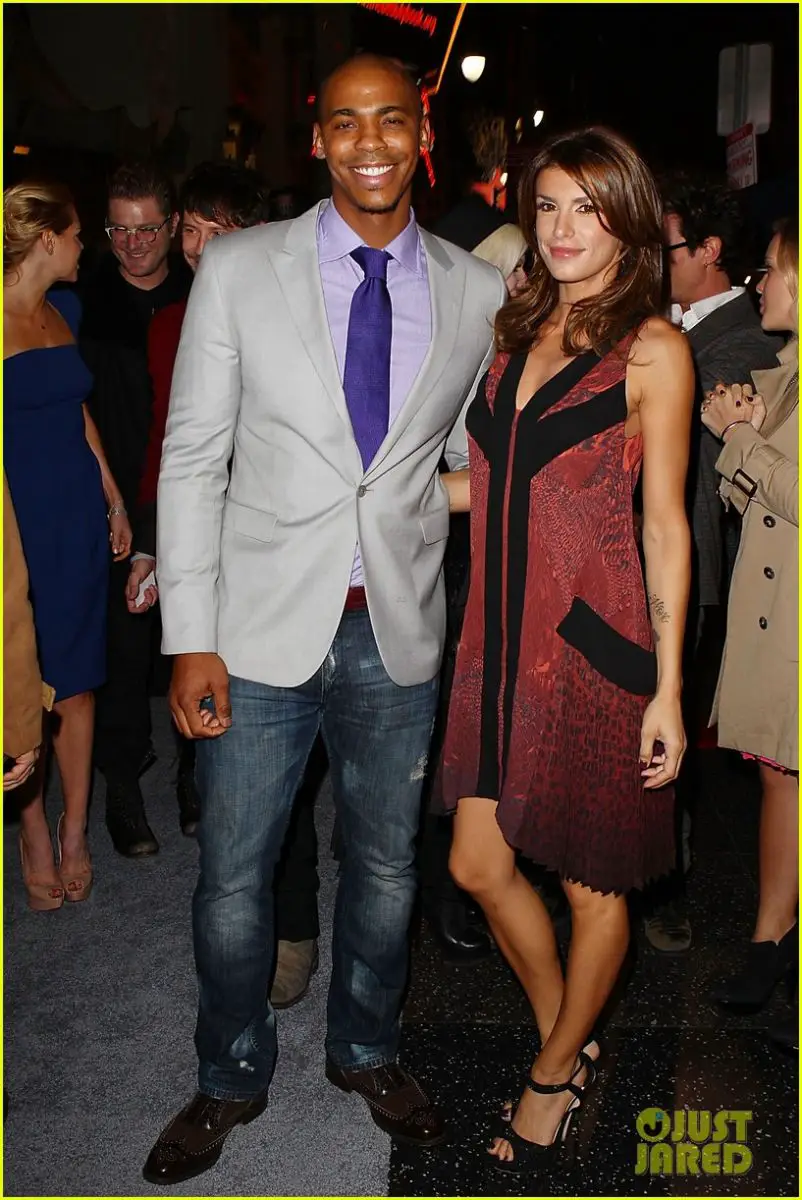 Mehcad Brooks and Elisabetta Canalis at an LA event on November 14, 2011 (Photo: Just Jared)
Mehcad and Elisabetta were first spotted together at a romantic dinner at STK steakhouse in L.A. in early October 2011. After getting spotted, TMZ asked about their relationship and how they met, and he answered,  
"We didn't meet.  I have no clue what you're talking about," with a big guilty smile.
Since then, the pair made their public appearance regular until they separated in December 2011. Unfortunately, they had a very bad argument in Elisabetta's apartment, which resulted in their split. 
According to an eyewitness, the pair had a dispute in the lobby. They said,
"At first they were trying not to call attention to themselves. But after a few minutes they couldn't contain themselves anymore and their voices started to escalate. They both became so angry, it was like they were oblivious to the fact that they were out in public: At one point, Elisabetta shoved Mehcad really hard, and he shouted right back at her to stop acting crazy."
Similarly, in June 2015, Mehcad revealed the heart-breaking situation of his dating life. The "True Blood" star tweeted that his long-term girlfriend cheated on him. However, he didn't mention her name and hasn't revealed anything about that.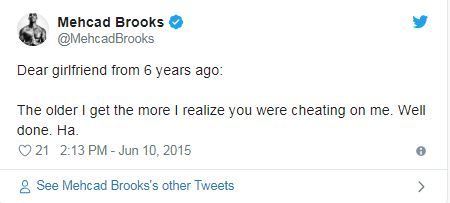 Mehcad Brooks' ex-girlfriend cheated on him (Photo: Mehcad Brooks' Twitter)
After going through many ups and downs in his dating life, Mehcad has finally settled down with his beautiful wife. We wish the pair all the best on their future adventures.
Stay tuned for more updates on Mehcad Brooks.