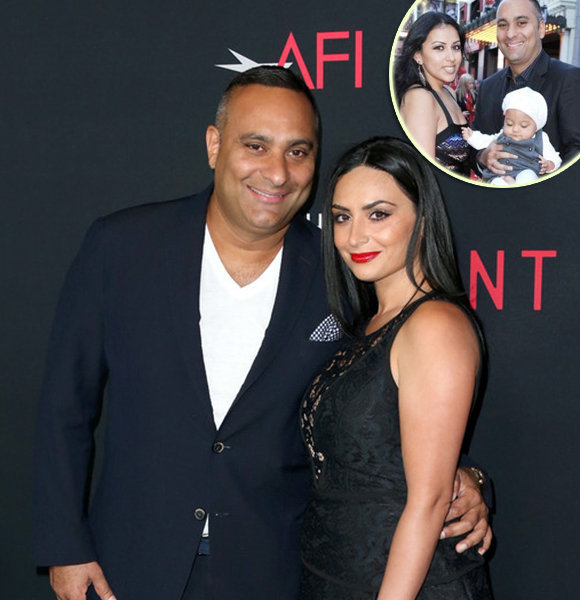 Quick Information
Ex-Girlfriend

Sunny Leone (2008), Ruzanna Khetchian

Official Site

https://www.russellpeters.com/

YouTube

https://www.youtube.com/channel/UCek57Is95suO63uuW3iOGQw

Instagram

https://www.instagram.com/russellpeters/?hl=en

Twitter

https://twitter.com/therealrussellp?ref_src=twsrc%5Egoogle%7Ctwcamp%5Eserp%7Ctwgr%5Eauthor

Eye Color

Black

Hair Color

Salt & Pepper

Hair

Short

Height/ How Tall? 5' 10" (1.78 m)
High School

North Peel Secondary School

Career

1989–present

Nominees

Gemini Awards (1997, 2004, 2013), Canadian Comedy Awards (2003, 2004, 2008, 2009, 2010, 2011, 2012)

Awards

Canadian Comedy Awards (2007, 2008), Peabody Awards (2016), International Emmy Awards (2017)

Net Worth

$55 millionv

Gay

No

Ex-Wife

Monica Diaz (m. 2010–2012)

Date of Birth Sep 29, 1970
Girlfriend

Jennifer Andrade (Pregnant)

Divorce/Split

Yes(Once)

Relationship Status

Dating

Daughter/s

Crystianna Marie Peters

Brother/s

Clayton Peters

Mother

Maureen Peters

Father

Eric Peters

Ethnicity/Race

Anglo-Indian

Religion

Christianity

Zodiac Sign

Libra

Birth Name

Russell Dominic Peters

Home Address

Los Angeles, California

Birth Place

Toronto, Canada

Nationality

Canadian
Canadian stand-up comedian of Indian descent, Russell Peter, has finally found someone he can call his wife. 
Russell was having a difficult time moving on from his past relationships. However, he has now settled down with a beautiful woman. 
Let's find out about his partner. 
Russell Peters's Wife
Russell recently tied the knot with his now-wife Ali in February 2022. The wedding ceremony took place in front of around 300 on a bluff overlooking the ocean. 
The wedding was amazing with the view and even more memorable with UFC announcer Bruce Buffer introducing Peters and his wife while entering the reception. 
Russell met his  Ali before the pandemic hit the world. He shared about having nothing when he first met and also admitting to being in a relationship with his then-girlfriend.
Comedian's Hollywood A-list Girlfriend:- Colin Jost Girlfriend, Gay, Affair
There was nothing between them, and they just casually talked when they met. But later, they both got back in touch when one of Ali's clients wanted to buy a house in Russell's neighborhood. After that, they were constantly talking and hanging out, which finally ended up dating and eventually getting married.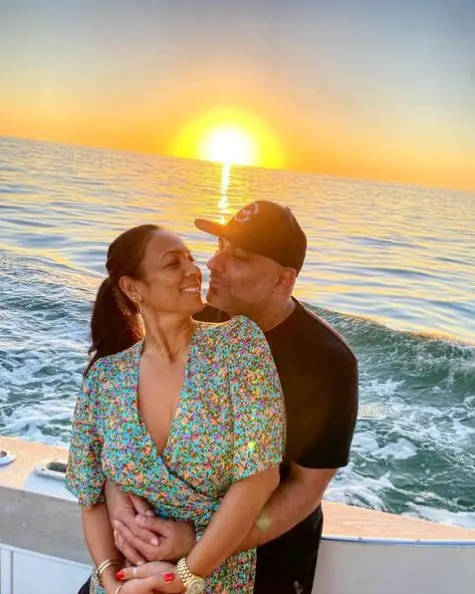 Peters's sweet Valentine's Day post for his girlfriend. (Source: Instagram)
Before getting married to his wife, she was once featured on his podcast Culturally Cancelled, where he gave an insight into their relationship. Russell also posted a sweet Valentine's Day post for Ali in 2021. 
Even if Ali is married to a celebrity, she still prefers to keep her personal life away from the spotlight. 
Know More: Lisa Hochstein Admits to Having Too Much Fillers In the Past
However, Russell did not find the love of his life in one shot. He had been in many relationships before finding his perfect partner. 
Russell Peters's First Wife, Divorce And Past Affairs
Russell has been in many relationships, but he was also married before.
Russell was married to his first wife, Monica Diaz, in 2010. They have a daughter named Crystianna Marie Peters, who was born in December 2010. However, Russell and Diaz could not find peace in their marriage and divorced in 2012, citing incompatibility.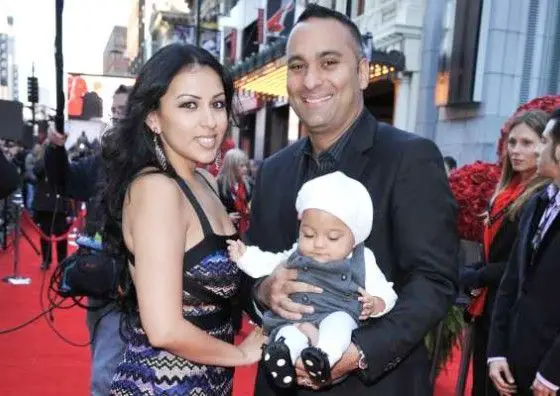 Russell Peters with his then-wife Monica Diaz and daughter Crystianna Marie Peters attends the 2011 Canada Walk of Fame (divorcedebbie.com)
Russell, who loves his daughter to the moon and back, found love again after his friendly divorce with Monica Diaz.
In September 2016, the Canadian stand-up comedian got engaged to his girlfriend, Ruzanna Khetchian.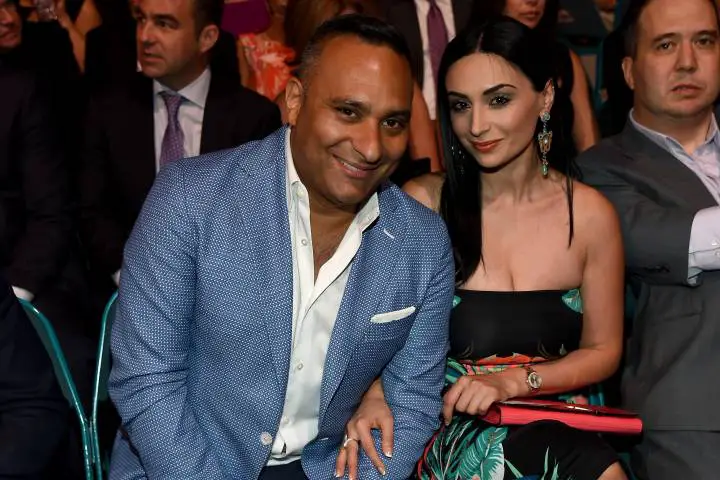 Russell Peters attends the 2015 NHL Awards with then-girlfriend Ruzanna Khetchian (Global News)
He first shared the news about his engagement to ET Canada in September 2016. He explained it while laughing:
"I was naked. Just about to go to bed and I just got on both knees because one knee hurt"
He was then asked about his marriage plans to Ruzanna. He answered the question with sarcasm. He said: 
"Oh no rush, I still got a bunch of side chicks I got to get through."
However, Russell and his then-fiance broke their engagement within four months of getting engaged. 
Shortly after breaking his engagement with Ruzanna, he dated a model and formal Miss Universe Honduras, Jennifer Andrade. 
After being together for some time, on 5th December 2018, Russell announced the good news of the couple getting pregnant on his Instagram. His girlfriend, former Miss Honduras, was pregnant with a baby boy. They were inseparable during the pregnancy and even organized a big baby shower.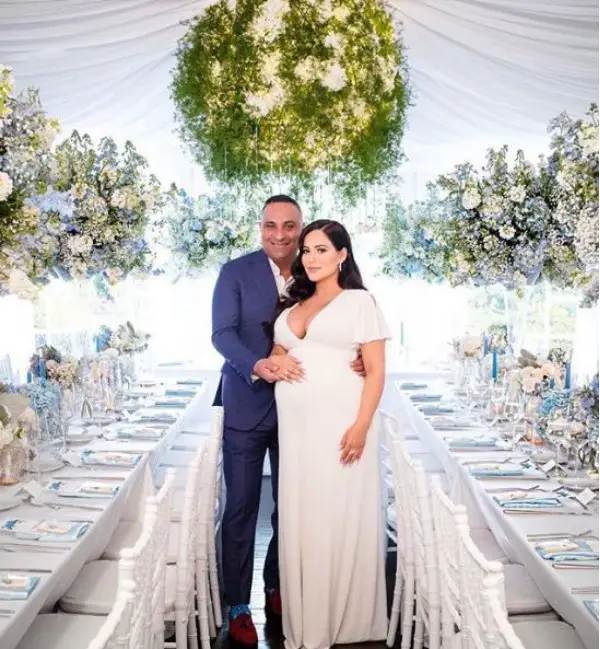 Russel Peter holds his pregnant girlfriend Jennifer. (Photo: Ruzanna Khetchian's Instagram)
But, in 2020, Jennifer announced her separation from Russell. She did not reveal the actual reason behind their separation. But, she claimed that Peters was being selfish after their engagement which was disrespectful to her and their son. 
Moreover, back in 2014, talking to Hindustan Times, Bollywood actress Sunny Leone, a former adult artist, revealed for the first time her experience dating her long-time friend Russell Peters. She said:
"You know, we were friends for such a long time, and sometimes if you are friends for so long you think you can end up together. So we dated each other for some time, but I think that was a mistake"
A long time ago, before 2012, Russell dated Sunny Leone, who has been active in Bollywood since 2008.
Apart from his past affairs and relationships, his fans are also interested in his net worth and career. 
Russell Peters's Career And Net Worth
Russell began his career in 1989 by performing in Toronto. The stand-up comedian has done many shows, movies, and tours. He has also portrayed a notable role in the American comedy movie 'The Clapper.' Previously in 2017, he enjoyed the opportunity to lead the Canadian drama series "The Indian Detective', portraying the major character Douglas D'Mello, a police officer from Toronto entangled in a murder investigation in a foreign land. 
The comedian turned actor has also appeared in various movies such as 'Chef' and 'The Jungle Book,' and tv shows such as 'Family Guy' and 'Lopez Tonight.'
Explore: Kathy Burke Has No Regrets on Not Having a Husband and Kids
He is estimated to be worth a mouth-dropping $75 million with a yearly salary of $19 million. The Source of his income is also his famous tours, merchandise, and Netflix special Almost Famous, which the audience loves worldwide. 
He is currently living a blissful life with his wife. We hope we will get more updates from his side. 
We will surely update him in the future. But, till then, stay tuned.