Entertainment
Sarah Bolger Has Boyfriend As Answer? Barged With Relationship Questions And Other Stuff
Sarah Bolger Has Boyfriend As Answer? Barged With Relationship Questions And Other Stuff Irish Actress Sarah Bolger was once barged with different questions regarding her relationship and various kinds of stuff. What kind of questions were they asking and what does her love life look like? Let's find out! boyfriend,dating,relationship https://www.independent.ie/entertainment/movies/teen-idol-26428621.html  www.bustle.com/articles/57766-is-new-girl-actor-julian-morris-single-brace-yourself-for-this-information-everyone twitter.com/SarahBolger/status/298492081465356289 healthyceleb.com/julian-morris-height-weight-body-statistics/70043 https://www.tvguide.com/celebrities/sarah-bolger/bio/173883/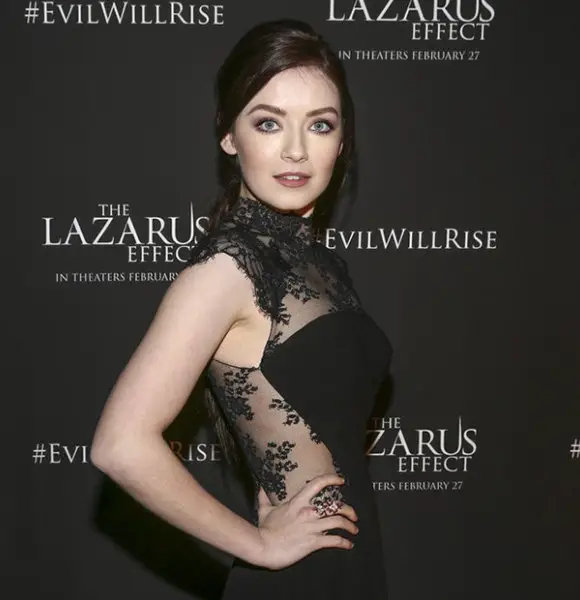 Irish Actress Sarah Bolger was once ambushed with different questions regarding her relationship and other various kinds of inappropriate personal stuff.
Sarah, who rose to fame after portraying the recurring character of Princess Aurora in the ABC TV series Once Upon a Time, was also linked to her co-star of the show after the colleague hinted towards dating the beautiful actress.
So, was there any truth to those rumors or, were those simply gossips spread for the purpose of invading her privacy? And, if Sarah's onscreen lover is not the real boyfriend, then who is?
Keep reading to find that out!
Sarah Bolger's Love Life And Barged With Questions
A gorgeous actress, Sarah was paired opposite English actor Julian Morris in  ABC's Television serial 'Once Upon A Time.'  The audience loved the onscreen chemistry of the make-believe boyfriend-girlfriend duo and many even wanted to see them dating in real life too.
You May Also Like:- On-Reel Gay Keir Gilchrist Has Dating Affair Going On | Stunning Girlfriend Revealed
The onscreen couple even fueled the chances of their affair and shared pictures which subtly hinted towards their possible real-life relationship. Back in 2014, Sarah's rumored boyfriend Julian shared a photo of Sarah with an attention-grabbing caption.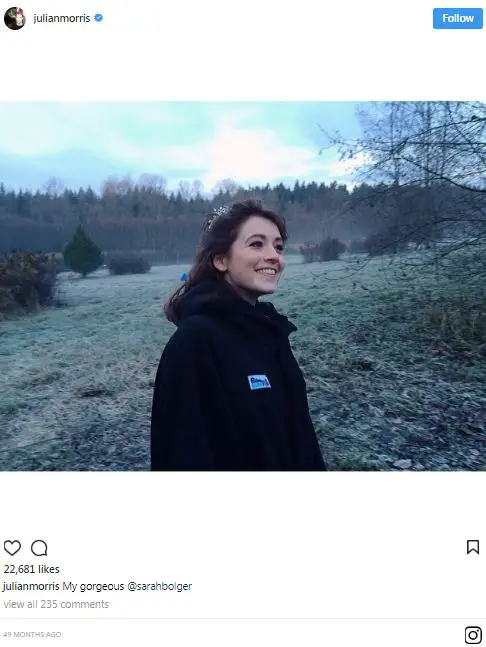 Julian calls Sarah as his own right (Photo: Julian Morris' Instagram)
But the pair left their fans to wonder regarding their affair, as neither of the two came forward to admit their relationship.
Back when Sarah was 16, she was dating actor Freddie Highmore, who also happens to be her co-star from the series, The Spider Chronicles. A leaked picture of the couple making out passionately showed that they were deeply into each other.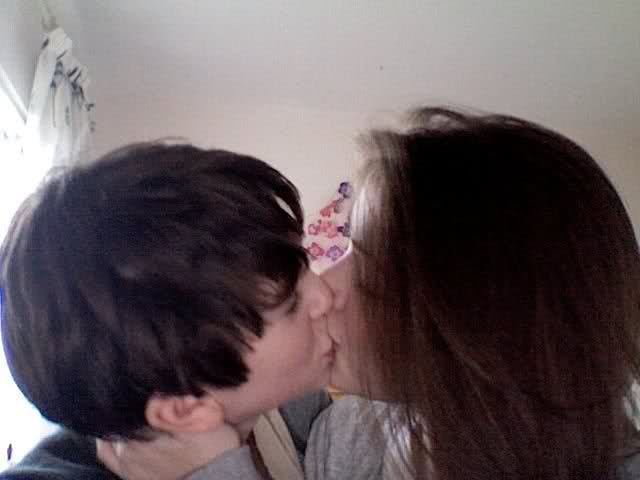 Sarah and Freddie's making out picture gets leaked on MySpace (Photo: OhNoTheyDidnt.com)
However, the relationship didn't last forever and Sarah was single by the time she turned 19.
Don't Miss:- Richard Harrington Silent On Partner - Mother To His Children
Apart from Julian and Freddie, she has neither been spotted with a boy who could be guessed as her boyfriend nor the news of her romantic association has surfaced the media; thus fans have remained oblivious regarding her romantic connections.
However, earlier Sarah had hinted towards being in a relationship with a boyfriend. Back in February 2013, she posted a tweet mentioning that her boyfriend would get severely jealous if he ever found out about the 27-year-old actress' crush. She wrote on her Twitter,
"@fuqof: @sarahbolger what's your celeb crush?" Ha, my boyfriend would hate me to answer this question ;-) Xx
When Sarah had just turned 18, she was barged by the questions regarding relationship along with few inappropriate questions. Although she answered the question, she expressed her take on it as,
"It's madness. People think that now that I'm 18 it's all right to, like, ask me about sex and stuff. I was in Berlin [where she won a prestigious European Shooting Star award in February] and this interviewer asked, 'So who would you like to jump into bed with?' We had been talking about Jonathan Rhys-Meyers, so I'm sure he just wanted me to say him."
Further, she gave her opinion on nudity and her unwillingness to do it, stating:
"I wouldn't do nudity, I don't think, for a very long time".
After thinking for a while, she also added,
"These scripts were coming up for me even two years ago that had stuff in them that would be just a little dodgy."
Sarah's preference for privacy was supreme even in 2009. Although she coyly mentioned that she has a boyfriend who is not Irish; she kept the identity of her boyfriend concealed.
More From LiveRampUp:- Adrian Chiles: Separated With Girlfriend Catherine Tate, Has a New Partner? Affair With Whom?
Well, the scenario suggests that unless she finds and a man who she decides to acknowledge as her boyfriend; her fans would live being ignorant regarding her dating life.
More About Sarah Bolger 
TV actress Sarah Bolger was born to her parents Monica Bolger and Derek Bolger in Dublin, Ireland on 28 February 1991. Her father is a butcher by profession. Moreover, she has a younger sister named Emma Bolger, who is also an actress. To hone her acting skills, Sarah attended The Young People's Theatre School in Dublin, Ireland.
Sarah is best known for her performance in In America, The Spiderwick Chronicles, The Tudors, Once Upon a Time, and Princess Aurora. Recently she has appeared in the television shows including Counterparts and Into The Badlands. Some of her soon-to-be-released projects include Mayans M.C. and Sons of Anarchy.
Think we're missing something? Do let us know in the comment section below!