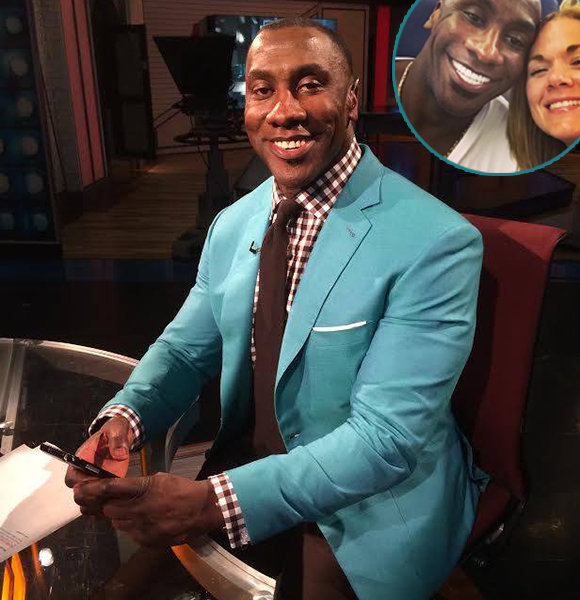 Leaving it all, be it blood or sweat, on the field, Shannon Sharpe enjoys a retired life as an analyst and TV presenter and considers one of the greatest ever football game of football to date.
Post his retirement, Shannon has finally rediscovered the personal aspects of life he selflessly sacrificed as a football player. He has now met his ideal wife he plans to marry and spend the rest of his life with.
 A proud father, Shannon has been just as good as a partner as he was as a player. But are the two still together?
Shannon Sharpe's Soon-to-be Wife
After living most of his professional life under a constant spotlight, Shannon has preferred to keep his personal life under the curtains.
With love for his own privacy, contrasting with his outspoken nature on his Fox Sports show, Skip and Shannon: Undisputed, Shannon has not preferred to reveal many details about his personal life.
You May Also Like: Michael Sam, Retired Gay NFL Star Boyfriend Rift - Health Issue Fueled?
Shannon seemed to have finally met the love of his life after being rumored to be engaged with her longtime girlfriend Katy Kellner somewhere during 2016.
With the duo noticed together on several occasions making public appearances, Shannon and his soon-to-be wife, Katy were the talks of the town for quite some time.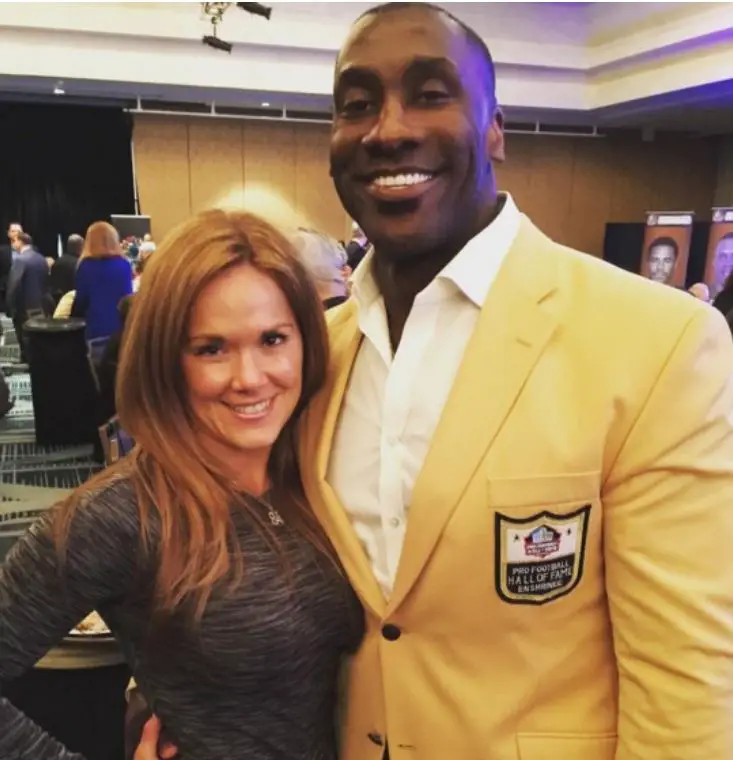 Shannon Sharpe alongside his soon-to-be wife, Katy Kellner. (Photo: theballerlife)
In an interview with The Baller Life in 2017, a fitness instructor, Katy, revealed that the duo's shared love for fitness had contributed to the blossoming of their relationship.
"Working out is a passion for Shannon and me. In fact, our romance began in a gym! Fitness has had a positive effect on our relationship because it is a common interest that we both feel very passionate about. We work out together, and that allows us to spend much more quality time together."
A father of three from his previous relationships, his would-be wife, Katy, complemented Shannon's children, Kaley, Kayla, and Kiara, significantly. With the easy-go nature of Shannon's girlfriend, she brought balance to his aggressive and trash-talking personality.
However, it seems time has taken its turns on Shannon and possible wife, Katy, and their relationship. The former lovebirds have definitely decided to pursue their separate paths in life after Katy became pregnant with her new partner Marlon Byrd. A fitness instructor himself, it isn't too hard to imagine how Katy and Marlon's attraction initiated.
Shannon's supposed wife, Katy Kellner, was pregnant with her new boyfriend, Marlon. (Photo: Katy Kellner's Instagram)
Though the reason behind Shannon and Katy's separation has not yet been revealed by both camps, it is believed that Shannon's huge admiration for Nicole Murphy might have something to do with their separation.
See Also: Ryan Nassib, NFL Quarterback Stats, Salary & New Contract
Shannon has largely made his feelings towards Nicole abundantly clear in his social media accounts and on his own show as well.
However, after that, Shannon never again appeared with any woman who might have been his wife or girlfriend. His lack of a dating life has made him the subject of several gay rumors. His dating history, though, makes it abundantly evident that he is not gay.
Nevertheless, making it big in life after coming from a background where most struggle for mere subsistence, Shannon has not forgotten the contribution of his family members in making him the man he is just yet.
Shannon Sharpe's Family Sacrifices Not Yet Forgotten
After achieving three super bowls rings in his career duration, a ring considered by many to be the greatest prize in sports, nobody would have blamed Shannon had he let fame get over his head and changed his lifestyle.
Don't Miss: Married High School Girlfriend, Then to a Famous Publicist: Skip Bayless' Married life, Wife. Leaving ESPN for Riches?
However, to date, Shannon still remains a humble family guy who remembers the roots from which he originally belonged. 
In his hall of fame induction ceremony in 2011, Shannon proved that he remains ever so grateful for his family's sacrifices to let him be the man he is today. Talking about his grandmother, who passed away the same year, he reminisced his final words towards a woman to who he owes all his success.
"I asked her, 'Are you proud?' I said, 'Granny, are you proud of your baby? Because everything I've done in my life, I've tried to please you.'"
Shannon, like his grandmother, remains ever-so-grateful to his former footballer brother Sterling Sharpe.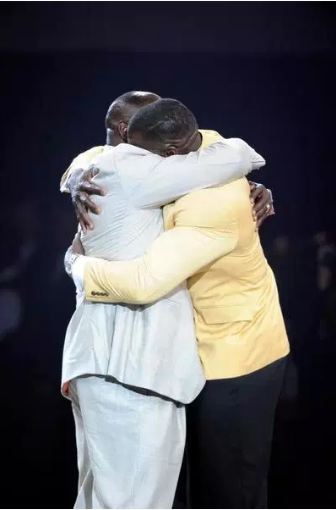 Shannon Sharpe hugged his brother Sterling during his hall of fame induction in 2011. (Photo: Denverpost)
Talking to Fox Sports in 2017 about his decision to gift his brother his super bowl XXXII ring, Shannon mentioned the gift to be the repayment for the sacrifices Sterling has made for Shannon.
"I had been very selfish on my path to that championship. My place in the game was made that day. No one can take away that championship. As I hoisted the Lombardi Trophy I knew the time had come to give back. I won three Super Bowls in my career, but the first was the most special. It wasn't my victory alone. It was Sterling's as well. So I gave him my ring."
Shannon, age 54, besides being a loving son and a brother, also remains a proud father to his kids. He displayed just how important his son and daughters are to him after mentioning how he will utilize his NFL pensions in a tweet on 24 July 2017.
"My pension is for my kids. I've got a lot of responsibilities I take care of Mom, sister, kids, my own household."
He never misses an opportunity to express his gratitude to his mother, sister, brother, son, and daughters for being the backbone of his life.
So while the NFL great now continues to entertain Fox Sports viewers with his show alongside Skip Bayless, it would be safe to assume that Shannon has not forgotten his responsibilities towards his family just yet.
Stay tuned with us to get more updates on Shannon Sharpe.