Entertainment
Simon Merrells Was Married And Had A Wife As Per Wiki; But The Actor Denies It
Where, death hoax of people getting viral is no more a shocking story; it would be less surprising when an unmarried man is termed married and told to have a family, not just in the form of speculation.
Well, that still would be an interesting story to unfold though!
Simon Merrells, an English actor, has some clarification to make on the information that Wikipedia states regarding his marital status.
Let's see through to get to the core of the story.
Wiki Has Some Edits to Make on Simon Merrells' Bio:
It's quite usual for the actors to get into the speculations of being in a relationship; be it with the actress they share the screen with, or, a friend who gets spotted spending quality time with the actor. But people don't term somebody married; just like that!
Well, as exception prevails in almost every case; the famous English actor, here, is an exception to the above matter.
Wikipedia clearly states that Simon was Married, divorced and has grown-up son and daughter.

Caption: Wikipedia states Simon Merrells was married and had a wife.
Photo Credit: Wikipedia
But, despite knowing that the Wikipedia doesn't hold much credibility, people tend to read through the information, Wiki provides; which might mislead many readers.
Well, Simon eventually had to come forth to his rescue in 2014, clarifying that he isn't married, divorced and doesn't have kids.
@AnneMarins2 not divorced, or married and no kids, wiki wrong!

— Simon Scott Merrells (@SMerrells) April 22, 2014
Two years down the line since Simon brought the issue to everyone's attention, Wikipedia is yet to make amends. That's a shame!
Now that we know Simon doesn't have a wife, who he is married to, let us know more about the actor.
More To Know About Simon:
The English actor, Simon, who has few acting credits to his name but the significant one being his portrayal of Marcus Licinius Crassus in 'Spartacus: War of the Damned,' was born on July 14, 1966, in England.
Moreover, Simon had to get in shape to secure the role of 'Marcus Licinius Crassus.' And, he indeed shed 20 pounds for the television series!
Simon, who stands at the height of 6 feet, shared his workout routines that he underwent,
"I did morning walks, which happened even before I did the day's exercise, I'd have black coffee on an empty stomach and go on a hard 45-minute walk, which would kick-start my metabolism."
Merrells even provided insight on his low-fat diet that he followed,
"Throughout the day I was eating about a kilo (around 2.2 pounds) of meat and a kilo of vegetables, but very few carbohydrates—we'd usually cut them out after lunch, So you're eating a lot, but it was just being burned off. It was all fuel."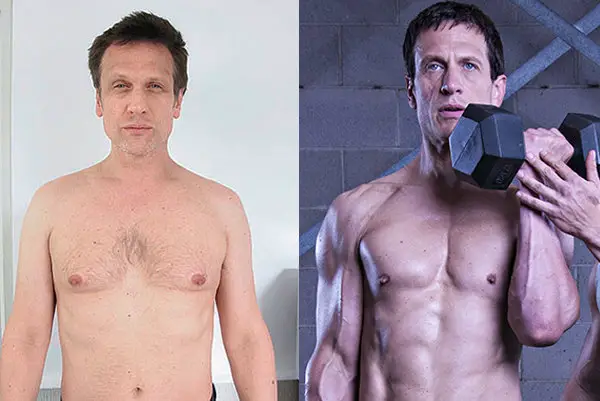 Caption: Simon's body transformation resulted from the workout.
Moreover, Simon was impressed with how his body functioned after the transformation rather than the shape he achieved.
"It's the most challenging fight choreography I've ever been involved in, but I've done all my own fights, It's a matter of pride for me when the stunt team says, 'You can do it."
Simon shared the secret for achieving the perfect body that needs to blend in with your workout schedules.
"The main thing is diet, and really finding out all the myths about what you can and can't eat. If you think about what you're eating and you eat clean, the effects are dramatic. But you have to stick to it."
Well, Simons who shares the secret of getting in perfect shapes doesn't prefer to share the figure of his net worth which he must have accumulated it via the acting credits including 'Much Ado About Nothing,' 'The Tomorrow People,' and 'On the Waterfront.'
Additionally, you might as well want to check out The Best Workout Plans For Men And For Women!