Entertainment
Simon Merrells Was Married? More On His Weight Loss Journey & Career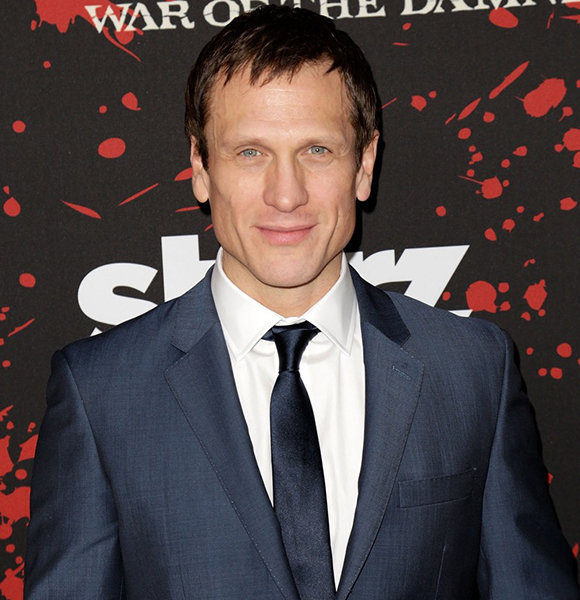 Many celebrities nowadays are still unmarried. So, it isn't as surprising as it once was. But, wouldn't you be surprised if an unmarried man is said to have a wife, not just in the form of speculation?
This incident happened to Simon Merells, an English actor who made news after being labeled as a married man.
Let's see if he has a life partner or not.
Is Simon Merells Married?
Simon Merells is single and has never been married. However, the news of him having a wife came from Wikipedia. The website claimed that Simon was divorced from his wife and had children.

Wikipedia states Simon Merrells was married and had a wife. (Source: Wikipedia)
However, the actor cleared up all doubts, and Wikipedia updated the information on its website.

Simon clears the doubt about not being married. (Source: Twitter)
Simon, who is now 56 years old, has chosen to remain unmarried.
When we look at his dating history, many sources suggest that he has never been engaged, indicating that he doesn't have a wife.
Explore: Debunking Edwin Hodge's Secretive Love Life & His Net Worth
Simon has never stated why he is unmarried and has never been seen with any woman who appears to be his wife or girlfriend.
But there are speculations that he is hiding his marriage to avoid media attention.
However, the actor has never come forward to clear all suspicions.
He seems to be more concerned about his career than finding someone to spend his life with. He even lost some weight to get a role. 
Simon Merells's Weight Loss Journey
Simon has few acting credits to his name, but the significant one is his portrayal of Marcus Licinius Crassus in 'Spartacus: War of the Damned.'
Explore: Countess Vaughn Mother Of Two Kids. More On Weight Loss
Simon, who stands at the height of 6 feet, had to get in shape to secure the role of 'Marcus Licinius Crassus.' And he indeed shed 20 pounds for the television series.
In an interview with Men's Journal, Simon shared the workout routines that he underwent,
"I did morning walks, which happened even before I did the day's exercise, I'd have black coffee on an empty stomach and go on a hard 45-minute walk, which would kick-start my metabolism."
Merrells even provided insight on the low-fat diet that he followed,
"Throughout the day I was eating about a kilo (around 2.2 pounds) of meat and a kilo of vegetables, but very few carbohydrates—we'd usually cut them out after lunch, So you're eating a lot, but it was just being burned off. It was all fuel."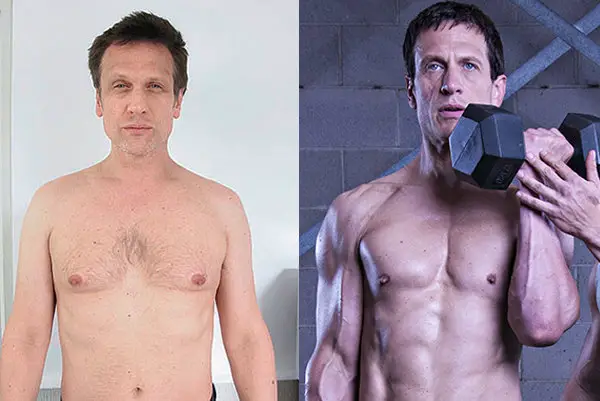 Simon's body transformation resulted from the workout. (Source: tailored fit.co.nz)
Moreover, Simon was impressed with how his body functioned after the shift rather than the shape he achieved.
"It's the most challenging fight choreography I've ever been involved in, but I've done all my own fights, It's a matter of pride for me when the stunt team says, 'You can do it."
Simon shared the secret for achieving the perfect body that must blend in with your workout schedules.
"The main thing is diet, and really finding out all the myths about what you can and can't eat. If you think about what you're eating and you eat clean, the effects are dramatic. But you have to stick to it."
Simon Merells's Career
Simon was born on July 14, 1966, in England. There is no information about his parents, but he has a younger brother. He started his acting career in theaters. 
In 2007, Simon and his brother Jason played twins in a production of The Comedy of Errors. His first television appearances were in London's Burningas DSO Griggs, Family Affairs, and Merseybeat.
Learn About: Don Johnson's Ever-Lasting Career and What He Is Up to Now
Well, Simon is very private about his personal life. He hasn't shared much about his dating life with the public.
Similarly, the person who shared the secret of getting in perfect shapes doesn't prefer to share the figure of his net worth, which he must have accumulated through his acting credits, including 'Much Ado About Nothing,' 'The Tomorrow People,' and 'On the Waterfront.'
But we can safely assume that his net worth is in the millions. 
As of now, he is still working on his other projects and was recently seen in Good Omens as Leslie the International Express Man.
Simon is still said to be single. We hope he will find someone to call his life partner. 
Stay tuned to get more updates on Simon Merells.