Entertainment
Stacey Dales Awry Married Life; The Unexpected Divorce She & Husband Faced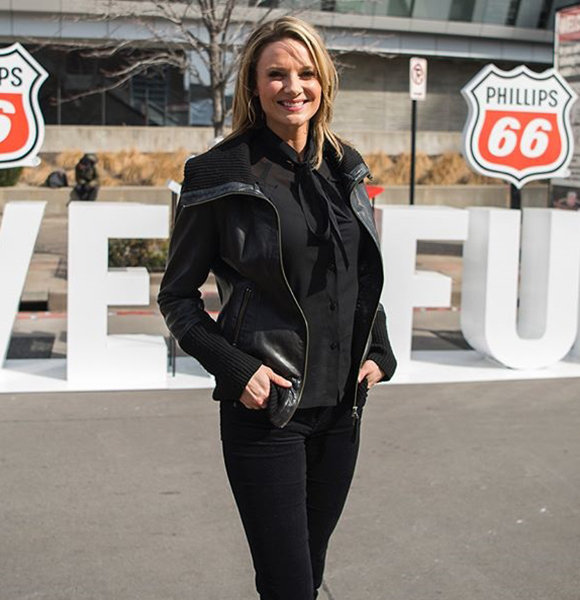 Former basketball player and ESPN host, Stacey Dales is currently rocking the sports network working as a reporter on NFL Network. Famous for her professional commitments and "can-do" attitude, many of her fans might not be aware that Stacey was once a married woman who was happily committed to a husband. 
While Stacey might want to leave her past behind and focus on the present, her viewers are more interested in knowing about her personal life rather her reporting jobs.
So, let's take a detour around Stacey's failed marriage along with the lesser known details of her ex-husband, divorce and much more!
Longtime Boyfriend Proposes After Year Of Dating
Stacey was previously a married woman who had tied the knot with a longtime boyfriend. Stacey first met her ex-husband Chris Schuman, a Houston native, a little over two years before their wedding.
You May Also Find Interesting:- Sosie Bacon In Longterm Dating Affair With Boyfriend, Soon-To-Be Family?
Chris, who worked as a salesman for Olshan Foundation Repair, initially noticed her sitting at the back of the class and instantly recognized her from the sports section of a newspaper.
The pair got involved in some informal conversations, and Chris even gifted her a newspaper which featured Stacey. Stacey also got attracted to Chris and gave her phone number for him to call. 
Stacey and Chris began dating shortly and on 13 April 2001, he proposed Stacey for marriage. Stacey accepted the proposal without any second thoughts.
The couple soon began preparing for their wedding which was planned a year after Chris' proposal with the groom doing much of the preparation for the wedding including the reservation of Church and minister, the planning of the reception, and more.
Stacey also made herself useful preparing the guest lists, choosing the wedding dress and so on.
Wedding Details; Married Life, And Unfortunate Divorce
After dating for more than two years; finally, the day came for the couple to get married. Stacey and her longtime boyfriend walked down the aisle on 13 April 2002 in Oklahoma City. 
See Also:- Charlotte Hawkins & Husband Keeping Wedding Vows Strong At Age 43, How?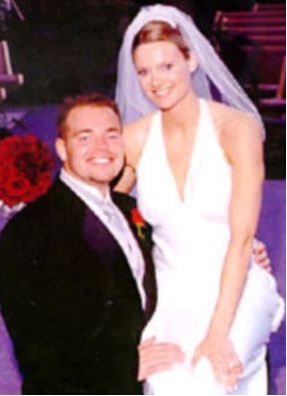 Stacey Dales and husband, Chris Schuman on their wedding day (Photo: Newsok.com)
The event was kept private and was attended by a limited number of guests which included close friends and family. Stacey even adopted her husband's last name thus introducing herself as Stacey Dales-Schuman.
Soon after getting married, Stacey had to depart for training and was separated from her husband for over a week. During an interview held a few days after the wedding, Stacey mentioned that she and her husband were thinking of moving to Washington, D.C. where she could pursue her basketball career. 
The couple lived happily together as husband and wife for a few years. Sadly, after remaining married for nearly three years, the couple took the unprecedented step of getting a divorce in 2005.
Stacey and her former husband Chris have not mentioned the reason for the divorce, nor they have revealed any details about their separation. However, looking at a woman who can resign from a sports network she'd been working for six years for not getting first class tickets for travel, a divorce does not seem very unusual.
More From LiveRamp Up:- Jamey Johnson Age 43 Really Divorced Wife For Sake Of New Album?
After the divorce, Stacey, who currently ages 39, has grown close to her parents and has even featured them on her social media posts on occasions. On 5 September 2017, she shared an Instagram post featuring her parents and also expressed her gratitude in having such loving mom and dad.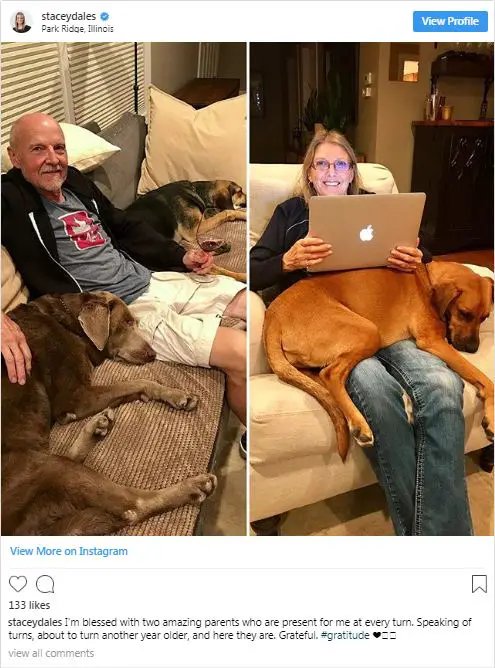 Stacey shares a lovely portrait of her parents on 5 September 2017 (Photo: Stacey Dales' Instagram)
In the meanwhile, Stacey is reportedly single and has not much flaunted her dating life after the divorce which ended her married life. As for now, she is assumably focussed on her professional career and probably doesn't have any spare time for dating.