Entertainment
Sundy Carter Wiki: From Age to Affair with a Man Who Is Neither Husband nor Boyfriend
Love sees no boundaries as it can happen to anyone and anywhere. Similarly, questions got raised when the American actress and reality star, Sundy Carter got tangled up with a man, who was neither her boyfriend nor her husband.
Even though the actress has successfully maintained her professional career till now, her journey from getting married to divorce and also having an affair with a married man has created a lot of chaos in her love life.
So, if you want to fathom about Sundy's twisted love affairs, then keep on reading as here's all about the actress that you want to know!
Sundy Carter's Love Affairs: From Husband To Boyfriends
Basketball Wives: LA fame, Sundy Carter hasn't mentioned much about her life before fame, but she was previously married to one of her co-star, Cedric Carter.
Another Basketball Wives In Our Vault:- Angel Brinks Wiki: Boyfriend Cum Baby Daddy Doesn't Care, Craves Love
During their married years, the pair had two beautiful children named Deja and KK but, unfortunately, their relationship couldn't last for long as the couple decided to say goodbyes and officially ended their relationship in divorce.
After few years, Sundy grabbed the limelight as the girlfriend of a professional basketball player, Larry Hughes and in the meantime, she also appeared on the third season of VH1 reality series, "Basketball Wives: LA."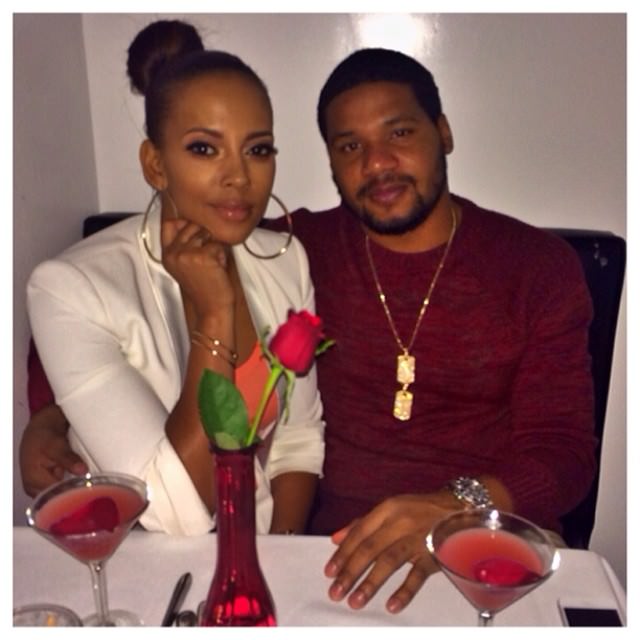 Sundy Carter clicked with her former boyfriend, Larry Hughes (Photo Credit: Blogspot)
In the year 2007, Sundy's news about her being pregnant with Hughes' baby, astounded everyone as Hughes was still married to his wife.
Even though the story created headlines, Hughes neither admitted his affair with Sundy nor accepted the baby.
In 2010, Hughes flew to Los Angeles for the red carpet event of Nelly's album release where he paid a visit to Carter and their daughter, Kennedy, whose age was three back then.
In an interview back in 2014, Sundy spoke on her relationship with Hughes that resulted in a daughter and said,
"When two people are adults and they have a mutual understanding....... I didn't get pregnant by myself, I didn't impregnate myself. I won't go deep into that. It's not off limits but it's just really irrelevant."
Sundy stated that she made their then-six-year-old daughter together with Hughes.
"It wasn't immaculate conception and therefore I'm really strong when I speak. I'm probably getting a little loud, when I think about my 6 year old, I'm like 'hold up we made this six year old together and we knowingly did this and this is what it is'."
Further, Sundy added,
"This is the outcome and regardless of who was lied to and whoever else was lied to, that's not for me to judge. All I can go by is what was presented to me."
With the passing time, Sundy and her former husband, Cedric Carter, with whom she got divorced, found their way back.
Celebs Who Reconciled:- Don Johnson Wife, Children, Relationship, Family
Sundy, once again shared her 'I dos' with her ex-husband, Cedric during the show, 'Marriage Boot Camp' earlier in March 2016.
Sundy Carter with her husband Cedric Carter during their second marriage (Photo Credit: amcnetworks.com)
The couple was still celebrating their reunion when a rumor started swirling around about Sundy's affair with the bisexual rapper, Miles Brock. It all rose after Miles posted his picture with Sundy via Instagram in April 2016, just a month after Sundy and Cedric's marriage.
Further, the rapper shared a video on Instagram, in which were snuggling, which sparked the stories regarding the affair of Miles and Sundy.
Following the incident, Sundy's husband, Cedric commented and stated that he and Sundy were still together. Further, Miles came forward and slammed the reports as well.
While dealing with the rise and fall of her love life, she simultaneously focused on her career too. Let's have a look at her wiki.
Wiki Unfolds Children, Age, & Net Worth
Sundy Carter was born in Philadelphia, Pennsylvania on 30 March 1972. Sundy graduated with a Drama major from Temple University with a degree in drama and later decided to attend Freedom Theatre.
She started her acting career in the early 2000s. Further, she has appeared in projects including 'One On One,' 'Bringing Down the House,' 'Soul Plane,' and 'State Property 2.' With her hard work, passion, and dedication towards her craft, Jessica has accumulated a net worth of $150 thousand.
Wiki You Might Enjoy:- Better Things Mikey Madison Wiki, Age, Parents
The 46-year-old actress has three children; Deja and KK, from her marriage with Cedric Carter whereas Kennedy, from her affair with Larry Hughes.
Sundy's eldest daughter, Deja is currently working as a backup dancer for Disney star, Zendaya Carter. Her second daughter, KK, is pursuing her dream to become a singer and has also been posting her songs on YouTube.
Accuses Man Of Rape
In August 2018, Sundy filed a police report citing a friend of drugging her, raping her and posting the video on Instagram.
As per the report filed at the Los Angeles Police Department, she met with her alleged perpetrator named Meechie at a bar in Philadelphia four months earlier. According to the reality star, she woke up the next morning without any memory of the earlier night.
Sundy claimed that her once-friend Meechie "laced" her drinks with drugs before accessing her hotel room.
Responding to the surfacing of the video, which showcases her performing fellatio, she said:-
"Meechie failed to mention that he drugged me as in laced my drink in the lobby & was able to get me to my room. As far as anything besides what you saw didn't take place & if so release the entire footage!"
Her alleged rapist, Meechie - real name Demetrius Green - responded by claiming that she was "bugging." And two months after the initial police report, in September 2018, the authorities arrested Meechie on the sexual misconduct and revenge porn charges.
Accused Of Rape:- Michael Weatherly & CBS, Eliza Dushku Speaks About Sexual Harassment
The police charged her alleged rapist with a plethora of charges including "harassment, the distribution of personal images, possession of an instrument of crime with intent to employ it criminally," but the lack of enough evidence led to misdemeanor charges only.
Shortly after the arrest, Meechie posted a $2.5 thousand bail and got released.