Entertainment
Does Tai Lopez, 40, Have Girllfriend Or Too Skeptical For It? Thoughts On Dating
American entrepreneur Tai Lopez, who is best known for being a partner to over 20 multi-million companies, keeps motivating people through his persuasive power to deal.
Likewise, Tai timely updates his social media with dating and marital tips, but no one has had a rubberneck towards his marital status.
Well, it won't be the same today, as we are digging out his love life; so, if you crave to know about his obscured love life, then hang on till the end!
Dating tips; Hints On Life With Girlfriend
Tai, who is currently at the age of 41, often keeps motivating youngsters passing through complicated love life. However, he seldom reflects his love life in the media. He has been successful in keeping his marital status beyond the reach of media and has not been indulged in any rumors of having a girlfriend until today.
It's tough to believe that a man with a renowned personality is abiding without a wife, right?
Other Entrepreneur:- What Is Jerome Jarre Net Worth & Is He Gay? Dating History Reflect
But even though he keeps his lips zipped about his romantic life, he acknowledges his fans and followers with dating tips and keys to a happy married life through social media.
While he has not gushed anything about his dating life, he was once rumored to be dating Kenna Alastair in 2015. The beautiful Kenna Instagrammed the picture alongside Tai where they were both dressed in the 'Batman' and Batgirl costume.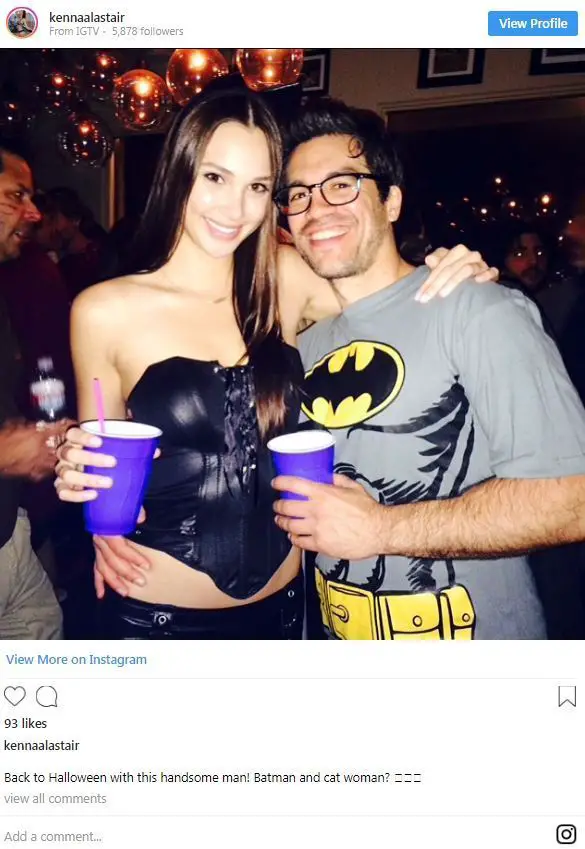 Tai Lopez with Kenna Alastair on the superhero costume (Photo: Kenna Alastair's Instagram)
But the couple never turned to confirm their alleged relationship which later faded away. As of now, while Tai is busy on giving the advice on dating life, Kenna is flaunting her romantic life with her boyfriend on Instagram.
For instance, back on 13 August 2017, he shared a tweet where he mentioned two commandments that should be taken when someone is staying in a dating relationship.

Tai Lopez's tweet on dating relationship on 13 August 2017 (Photo: Tai Lopez's Twitter)
Moreover on 29th may 2017, Tai shared a tweet where he came up with his best dating tips. Through the tweet, he recommends all the lovers not to hang out with people who are not attracted to you.
Having a glance at those tweets, it seems that he is an experienced man when it comes to dating. Those might be the lesson he learned from his previous dating relationship.
Glance At Entrepreneur's Married Life:- Peter Thiel Silently Married Boyfriend, Gay Couple Too Slick For Public?
Hints On Married Life; Tweets About "Wife"
Since Tai was silence on his dating life, but he amused his followers when he used the word "wife" on his tweets.
Back on 2 February 2016, he mentioned his "checkbook as his wife" in Twitter saying "I love my new wife", but he did not clarify if the word "wife" did mean his life partner.

Tai Lopez's tweet, Considering checkbook as a wife (Photo: Tai Lopez's twitter)
Likewise, back on 18th February 2015, Tai affirmed that one should be very careful while selecting a business partner like they chose their husband/wife. Considering his tweet, it's likely that he is very selective while choosing his life partner which probably might be the reason for his singlehood.
Dive In:- Jon Taffer,Age 63 & Wife Duo, Power Couple Keeping To Wedding Vows
Not just that, Tai, who enjoys a net worth of $5 million, time and again provides help and motivation which has led him to a hectic schedule. And it's likely that he doesn't have much time for relationships.
However, when we consider his social media, it resembles that he has some thoughts to be in a relationship, so there exists a possibility that he's on a hunt for the perfect partner for him.
While he seems to have no interest in a relationship with girlfriend, his followers started swirling the gay rumors. On 31 January 2017, one of his followers came with his gay things calling his post, the "extremely gay shit."
Discover:- Willie Robertson Age 46, Children & Wife Building Strong Family | Meet Them
Still, he has not yet come forward with his partner's name though he has been giving the dating tips to the people for years. Aside from his shadowed love-life, Tai, who has been on the entrepreneurship since the age of 19, flaunts his family lives in the social media.
He prioritizes the family life the most. He thinks, "family which gets along and loves each other is far better than all the money in the world." Likewise, he celebrated the 2018's Thanksgiving with her family which includes his 100 years of grandmother.
Keep Visiting to stay updated on the life of Tai Lopez!