Entertainment
Tevin Campbell With Girlfriend Or, Wife? More On Gay Rumors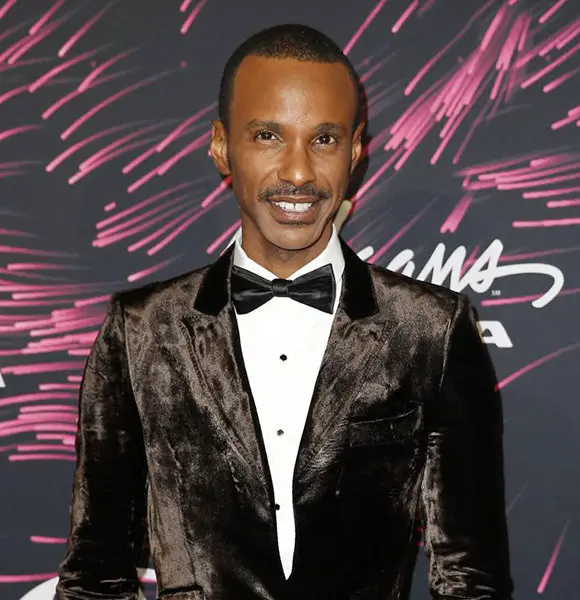 Celebrities are frequently involved in rumors. Likewise, American singer-songwriter and actor Tevin Campbell is also one of the celebrities who gained fame and had to face gay rumors for his fame.
But his rumors seem to be false as he was seen spending time with a girl. Is she his wife? Let's find out. 
Tevin Campbell's Wife
Any die-hard fan knows Tevin Campell is someone who does not post images on social media frequently. But contrary to that, Tevin shared a picture of him on his social media that features a girl named Erica.
Find About: Genevieve Nnaji Is Waiting for Her Soulmate!
Tevin's stunning image with Erica surely escorted various speculations that claimed Erica his girlfriend or wife. The public's assumptions got strong as he colored his Instagram wall with beautiful Erica. His constant updates with Erica made everyone sure of her being Tevin's wife. 
Tevin also shared an Instagram image of him with Erica on the occasion of Erica's birthday on 24 October 2016. Both Tevin and his possible wife, who first met around 2016 as per Instagram, celebrated Erica's birthday together.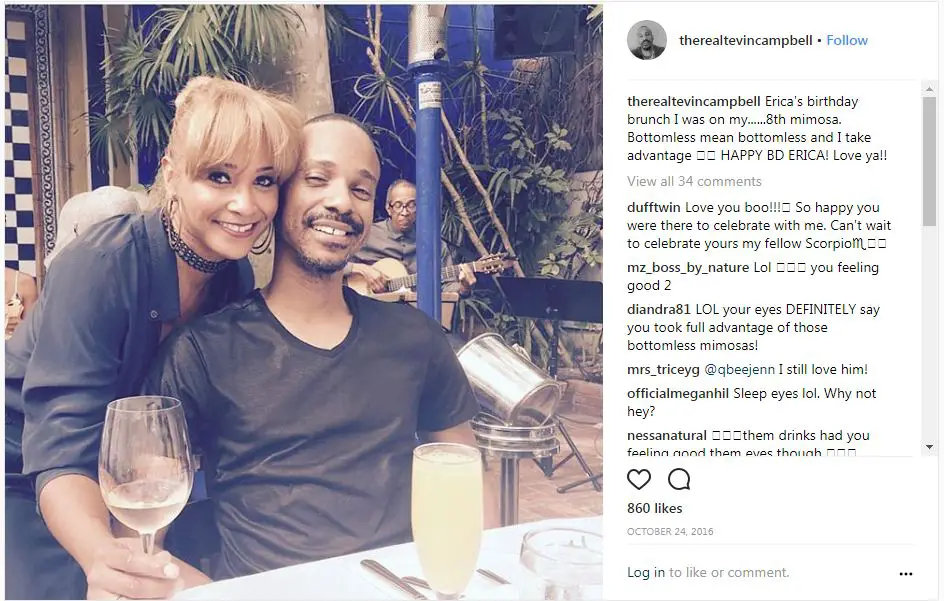 Tevin's first post with Erica on her birthday (Photo: Tevin's Instagram)  
Even though Tevin flaunted his love on social media, he did not verify his relationship status officially. But by its looks, Tevin seemed to be enjoying his dating life with Erica and yet to get married to turn her into his wife.
However, Tevin has deleted all the pictures of him and Erica from his social media. By his actions, it looks like the couple has broken up. Further, this made him go through more gay rumors. 
Tevin Campbell's Gay Rumors
Even though Tevin shared images of a girl on his Instagram, he was not clean of gay rumors. So to address the rumors, the American singer gave an interview with I Love Old School Music back in January 2015. In the interview, he was asked whether he wants people to know what his sexuality is, to which he replied, 
"I'm not gay, but there are a lot of different things that I do like, sexually. Being in the business, you are introduced to a lot of different things. I'm not gay but I'm a freak, and I think a lot of people know what a freak is."
He also added that he is 'not exclusively attracted to men', and being in the entertainment industry, he is introduced to a lot of different things. Similarly, he claimed that he cared less about people's thoughts regarding his sexuality in another interview with MadameNoire in July 2012. He stood out and said:
That's nobody's business. If someone is interested in me and they wanna be my friend or whatever, then we can talk. It's nobody's business what I like to do behind closed doors, ……And I like the fact that people wanna know. Let 'em wonder. I like to leave a little bit to the imagination. But if you happen to get to know me and we hit it off… I share a lot of personal things with friends, which is a normal thing to do.
With his statement in the interviews, it is for sure that he is not gay, and the rumors are just baseless assumptions. 
More On Tevin Campbell
Tevin was born on 12 November 1976 in Waxahachie, Texas. Tevin being a private person, has not shared much about his family. Talking about his parents, his mother, Rhonda Byrd, was his manager, and he did not have a relationship with his father. But Tevin has a sister named Marche Campbell.
His family always supported his passion for singing. Tevin began by singing gospel at a young age, first as a choir member and later as a soloist at Joshua Chapel in a small town south of Dallas, Texas.
Tevin released his debut single in 1990, and he even won the Grammy Award for Album of the Year in 1991. He is one of the best R&B singers, and his hit songs include Round and Round, T.E.V.I.N., Can We Talk, and I'm ready.
More On: Kevin Clash's Married Life and Struggle with Sexuality
Except for his music career, he has also earned fame from his performance in The Parent 'Hood, Moesha, New York Undercover, and so on. 
Like his success in the music industry, we hope Tevin will soon be successful in finding his partner. 
Stay tuned for more updates on Tevin Campbell.