Entertainment
Tom Brokaw, Opens Up About His Health and Illness: Compassionate Family Against Cancer
Health is the greatest wealth. Many people in this world are ill both mentally and physically and are not able to live their life fullest. Likewise, some people are very conscious about their health and can enjoy their life the way they like. And some people are so busy inclined to their career that they have no time to look after their health.
Today we are going to talk about an American journalist and author, Tom Brokaw's health and illness. Seventy-six-year-old Brokaw is battling with incurable blood cancer which has made him appreciate life more.
Cancer Battle With Multiple Myelomas; Compassionate Family Against Cancer
Brokaw was diagnosed with cancer in 2013.
He spoke about the battle with the disease in an emotional interview with TODAY. He talked about the people he met who suffered from cancer which includes a family friend. His friend, who passed away last year, had a severe form of cancer.
Other Cancer Victim:- FOX 5 Mike Woods Fights Cancer, Gay Rumors Swirls - Personal Life Facts
Facing a daily battle with cancer, Tom Brokaw undergoes regular chemotherapy. He has now learned to appreciate life more and the importance of having a good support system. His life is now augmented with a new group of friends who are going through a similar battle.
"Find a friend who's a doctor, and don't make them part of your treatment team, make him your consigliere, your ombudsman. They'll know what questions to ask. They'll tell you what the translation may be about the information that you're getting." - Tom Brokaw
Brokaw boasts a compassionate family against cancer. His daughter Dr. Jennifer Brokaw, who is an emergency room physician in San Francisco, has been with him in his treatable but incurable battle.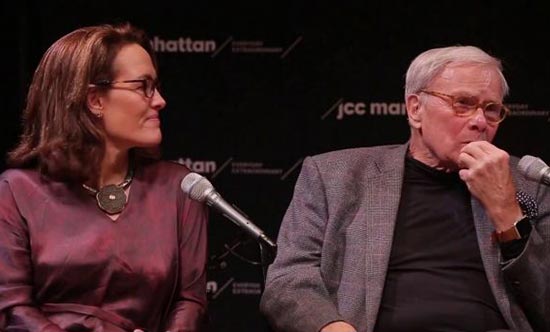 Tom Brokaw and Daughter Dr. Jennifer Brokaw in the show "What Everyone's Talking About- with Abigail Pogrebin" (Photo: YouTube.com)
His daughter played a significant role in his battle with cancer. Tom Brokaw told Savannah Guthrie and Willie Geist on TODAY Monday,
'She was invaluable to me because she knew what questions to ask, what research to look for, how to get on the phone with me.'
After realizing the impact of having a good support system to the cancer patients, Brokaw has shared much of what he has faced and its impact on his family in his best-selling book, "A Lucky Life Interrupted."
In the interview with today, he further added,
"If you have cancer, in a way your whole family gets cancer because they're involved in it. If you don't have cancer, you can be sympathetic, but you really can't understand it until you get to it yourself."
Still, the 78-years-old Award-winning journalist is making his way behind cancer. While he was sharing his sudden changed life after suffering from cancer, more than 200 people showed up to listen to his speech at the Billings Clinic Commons' lobby in June 2018.
Discover:- WWE Star Roman Reigns Reveals Cancer Battle; How Serious Is It?
Sexual Assault
Since the legendary journalist is fighting against his incurable cancer for the last five years, his former employee confronted him in April 2018 for sexually assaulting her during the starting phase of her career in NBC.
Linda Vester, a former NBC correspondent alleged that in mid-90's Tom forced her to kiss him on two different occasions. She has also detailed the incident into her journal but Tom emotionally denied all the claims.
Don't Miss:- Julia Baird Reflects On Health Crisis | Cancer Threatens Married Life
Quoting his family and friends relatively supportive, he wrote in an e-mail that
"My NBC colleagues are bewildered that Vester, who had limited success at NBC News, a modest career at Fox and a reputation as a colleague who had trouble with the truth was suddenly the keeper of the flame of journalistic integrity."
Well, since the sexual assault news has somewhat lowered, he is survived by his wife, Meredith Auld and three daughters, Jennifer, Sarah and Andrea.
Tom's Short Bio:
Thomas John "Tom" Brokaw was born on February 6, 1940, on February 6, 1940. Born to Eugenia "Jean" and Anthony Orville "Red" Brokaw, Tom attended the University of Iowa but dropped out of the University after a year. Later on, he joined the University of South Dakota from where he received his Bachelor of Arts in Political Science in 1964.
Dive In:- Cokie Roberts & Husband Stay Strong | Cancer Was Just A Hurdle - Bio Reveals
He began his television career with KTIV and joined the NBC News in the year 1966. From the year 1982 to 2004, Tom Brokaw was the managing editor of NBC Nightly News. He is also known for hosting NBC Nightly News, Meet the Press, and The Today Show. Brokaw, who is one of the trusted and respected journalists, receives an incredible salary from his profession. His net worth is estimated to be $80 million.