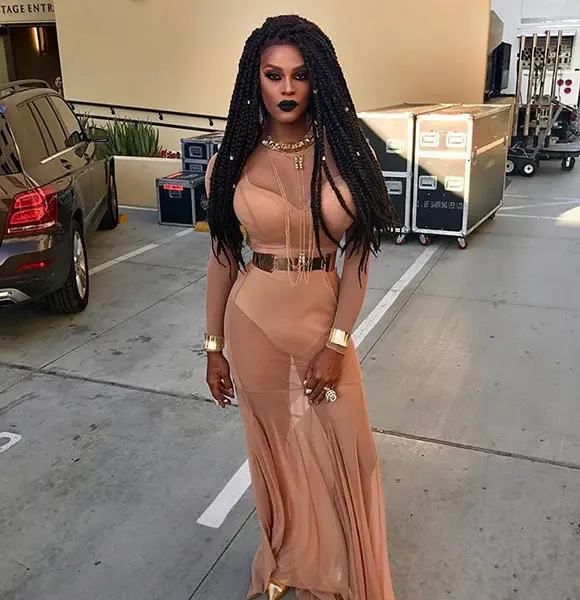 Kicked out of her house at the age of sixteen, Tyra Sanchez tackled homelessness at different times in her life. She dealt with the home situation during her audition for season two of RuPaul's Drag Race. 
But, Tyra turned her life around by getting selected for the show and eventually emerging as the winner. Then, the reality star served as the drag professor on the RuPaul's Drag U, season two. 
Also arrested multiple times, she had to struggle hard to gain back her lost reputation. 
Tyra Sanchez's Real Name, Age
Born as James Ross IV on 22nd April 1988, Tyra is a native of Gainesville, Florida. But, she grew up in Orlando. 
The 31-year-old reality star struggled with her sexual identity from a young age. Eventually, she figured out her gay sexuality after high school.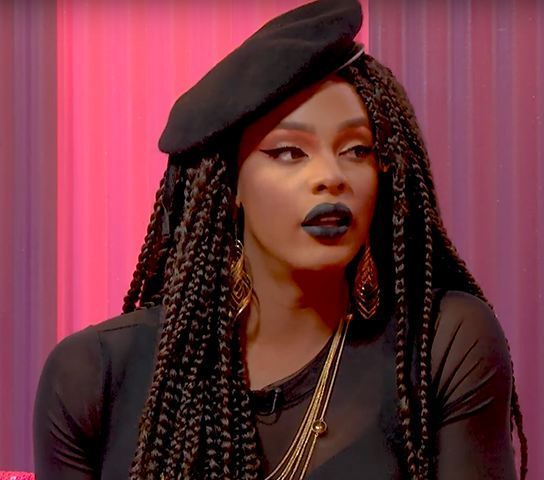 Tyra Sanchez in her drag queen mode (Photo: www.gaytimes.co.uk)
After she came out as a drag queen, Tyra's new phase of life started. She gave herself the drag name, Tyra Sanchez, which later became her stage name. Her full drag name is Tyra-Symoné Sanchez.
AGT Star Turned Drag Queen:- Adore Delano Age, Net Worth, Boyfriend
The first name is her tribute to her niece Tyra Nicole, who struggled for good health due to premature birth. The middle comes from the reality star's inspiration, Raven Symoné. Finally, Sanchez stands for her drag family.
Son & Married Life 
Tyra became a father at the young age of 17. Still a high schooler at the time, the reality star tried hard to provide for her son, Jeremiah. Although the next step was to get married to her baby mama Cynthia, Tyra figured out her gay sexuality after high school. Thus, the pair didn't tie the knot but remained on good terms. 
When Cynthia couldn't take custody of their son, Tyra looked after Jeremiah alone during the time. But, there was trouble in the co-parents' paradise in 2015. Cynthia claimed that the reality star was a dead beat dad and didn't provide for the family. 
Drag Race Alum:- Miz Cracker Boyfriend, Net Worth, Family, Height
The claim was in stark contrast from Tyra's portrayal of her relationship with her son during her time as a participant at RuPaul's Drag Race. In 2012, she even embarked on the journey to make a documentary titled Drag Dad about her father-son relationship with Jeremiah. 
Although the reality star never spoke about the dead beat dad allegations, things seemed sunny in 2017. Tyra tweeted about becoming a dad for the second time, but she didn't reveal any information about her growing family, beyond that. 
Talking about Tyra's dating life, she keeps her personal life a secret. However, in 2010, she mentioned a boyfriend but didn't reveal her beau's further information.
Net Worth From Reality Career
Tyra's earnings increased after she emerged as the winner of Drag Race season two in 2010. She was awarded a cash price of $25000 and a headlining gig at Drag Race Tour. 
Also, she got bestowed with a lifetime supply of NYX Cosmetics along with a crown from Fierce Drag Jewels company. 
Cross Dressing YouTuber:- Patrick Starrr Wiki, Age, Gender, Net Worth
Since then, the reality star of height 6 feet 2 inches (1.91 m) has been active in the industry. Along with being a performer, she boasts a clothing line called Tyra Sanchez Clothing Co., which adds to her net worth.