Becoming a parent is probably the biggest happiness in the world, and you do whatever you can to make your child happy. The same can be said about well-known TV personality Vanessa Simmons who is now a mother, and along with her boyfriend, she has been trying to reach parenting goals with everything she can do.
Reaching Parenting Goals:
As a parent, you prioritize your child more than anything else, and the same can be said about Vanessa and Michael Wayans who co-parent their baby daughter, Ava Marie Jean.
Baby Blessings:- Danielle Bergman Husband, Baby, Wedding
The pair first broke the news to the public of them expecting a child in September 2013 when the baby was already five months inside her belly. Initially hoping for a boy, they got a girl in their lives, and Vanessa explains this in her statement,
"We are both very excited about the birth of our first child, we totally were expecting it to be [a] boy all along but got very surprised when we found out it was indeed a girl. I immediately went out and brought a cute [little] outfit for her right after the appointment."
Vanessa further stated that her daughter had made her life even better. She expressed,
"She is a little miracle in my life and she's come along and helped me restore faith in myself and confidence in myself. My child has definitely allowed me to grow more. It's just been an awesome experience for me."
Moreover, she added,
"She [teaches me] something new every day. Which is not something that I expected when having a baby. I didn't expect for her to come along and teach me things, but she did."
The couple does not hesitate in showing love for their daughter, which is evident in Vanessa's Instagram, which is filled with images of Ava. Her Instagram bio first reads "Mommy," which shows her value of being a mother.
Vanessa and Mike's immense love for their daughter is visible while strolling their habit, that includes the celebrations they make on each and every moment of their daughter's life till date.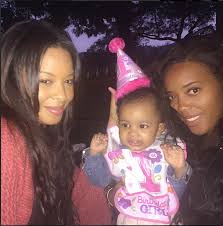 Too Young To Celebrate A Birthday? NO! Ava's first birthday party (Photo Credit: MadameNoir.com)
Moreover, Vanessa also prefers to go shopping with Ava quite a lot. She explained this as,
"I come back home and I'm supposed to go out to get dish detergent and Mike [Wayans] is like, you went shopping for the baby again? I can't help it! It's a girl!"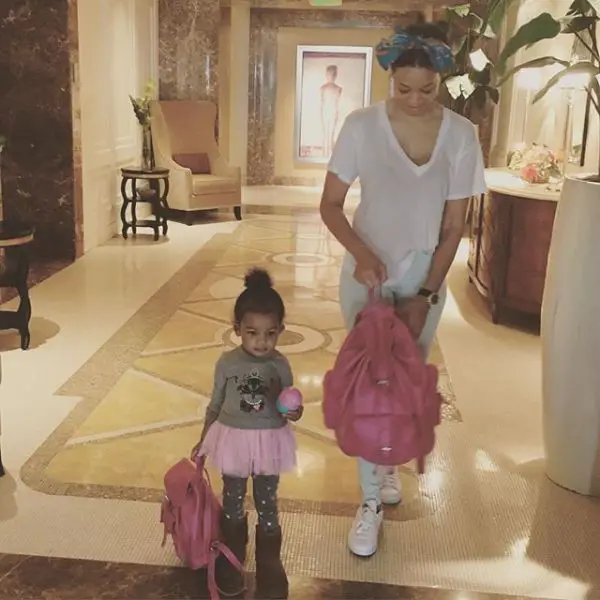 Vanessa having her mommy moments (Photo Credit: essence.com)
It's a good thing that Vanessa is getting to enjoy her time and life in general with her little princess. With Ava growing swiftly, she started going to school. She celebrated her fifth birthday in February 2019, which led many to ask if the couple should be looking to have a second child.
Vanessa Simmons' Sister:- Angela Simmons Completes Mother-Baby Goals! A Son She Got From Fiance-Turned-Husband
However, the suggestions were dismissed by Vanessa when she mentioned that handling one kid was a tough job for her and so, two children would not be an option. But, she stated that once she and Michael get married, they will think about having a second child.
Vanessa And Mike's Relationship:
Co-parenting their little daughter Ava is not the only thing keeping them together.
The two share an immense love for one another, and that is why these three make an adorable family. The two began dating back around 2006-2007, and the two share ample love between them since then.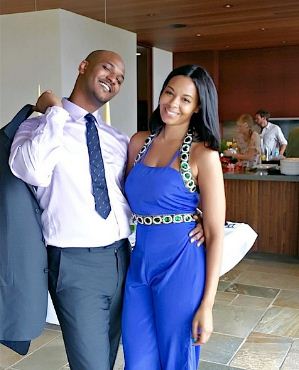 Vanessa Simmons and Michael Wayans have been dating for more than a decade (Photo: Thejasminebrand.com)
Although the news of them getting married in early 2014 turned out to be a hoax, the daughter of Joseph Simmons still calls Mike her husband in a video adding how much he loves her.
As of now, Vanessa is busy looking at her career as a reality TV star.
Michael is also progressing well in his acting career. The son of Lisa Thorner and Damon Wayans is following his parents' footsteps in the entertainment industry. He has proved his worth in acting and is known for playing in movies like Blankman, Dance Flick, and My Wife and Kids.