Wells Adams is Dating Sarah Hyland! Everything You need to know: His Wiki, Age, Birthday and more. Wells Adams is dating Sarah Hyland, and the couple makes their relationship official via an Instagram post on November 5! Sarah confirmed their relationship as she posted a black and white picture.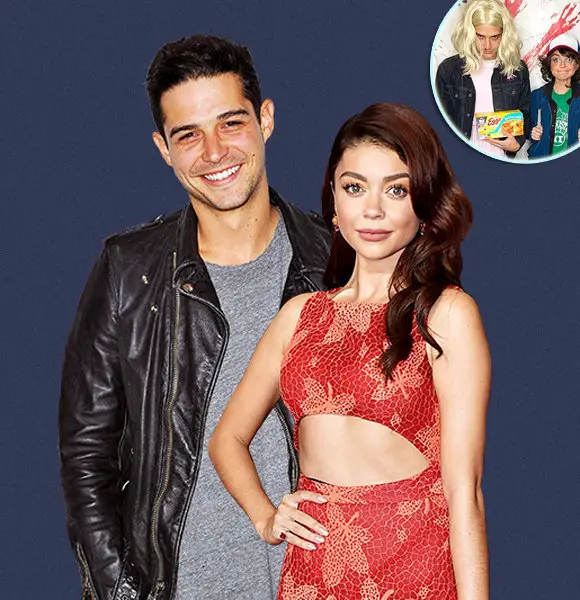 On 16th July 2019, Wells Adams became an engaged man. He revealed the news of his engagement with girlfriend-turned-fiancee Sarah Hyland via Instagram.
Sharing a minute and a long video of the beach proposal, the radio DJ quoted Drew Holcomb & The Neighbors as the caption. Meanwhile, the Greek Charming actress shared a slide show of photos from the day, captioning with a line from the 1995 movie, It Takes Two.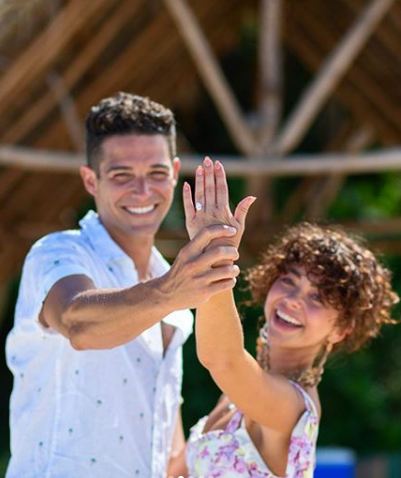 Wells Adams helps his girlfriend-turned-fiancee Sarah Hyland flaunt the engagement ring circa July 2019 (Photo:- Sarah Hyland's Instagram)
When the news of Wells and his wife-to-be Sarah getting engaged hit the internet, Hollywood - including the Bachelor Nation - flooded the duo's social media feed with congratulatory messages. Lily Collins, Vanessa Hudgens, and Nick Jonas professed happiness for them.
Back in September 2018, The Bachelorette Alum hinted his plans to settle down. At the time, he claimed that the lovebirds weren't planning to tie the knot any time soon. But should they tie the knot, he asserted that the wedding wouldn't make it to the TV.
Being Sarah Hyland's Boyfriend; Dating Confirmation
The news broke about Wells Adams dating Sarah Hyland dating after the pair made their relationship official via an Instagram post on 5 November 2017.
Reportedly, Sarah confirmed their relationship by sharing a black and white picture where she got captured cuddling up to Wells while sticking out her tongue.
Simultaneously, Wells shared a cuddled up picture too, and the photo speaks itself of their inevitable romance. The duo first sparked the rumor after they made an appearance in the Halloween party getting dressed up as 'Eleven' and 'Dustin' from 'Strange Things.'
Bachelor Alum's Sweet Romance:- Lauren Bushnell Age, New Boyfriend, Parents
The couple received approval of Danielle Maltby, whom Wells was rumored to be dating. Danielle supported the couple as she was seen shutting down the haters with her comments, as evident in the snap of the comment.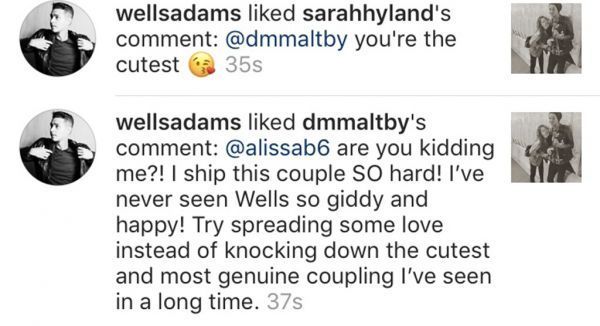 Danielle Maltby comes in support of the couple Wells Adams and Sarah Hyland (Photo:- E! News)
While Wells and Sarah flaunted their relationship, the insider of E! News also assured that Wells and Sarah shared a girlfriend-boyfriend bond.
A source revealed to E! News that they had been spending time with each other and Wells even proudly introduced Sarah to his friend as well.
"It's true. They are a couple. She has been spending time with him in Nashville and he is showing her around and doing fun activities with her. Wells is proudly introducing her to all of his friends and is really happy that they connected. They are taking it slow but are not seeing other people."
The source added,
"Wells likes that she is goofy like him, and they are always cracking jokes together-it's cute."
Moreover, another source revealed that Wells and Sarah had been dating for a couple of months by November 2017
How Adam Met His Girlfriend?
Adam and his girlfriend had an internet meet-cute!
Sarah, being a superfan of Bachelor, tweeted about her favorite show on Twitter regularly. Adam, on the other hand, was a fan of her work in the Modern Family.
One day on Twitter, the good-looking pair shared flirty vibes, and it was no surprise when the couple started dating eventually. While on Jimmy Kimmel show in 2018, Sarah revealed that her handsome boyfriend slid in her DM and the pair hit it off from there.
Explore:- Is Eric Stonestreet Gay In Real Life Just Because The Actor Isn't Married?
Well, the pair couldn't help but flaunt their love for each other on social media. Especially their mutual love for taco and tequila binds them.
Initially, Adam and her girl shared a long-distance relationship; he lived in Nashville and Sarah in LA. In August 2018, the long-range part of their relationship ended as Adma moved in with his TV-star girlfriend.
The pair's secure connection got felt when the radio host rushed to his girl's side when she got hospitalized in March 2019.
After getting acquainted with the relationship the couple shares, let's know more about Wells Adams!
Wiki Details: Age & Birthday
Wells Adams was born in the United States on 19th May 1984. He grew up in California with a family of four siblings and later relocated to Nashville, Tennessee. Wells graduated from the University of Mississippi and holds a degree in broadcast journalism and did minors in English and PR.
He is an avid animal lover and has extended his love for animals by being associated with the Nashville Humane Association. He even gushed about one of the dogs from the organization back in July 2016.
Moreover, Wells owns a 90-lbs dog named Carl and has created an Instagram account for him called Carl the Bloodhound. He even shared a picture with Carl, wishing Carl on its birthday back in August 2017.
His love for the dogs was visible when he shared his emotions for the human's best friend,
"Dogs have a weird ability to sense your emotions. They are very good at comforting you when you don't feel so hot, or matching your emotions when you're energetic. It's weird how intuitive these beasts are. And the majority of humans are obsessed with them. I honestly do not know what I would do without my dog."
However, although he loves dogs, he isn't fond of cats!
Moreover, Wells confessed that he doesn't like pizza as well.
"I don't love pizza. I know that's weird, but it's true."
Wells, who is 35 years of age, celebrates his birthday on 19th May every year. Wells is a radio host and has hosted programs in Nashville's radio stations including 1059TheRock and ALT983.
He also hosts a podcast called Your Favorite Thing. Additionally, he went on to become a bartender in 'Bachelor In Paradise' season 4 and also has appeared as a contestant on the reality show 'The Bachelorette' season 12.