American rapper YBN Cordae garnered earlier fame by releasing critically acclaimed mixtapes. Although he started as a minor celebrity, the talented wordsmith soon gained wide acclamation as his career transitioned into a rapper and songwriter.
Read on to learn about Condae, including his musical background, bio, and more!
Bio: Background, Net Worth, Parents & More
YBN Cordae (real name: Cordae Dunston) was born in Raleigh, North Carolina in 1997. The Atlantic Records artist proclaims his birthday every year on the 26th of August.
He was born as the eldest child in his family with four of his siblings following him. The Have Mercy hitmaker comes from a background of a hard-working family. His parents had separated sometime after his last sibling was born.
Cordae - who possesses an African-American ethnicity - was raised alongside his siblings by his single mother, for which the artist is forever grateful.
NFL Star's Background:- Ezekiel Elliott Girlfriend, Married, Background
As a young child, the Scotty Pippen rapper was obsessed with music and always dreamt of pursuing a career as a musician. He started mixing different hit singles and released his mixtape Anxiety in 2014, which brought initial fame for then-teenager.
Invigorated with the responses, he started focussing more on his music and released two more mixtapes in 2016 & 2017, namely I'm So Anxious, and I'm so Anonymous.
In 2017, Cordae became a member of Young Boss N*ggaz (YBN), which was formed by YBN Almighty Jay and YBN Nahmir in 2014.
Apart from his mixtapes, the Locationships hitmaker - who stands at the height of 5 feet 9 inches (1.75m) - has also released a series of singles including Kung Fu, Scotty Pippen, and Fighting Temptations.
Although his net worth is not public knowledge, the 21-year-old makes substantial money from his works. His YouTube earnings alone are estimated to be between $4.9K to $79.1K.
Dating Tennis Star?
Cordae's love life was always a subject of curiosity for his fans, but his silence on the matter had often left them disappointed.
However, recent development suggests that the musician might not be single. He is reportedly dating the renowned tennis player, Naomi Osaka. Naomi defeated Serena Williams to win her first US Open Championship in 2018, and she is also the winner of 2019 Australian Open.
More On Tennis Champion:- Naomi Osaka Rises Victorious In US Open First Round! Rising Mixed Ethnicity Player Upsets Angelique Kerber
Cordae and Naomi's apparent relationship came to light earlier in 2019 when the tennis star shared a video of the two hanging out while casually flirting with each other.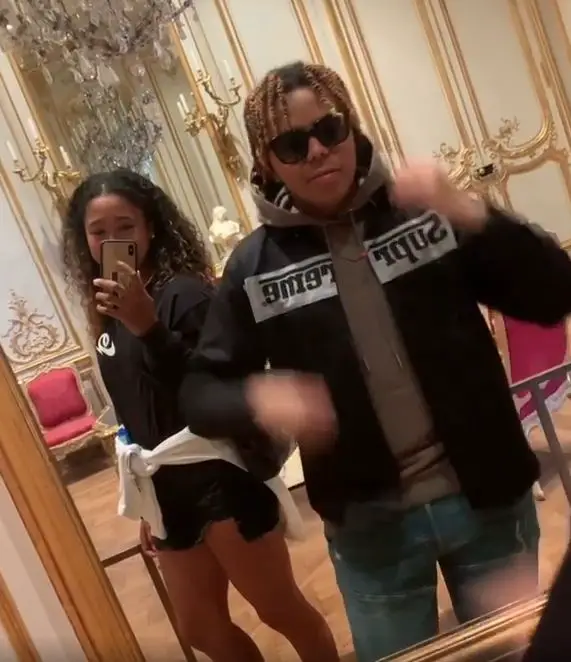 YBN Cordae with his reported girlfriend, Naomi Osaka in April 2019 (Photo: Naomi Osaka's Instagram)
While the pair is yet to announce their relationships, fans are already rooting for the couple.
Gay Views
Although he has never come out as gay, Cordae has often expressed his views on the gay community. Back in 2013, he started a tweet doubting his sexuality for listening to R. Kelly.
"Am I gay for listening to R Kelly??"
The rapper, who previously went by Entendre, supposedly meant the statement as a joke, but many believed that he was indeed gay.
Later in January 2015, he shared another tweet, this time dedicated to his younger brother. Cordae mentioned that his 11-year-old brother was growing up to be a gay man as he still believed in Santa Claus and was afraid of the dark.
Alleged Homophobic:- Is Lord Jamar Really Homophobic?: Rapper's Amazing Net Worth, Resides With Wife and Son
Many criticized him claiming that being gay doesn't mean being stupid. Further, he also got shamed for his derogatory views on gay people.