News
AGT Champion Shin Lim, 26, Bio: What's His Net Worth & Who's The Fiance?
The winner of season 13 of America's Got Talent(AGT) has been announced!
In the star-studded finale held at Dolby Theatre in Hollywood on 19 September 2018, Magician Shin Lim age 26, took home the coveted title as well as $1 million prize money and a three-day a week residency in Las Vegas -- making him the second magician in the franchise's history to ever clinch the trophy.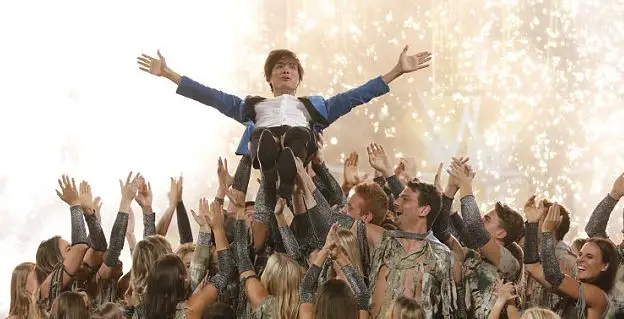 Shin lifted on air by performers after being announced champion of AGT (Photo:- Dailymail.co.uk)
Tyra Banks, who was tasked with announcing the winner of the 13th edition of the NBC's hit reality show, gave a fitting description of Shin yelling:
"The sexiest magician on the planet!"
For his final performance, Shin - whose net worth isn't disclosed yet - performed a card trick for comedian Matt Iseman and American Ninja Warrior's Akbar Gbjaja-Biamila -- an amazing feat he was able to pull off despite suffering an injury not that long ago. 
Following the announcement, the 26-year-old Canadian-American looked ecstatic and even managed to shed a tear or two.
Interesting:- LeSean McCoy, Massive Salary & Net Worth Bagger & Girlfriend Engaged - In Lawsuit
To say that Shin was left speechless would be an understatement. In a quivering voice, he accepted the revered AGT title saying:
"I love you all so much, I love you all so much…I can't speak right now"
The judges on the show had nothing but praise for the magician. They also praised the fellow contestants namely Zurcaroh and Brian King Joseph who were declared the first runner-up and the second runner-up respectively.
Likewise, Stand-up comic Samuel J. Comroe had finished in the fourth position. Whereas, singer Micheal Ketter came in the fifth position.
The AGT finale also saw live performances from the rock band, Kiss and pop singer Bebe Rexha.
You May Like:- Who is Aaron Phypers? Bio of Denise Richards' Husband and Their Wedding Details
Following the win, his fiance, Casey put up an Instagram post of the two where she described her emotion seeing Shin clinch the AGT title.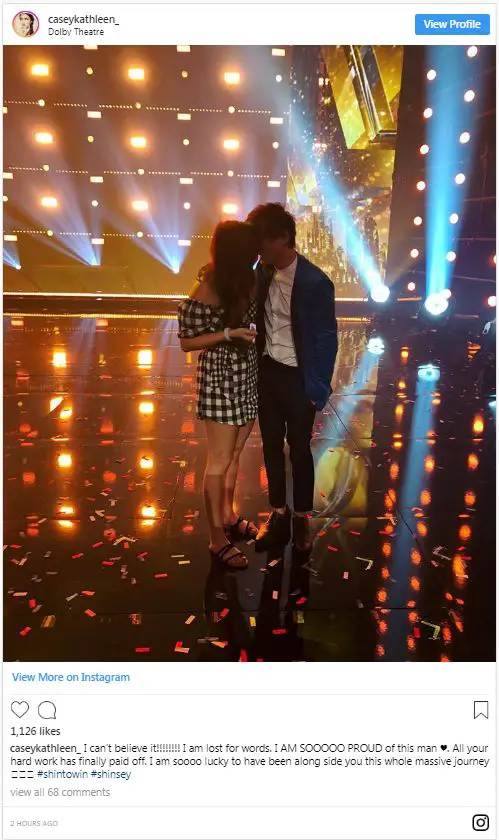 Jin's fiance, Casey pens a heartfelt post, congratulating him on the win (Photo:- Casey Kathleen's Instagram)
According to Shin's bio, he and his wife-to-be have been together for almost two years now.
Interesting:- Johnny Galecki Dating Confirmed! Half Age Girlfriend, Absolute Stunner
Congrats to Shin Lim on being the champion of the 13th edition of AGT.
Shin Lim's Mini-Bio
Born on 25 September 1991, Shin Lim is revered for his use of car manipulation and sleight of hand. He's the middle child of Singapore-born parents who had moved to British Columbia, Canada.
The Lim family later moved to the U.S. when was just 11 years old. Originally billed to be a musician(he had even attended the School of Music at Lee University), his love for showmanship and magic eventually became his true calling.
After gaining a fan following via his YouTube videos, the British Columbia native began making TV appearances including Peen & Teller: Full Us. Between 2013 and 2015, he won three IBM People's Choice Award's for Best Close-Up Magician.