Music
Bradley Simpson's New Girlfriend? Find Out His Net Worth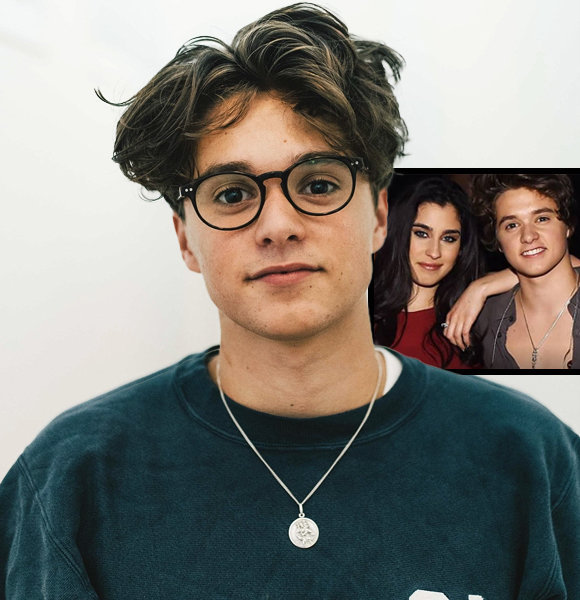 The super cute singer Bradley Simpson might have a girlfriend in his life.
The young singer seems to have found someone who shares the same passion and love for music, and life seems to be happy for the two. 
Who Is Bradley Simpson's Girlfriend?
The singer was previously reported to have dated Lauren Jauregui, a former member of the band Fifth Harmony back in 2014. 
They dated for good eight months, after which Simpson and his former girlfriend broke up. However, their teenage romance was at its peak as Bradley seemed much happier and also joked about him and his girlfriend's ship name. 
Their ship name was "Brauren," by the way. 
How cute!
The love life of Simpson had been hush-hush since, until 2020, when it was reported that he had begun dating the 'Dont Need Love' singer Gracey. 
Bradley Simpson & His Current Girlfriend (Source The Sun)
Gracey is a singer/songwriter who has written songs for Rita Ora, Jonas Blue, and many more renowned artists. 
The pair started dating in 2020 after having known each other for a while. However, the news of the pair's relationship surfaced only after the two dated for a while and decided it was time to make it official. 
 Brad has finally found love with Gracey and really likes her.
Said a source who happens to be very close to Simpson, reported The Sun. They furthermore revealed how Simpson's bandmates also approve of his relationship. The source further said, 
Brad's bandmates approve of the relationship and really like her.
Brad is an active member of the band The Vamps, which started in 2012, and he has been with the band been for almost a decade. 
'Different Things' singer Gracey and Simpson have been dating for two years, and Simpson seems much happier with his gorgeous girlfriend.
Now, all we can do is wait for the two to release some music together and bless our ears with the ambiance of their soulful vocals. 
Simpson, who was also seen in '8 out of 10 cats' at a young age, has achieved much in his career.
Standing tall at the height of his successful career, apart from a fulfilling relationship with his girlfriend, Simpson also enjoys a generous amount of net worth that he accumulated through his hard work and perseverance.
Get to know - Arnel Pineda's Life with Wife & Net Worth - A Magical Melody of Its Own
Bradley Simpson's Net Worth 
Simpson became part of The Vamps back in 2012 and has been an active member ever since. Simpson, age 28, has done well with his band and has accumulated a wide number of followers and fan base. 
He has a massive following of over 1.4 million followers on his Instagram, which accounts for a much larger fan base. 
Simpson and his band also rely on tours to serve their fan a taste of their music and outstanding performances, as a result of which their tours are mostly sold out. 
They surely do earn a lot from the tour tickets and merch sales. Well, who doesn't want to own a merch of their fav, right?
More on - M. Shadows And His 6th Grade Romance Led to Marrying His Wife
The band's merch also contributes to their income and, not to forget, the online streaming.  
By 2020, The Vamps had completed a total stream of 4 billion, which has significantly increased over the years and multiplied in numbers.
So, calculating all of the sources of Simpon's income, it is safe to assume that his net worth is massive. But is his net worth that massive to be listed in millions?
There might not be any official information to his net worth, but this supremely talented and extremely handsome singer, having over million-dollar assets, is not a far-fetched thing.