Music
Tattoo Lover Nikki Sixx's Multiple Memorable Tattoos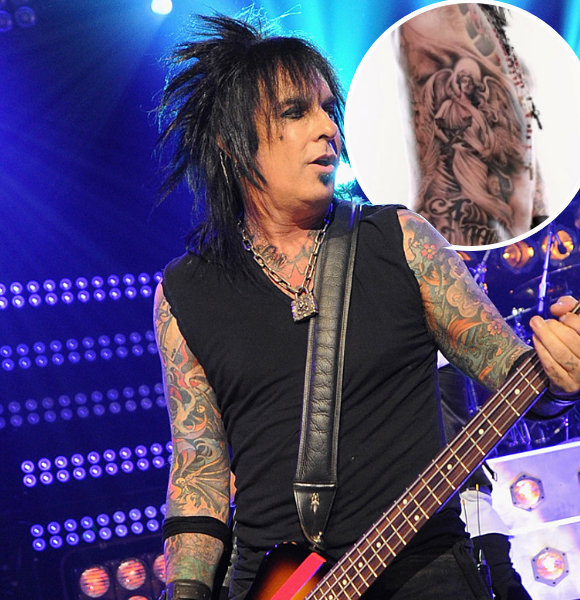 Nikki Sixx is known to be one of the backbones of the band Motley Crue. The American musician is a glorified personality in the world of heavy metal. He is in his 60's, but his rejuvenating aura is still a facet of his character. 
Apart from his staggering musical contributions, Nikki is also known for his tattoos. While tattoos are not always necessary to have a certain meaning, Sixx has many inks in his body, which is very important to him and represents his remembrance for important people in his life. 
Nikki Sixx's Tattoos 
Sixx has multiple inks on his body, his first being a black spiderweb and a black heart which he said he got as he was "kind of a dark child."
The bassist has portraits of his four children on his lower calf and one of his grandfathers on his upper thigh. 
But apart from the significance of his family, the tattoos hold other important meanings for him. His inks were made by a famous tattoo artist and a former beauty mogul, Kat Von D. 
The two had been together for two years, and during the time, Kat inked Nikki several times. But, among all the inks she did, the most beautiful piece she did was a portrait of Mick Mars. 
Yes, he has a portrait of Mick Marks on his upper leg. For those who don't know, Mick Mars is the led guitarist of Motley Crue. He decided to ink the portrait on his body back in 2009 when he appeared on the show LA Ink.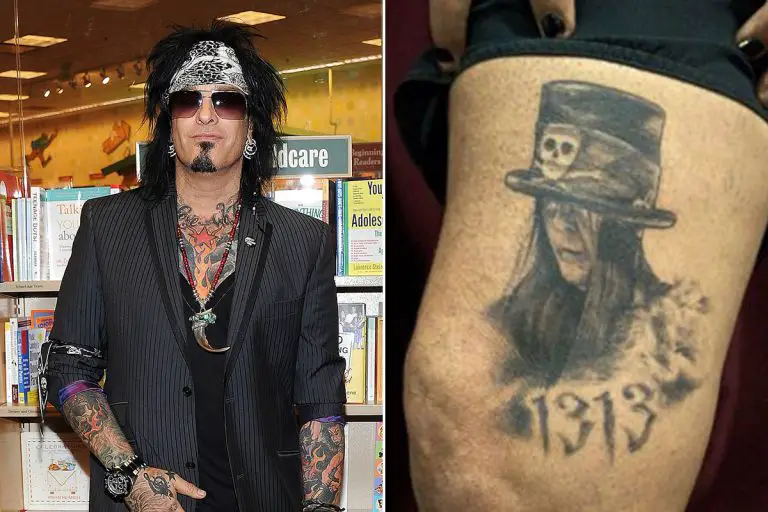 Nikki Sixx's ink For Mick Mars (Source- RockCelebrities)
Sixx shares how Mick was a "very special person" for him and that he wanted to honor him with his ink.
While You Are At It: Is Model Stephen James Gay? The Tattoo Fanatic Hints Answers
 Further speaking highly of Mick, he said, 
"We all look up to him so much, and Mick doesn't get enough credit 'cause he doesn't stand up and says, 'Look at me!' Tommy, Vince, and I were big personalities. We're showmen. We're outrages, loud, getting in trouble."
He also added that Mick is the "wise one" and always sits back, which is the trait of him that Sixx looks up to. 
Apart from his inks dedicated to his loved ones, he also shares similar tattoos with his loved ones, specifically his daughter. 
Same Ink as His Daughter's
Nikki has been married to his wife Courtney for almost eight years now. The couple gave birth to their first child, Ruby Sixx, back in 2019. However, Nikki has four other children from his past relationships. 
More On His Personal Life: Nikki Sixx Found Luck The Third Time With Wife; Looks After Kids From Past Married Life - Especially Daughter
Two sons named Gunner Nicholas Sixx, Decker Nilsson Sixx, and two daughters, Frankie-Jean Sixx and Storm Brieanne Sixx.
The four of his children are all grown up and adults now. Back in 2019, on the day of his daughter Storm's birthday, the father-daughter duo got a matching "cupcake" tattoo in Japan. 
Nikki took to his Instagram and shared a picture alongside his daughter showing off the cute cupcake ink.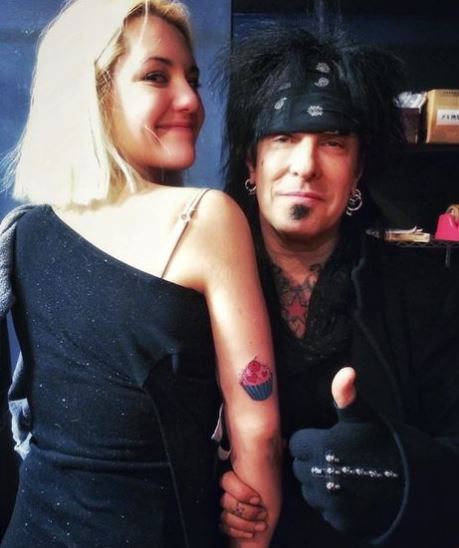 Nikki Sixx's Matching Ink with His Daughter (Source- Instagram) 
Apart from that, he also has a very cool back piece of what looks like a blazing sun with a face on it. 
Additionally, he also has a few symbols on his feet and his toe. 
It's of no doubt that Nikki is pretty fond of getting memorable pieces inked on his body, and rightfully so, as he has achieved so much in his life, there are just some that he needs to hold dear and near to him.