Music
Exploring Tyler Joseph's Mysterious Tattoos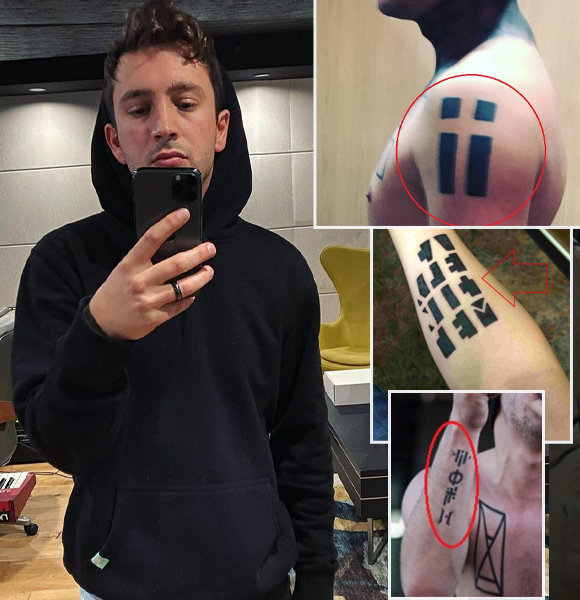 From performing in front of sold-out stadiums to receiving 2017 Grammy Awards in underwear, the Twenty One Pilots vocalist Tyler Joseph's name is stuck with millions of music fanatics worldwide.
No wonder his performances and jaw-dropping music have been the talk of the town for several years now, but his personal details also do not miss getting the buzz. One of the curiosity-triggering details of the artist happens to be his intriguing tattoos spread widely on different parts of his physique.
Exploring Tyler Joseph's Tattoos
Let's start with the ink that his bandmate Josh Dun tatted on his thigh when he lost a challenge. 
The challenge, as posted on Twitter by Tyler on October 30, 2015, stated that whoever among the two lost the voting poll on their names would later get inked of the winner's name with their live audiences witnessing it.
Well, the poll's winner happened to be Josh, who got lucky enough to ink his buddy with his name in front of thousands of their fans.
The iconic moment of Josh completing the challenge on stage was quite a show that their fan still remembers. On the other hand, Josh treasured the moment through his Instagram post of November 3, 2015.
What a fun way to get a tattoo!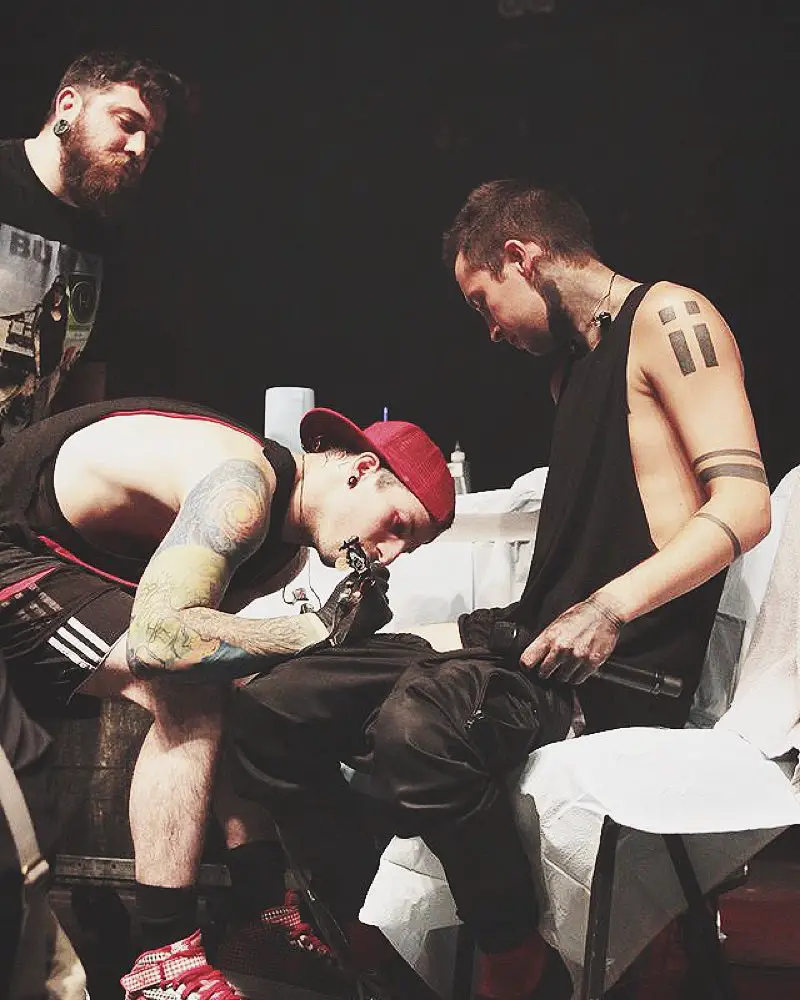 Josh Dun inking his bandmate Tyler Joseph on the stage (Source: Instagram)
Not only Tyler but Josh also has his bandmate's name inscribed on his knee as an ode to their companionship.
Likewise, another one of the vocalist's eye-grabbing ink is the thin bands on his left wrist. As the mystery still remains as to what the bands mean, his small symbolic tatts on the right arm.
There is more to the symbolic inks on his body. Another mysterious ink is on the inner part of his right arm, which is sure to keep you staring, trying to come up with a meaning that the artist has not bothered to stretch on.
Per the analysis of a website, the tatt seems to mean the Latin words 'Carpe Noctem', which translates to 'Seize the Night.'
Further, his arm ink design that shows off perfectly whenever he goes for sleeve-less attire displays two thick solid blocks.
Also explore the tattoos of - All about Adam Levine's Mind Blowing Tattoo Collection
Adding to his matching tattoo with Josh is the miniature symbol X enclosed in the letter C that is engraved on his arm.
Tyler does have a fascination with tatting letters and symbols. The roman numerals inked on his inner arm is another one of his letter tattoos collection.
His fans assume that the roman script, which translates to 43:16:33, signifies a verse from the Bible.
Want to be more amazed by his strange tatts? A couple of mysterious geometric symbols on his chest are here for a serve.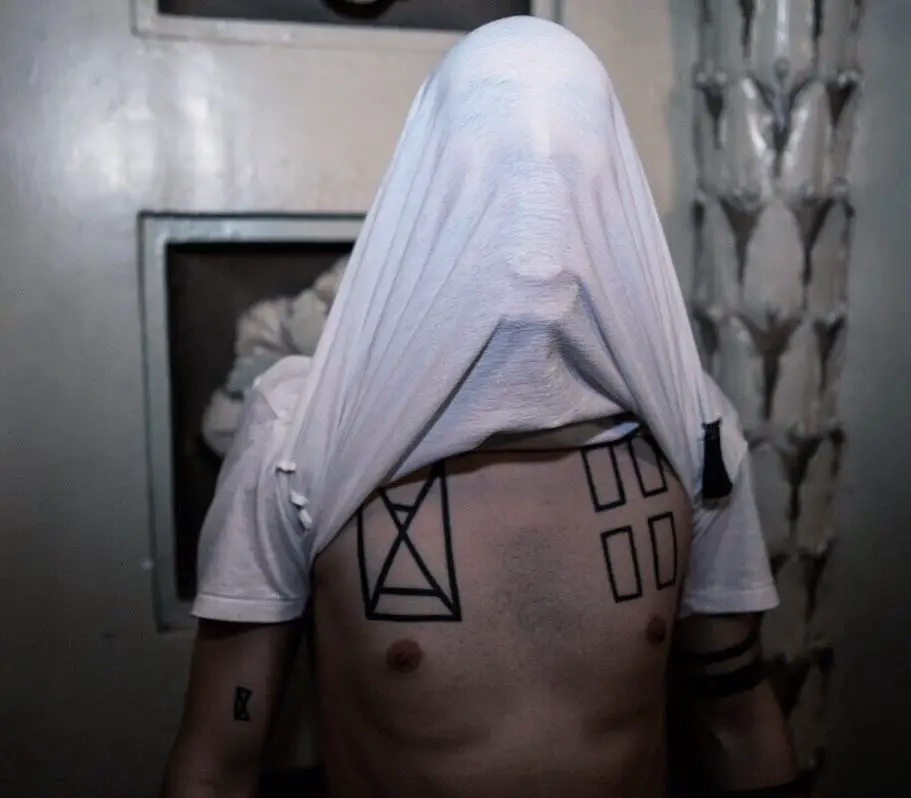 Tyler Joseph's chest tattoos on display (Source: Instagram)
As mind-boggling and artistic as his tatts are, Tyler's artistry reflects through his catchy and unique music that perfectly blends with the wide range of modern pop and rock genres.
More on - Rob Zombie's Multi-million Dollars Net Worth to Numerous Tattoos
Tyler Multi-Million Dollars Net Worth
Given the extensively wide reach of his music and rising popularity, his musical ability has been taking over the musical world by storm for several years now.
The Twenty One Pilots duo, Tyler and Josh, came to the mainstream in 2015 when the band soared to fame with its fourth album Blurryface.
The album consisting of Grammy-winning songs Stressed Out and Ride kept the band on top of the music charts for several weeks, making the album one of the best-selling in the world.
Since the massive success in 2015, prosperity has never left Tyler's side, making him one of the notable musicians with a hefty net worth.
Speaking of the accurate numbers of Tyler's net worth he earned from his monumental music career, Celebrity Net Worth reports that he is entitled to a 16 million dollar fortune as of 2021.