Entertainment
Actress Karla Souza Married Life With Banker Husband, Marshall Trenkmann
Actress Karla Souza has been living a fairytale life with her husband of two years. Let us explore the private life of the star with her husband and also her achievements so far.
Karla Souza's Blissful Marriage with her banker Husband:
Karla Souza, unfortunately for all the single men out there, is a married woman. She got engaged to her longtime boyfriend, Marshall Trenkmann, a Texas banker, in December 2013 and finally got married five months later, in May 2014.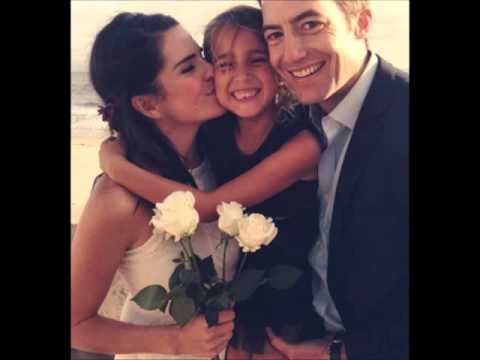 Karla and Marshall sharing the camera with one of the flower girls at their wedding (ytimg.com)
The wedding took place in Hotel Hacienda Vista Hermosa in Tequesquitengo, among close friends and family members. It was a very intimate and religious ceremony according to Hola.com
In an interview with Us Weekly in 2015, she revealed that her husband leaves sweet notes in her bag to make her happy throughout the day.
"My husband [Marshall Trenkmann] leaves me articles he wants me to read about something we were talking about, like Latino culture. Or he'll drop a little note in my bag saying, 'I hope your day goes well! I love you.' It's super sweet!"
Isn't that the sweetest thing ever?
Besides the super sweet messages, Karla also credits her husband for her success. In an interview, she revealed that it was because of Marshall's patience and support, she feels invincible and has been able to achieve the immense success.
The couple has been married for more than two years now, and there are no rumors of them separating anytime soon. They don't have any children till date. As both of them are focused on their respective career, the family planning seems to be postponed for the time being.
Karla and Marshall appear to be doing great together, and we wish a lifetime of happiness and bliss to the beautiful couple.
Karla Souza's Life as an Actor:
Karla knew she wanted to become an actor from a very early age. She started acting when she was only seven years old through a 1993 movie, Aspen Extreme.
She is a household name when it comes to Mexican films and television series. She is the star of two of the highest grossing movies in Mexican-cinema history, Nosotros Los Nobles, and Instructions Not Included. She has even won a few awards in Mexico for her performance in Nosotros Los Nobles and Suave Patria
Apart from the two films, she has starred in plenty of other Mexican movies and television series, making a name for herself.
But that name came with a price.The actress recently opened about being raped by the director during the initial days of her career. During her interview with CNN en Españo, with a teary eye she said:
I ended up allowing to him to kiss me, to touch me in ways I did not want him to touch me and in one of the instances he violently assaulted me and yes, he raped me."
She further added:
"He knocked at my door saying he wanted to go over some scenes and I thought it's 2 a.m., it's not appropriate and it's something that shouldn't be happening
If she did not open the door he would humiliate her on the sets next day.
After she revealed about being accused, an investigation was carried out against the director named producer-director Gustavo Loza and he was found guilty. He was even fired from the network and all his projects and ties were terminated.
Loza, on the other hand, defended himself on Twitter:
"I distance myself from any accusation against me by Televisa and Denise Maerker, who today have accused me without foundation regarding the case of the alleged violation denounced by Karla Souza, which I lament profoundly and openly condemn."
After confronting sexual harassment she went on Twitter to express her notion:
"I am proud to stand in solidarity with my sisters in Mexico and women around the world whose voices are finally being heard and saying #TIMESUP,"
The Mexican actress later moved to Los Angeles leaving all her fame behind and taking a risk to establish herself in Hollywood. Luckily, she got the role of Laurel in How to Get Away with Murder in her first trial.
And with How to Get Away with Murder, Karla seems to have found a brand new recognition for herself in Hollywood. Now that the show is in its third season, and her popularity is growing with every single episode.
In an interview with The Huffington Post, Karla teases about her strong comeback as Laurel and all the other secrets that are about to be revealed later this season. You can catch How to Get Away with Murder on ABC on Thursdays and here is a little sneak peek at one of Karla's episode.
Karla Souza as Laure in ABC's drama series How to Get Away with Murder (Published: Oct 13, 2016 )
Karla Souza starred in Unorthodox Romance Comedy movie Everybody Loves Somebody where she played the role of Clara Barron, a young woman discovering life and love. EOnline commented that the movie was not the typical Romance comedy movie and it was free of stereotypes of any sorts and tried to push new and fresh ideas onto the board.
In the movie, Karla Souza plays the role of a successful OBGYN( Obstetrician-gynecologist) who has difficulty opening up to people and letting her walls down to find love in her life. The movie is supposed to be quite relevant to the people, especially women of the modern society who have a hard time finding someone to share their life with and is supposed to be quite a fresh air to the Indie movie scene.
Karla Souza was commented to be quite fit for the role, considering her Mexican origins as well as her multinational personality. She has formerly talked about trying to incorporate her French-Mexican-American origins into her movies and using them to her full advantage. She commented on this topic saying,
"I never want to limit my career to one language. I speak three languages, and I'm as culturally brought up in the US, Mexico, and France. I wish that my career can include all of these cultures and languages. I don't think that one is better than the other, and I see them both with so much love. To be able to bring my life which was growing up in English and Spanish to the screen and sharing that with people, knowing that a lot of people feel that they are not being seen because there isn't a lot of stories being told about us. So I realized on How to Get Away With Murder come episode six that I was a Latina, they were like, 'Thank you for bringing this to the screen and being you and being a different Latina than we've seen.' I realized that this was a huge deal to people. So I take it very seriously, and I know that I have a tremendous responsibility to keep doing more projects where I feel like I am including and I'm bringing together the cultures and giving a voice to the people that don't have a voice, especially in the film industry."
The trailer for this movie can be previewed below:
Karla Souza starring upcoming Indie movie 'Everybody loves somebody' (Published: Dec 19, 2016 )
Being an actress, Karla has had the opportunities of appearing in different magazines as a cover girl. She was in headlines when she denied the offer to pose nearly naked on the cover of Mexican edition of GQ.
"They wanted me in a bra and panties but I was like, 'I don't want to do the bra and panties on a bed thing. I wanted sophisticated, fancy, nice and beautiful and sexy, but not that. After a year, they were like, 'OK!' Luckily, they said yes to bathing suits and things I felt more comfortable in."

- Karla Souza to !Enews reporter Mark Malkin at the Instyle Awards in 2015
Apart from her busy acting career, Karla is also a very active social activist. Recently, she was seen promoting the #standuptocancer and also raising funds for the pediatrician research and also posting a video on her Instagram trying to motivate people to vote.
The beautiful actress is not just incredible on her work and career but is an extremely humble human being.
Karla Souza's Short Bio:
Karla Souza was born as Karla Olivares Souza on December 11, 1985, in Mexico City, Mexico. She is a multilingual actress who is fluent in English, Spanish and French. She lived and attended acting school in different parts of the world like France, Russia, London, etc. She graduated from the Central School of Speech and Drama in London with B.A degree in acting.
Currently, she plays the character, Laurel Castillo, in the Shonda Rhymes produced drama How to Get Away with Murder alongside Viola Davis, Billy Brown, Alfred Enoch, Jack Falahee, Aja Naomi King, Matt McGorry, Charlie Weber and Liza Weil.