Entertainment
Anthony Kiedis Still with Young Mystery Girlfriend? Singer Who Just Won't Get Married
Age is just a number for many couples who are genuinely in love with each other. For children to the matured people, love is pure, blind and undoubtedly ageless.
Anthony Kiedis, the lead singer of the band Red Hot Chilli Pepper, knows it best as he is usually linked with youthful ladies almost half his age.
The 54-years-old singer was recently seen with a young mystery girlfriend, which has left his fans longing to know more about his relationship. Scroll down to know who the young girl is.
Anthony Kiedis and His Mystery Girl
The frontman of the band Red Hot Chilli Pepper, Anthony Kiedis, 54, is known, besides his performance, for having a penchant for young and beautiful models.
Kiedis is frequently seen with many beautiful ladies. But this time, we sense a long-term relationship. Since 2016, he is only spotted with one youthful-looking long-legged beauty. She seems to be his mystery girl for her whereabouts are not known.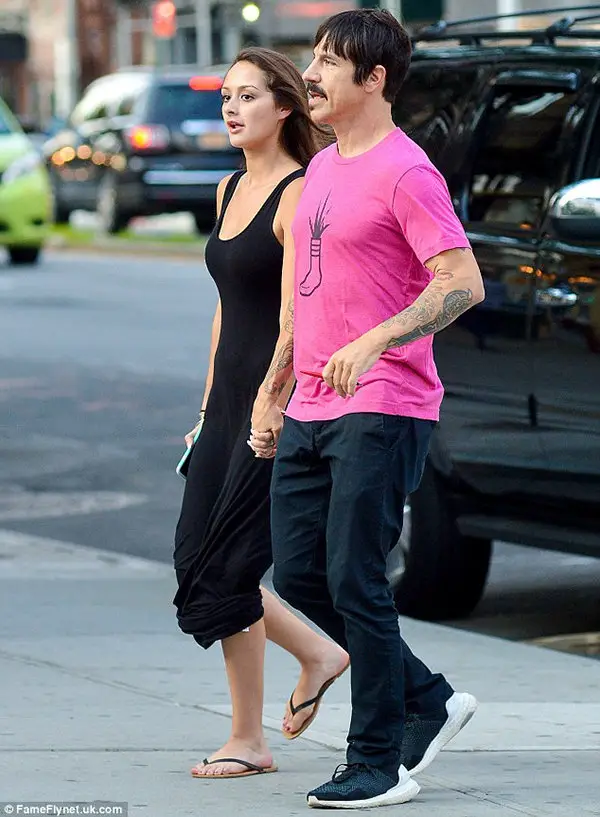 Caption: Anthony Kiedis spotted hand in hand with a mystery girl while out in New York City
Source: Dailymail
After almost a week from the first spotting, he once more stepped out with the mystery girl, but this time, his son, Everly Bear, was with the duo.
Everly is the son of Anthony and his ex-girlfriend Heather Christie: the two dated from 2004 to 2008.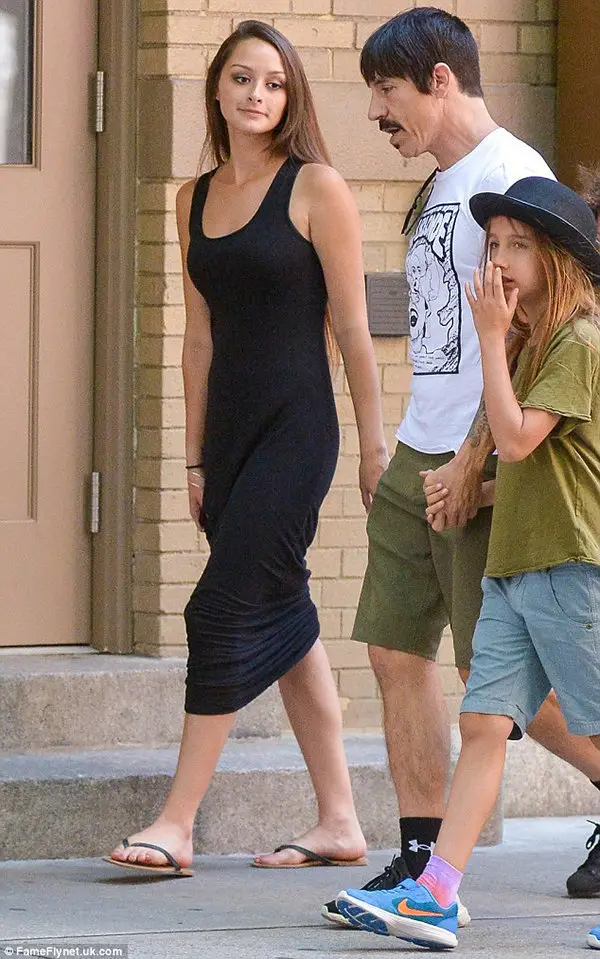 Caption: Anthony stepped out with his mystery girl but this time, with his eight-year-old son
Source: Dailymail
It seems he shares a deep bond with the mystery girl as he was again spotted with same beauty in Venice in 2017. With her beauty and serenity, his female companion looked ideally suited to the role of a rock star girlfriend.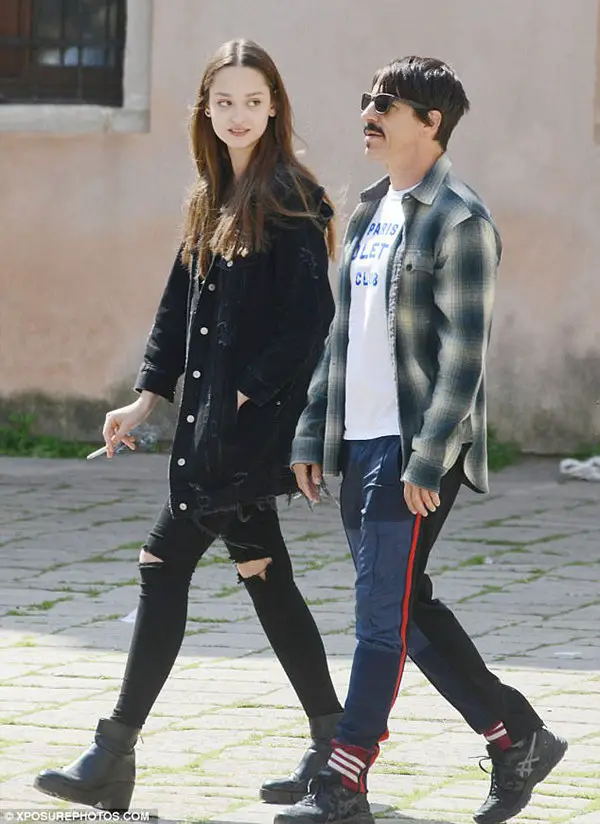 Caption: Red Hot Chilli Pepper's frontman Anthony Kiedis enjoying a romantic getaway with a youthful-looking beautiful mystery in Venice.
Source: Dailymail
The couple attracted the audience when they were seen AGAIN in Venice back in April, sharing a romantic kiss.
Caption: The pair spotted kissing in Venice
Source: Dailymail
He sure is enjoying his life with the young mystery lady, but this is not his first time in a relationship.
Anthony Kiedis: Past Relationships
Red Hot Chili Pepper rocker Anthony Kiedis, then 44, and his ex-girlfriend, Heather Christie, then 22, became parents on October 10, 2007.
Following that, Anthony got into a relationship with the Australian super-model Helena for two years, and he shared that his break up with her in late 2014 was the inspiration for the Red Hot Chili Pepper's album The Gateway.
He further lamented the heartbreak,
"To be so in love with somebody and then have it not work out even though you would have done anything to figure it out. I was definitely shaken and saddened."
Caption: Anthony and His ex-girlfriend Helena spotted kissing in a public place.
Published On: July 14, 2016
Many of his previous relationships have been his source of inspiration for the songs of the album. Moreover, most of the songs on the band's 2002 album, By The Way, was written about his other ex-girlfriend, Yohanna Logan, a fashion designer.
Since breaking up with Helena, Anthony has been spotted with a string of brunette beauties, including model Wanessa Milhonem.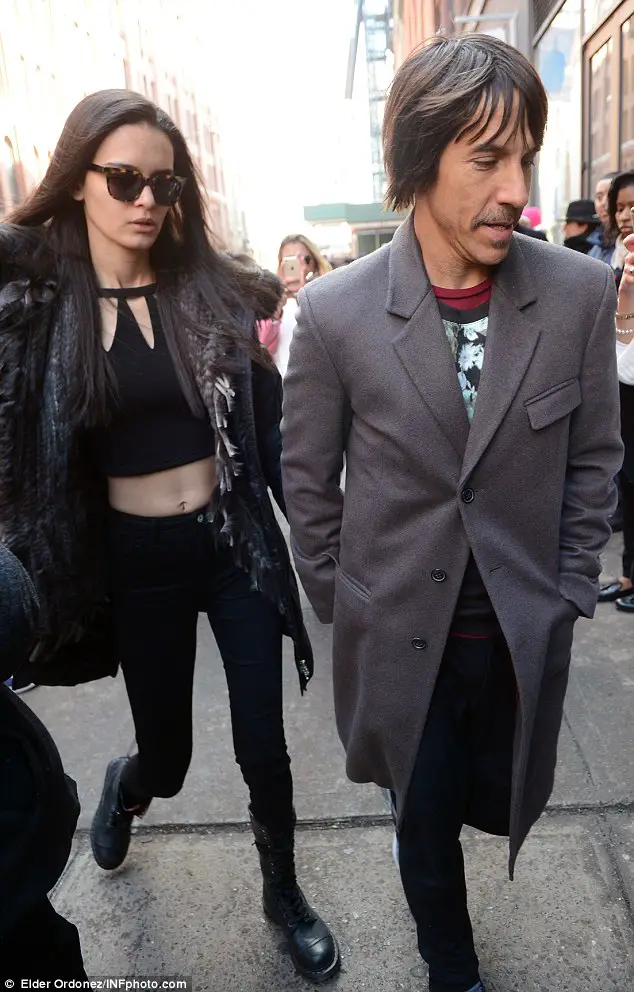 Caption: Red Hot Chilli Peppers frontman Anthony Kiedis attending the Jeremy Scott show with model Wanessa Milhomem
Source: Dailymail
Although there is an age difference of 30 years difference between Anthony and Model Wanessa, this was nothing new for the Rockstar, as Helena was 32 years younger than him. But, their union, however, did not mean that Anthony had moved into another serious relationship with Wanessa.
Besides these, he has dated some of the Hollywood's most beautiful women, including supermodel Heidi Klum, actress Bijou Philips, and film director Sofia Coppola.
Anthony has moved on from his failed past relationships. He even admits that his past is not easily acceptable. He explained,
"I run into that a lot with people and so the tragic thing in relationships is
that I never get a fair shake because of that preconceived idea of who
people think I am. So I'm trying at all costs to avoid the pitfall of having
the relationship based on ideas formed from my past.
Anthony hasn't thought about getting married as he has not found the special one to make his wife. He further confided,
"I find it hard to meet the right woman as people assume I'm a
certain type of person — which I'm not."
He even expressed his longing for someone special.
"I hope someone can open their mind and rediscover who I really am rather than
who they think I am."
Due to his involvements with several ladies, we know he is not gay.
Keidis has come a long way from his obsession with sex and heroin addiction. He cherishes the relationship with his son and credits the little bundle of joy for being clean.
"As every heroin addict will know, temptation is always there. But becoming a father has
given me a reason to live and stay clean for good."
But now, the singer has only one addiction, and that is his son, Everly Bear. And the youngster is keeping him on the straight and narrow path of his life. Back in 2012, in an interview with The New York Times, he said,
"Four years into the life of my son, I realize I'm so in love with him and he's so in love with me that if I don't find that lifelong partner out there, it's O.K. I think I'm still figuring out how to be a little less selfish. I'm probably not long-term-relationship material for now."
Relatively, through his interview, he has mentioned that he is not long-term relationship material. But it was five years back: now he seems to be very much into the mystery girl.