Entertainment
Antonia Lofaso: Her Life with Daughter and Loss of a Married-Like Relationship
It's close to impossible to put the feeling of the loss of a dear one into words. But their physical absence doesn't mean they have bid goodbye to us forever. We keep them alive with our remembrance, and it is believed that they become our guardian angels who protect us from heaven.
Similarly, the executive chef, Antonia Lofaso, believes she remains under the constant protection of her former partner, Heavy D, who sadly passed away many years ago.
So, without further ado, let's get in touch with the personal life of Antonia Losafo.
Antonia Lofaso: A Closer Perspective on Her Life After Tragic Loss
Although being a busy chef doesn't offer enough personal time, Antonia Lofaso managed to upkeep a successful relationship with Heavy D. The timeline of their dating affair remains away from the media, however.
Even though the couple didn't get married to share a husband-wife bond, they welcomed a daughter together in 2000 and named her Xea.
Unfortunately, about a decade down the road after they were blessed with their bundle of joy, and Antonia had to suffer the tragic loss of Heavy in the year 2011. Some sources state that the reason for his demise was his illness, as he was a victim of pulmonary embolism.
The loving husband and father, Heavy D, will forever remain alive in their memories. Xea, who is currently 17 years, shared a picture via her Instagram remembering her late father.
We are very sorry for the loss.
Since her partner's death, Antonia does not seem to be involved in further dating affairs and leads a happy life as a single mother with her daughter. On February 2017, she shared a picture with her daughter on her Instagram.
Bless the happy mother-daughter duo!
Back in 2015, during an interview with MomMe, when asked how she balances time between her work life and home life, Antonia asserted that she gives importance to the quality of the time and loves to spend it with her daughter on vacations.
" The only way that I find balance is the constant reminder that it isn't the quantity of time but the quality of time. Spending four days in Mammoth with my daughter over Valentine's Day weekend and snowboarding with her—it's that kind of experience. As soon as we step into Los Angeles, I was like, "Gotta go!" But, when we were snowboarding it was like an excursion together and we have these hilarious fun stories to talk about, and we have us tumbling down a double black diamond that was totally caught on her GoPro. It's like that, the quality of time spent together where the balance comes."
What a genuine idea, don't you agree?
Antonio Lofaso's Short Bio:
Antonia Lofaso was born on 23 November 1976, in New York City and goes by the full name, Antonio Marie Lofaso. Having graduated from the well-known French Culinary Institute, she also served as a manager at one of Sean Combs' restaurant, Justin's.
Antonia later started working at Wolfgang Puck's "Spago" as well as "Foxtail" in Los Angeles. But, the beautiful chef started gaining extensive recognition after she competed in the Bravo series Top Chef Season 4. Subsequently, she appeared in Top Chef: All Stars and even on the spin-off Top Chef Duels.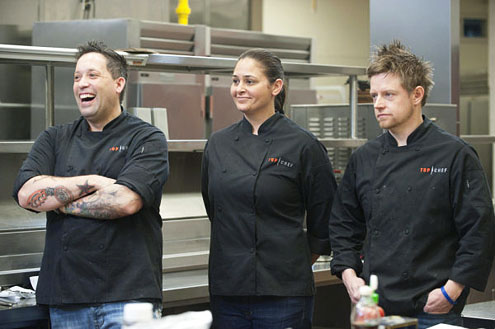 Caption: Antonia Lofaso in Top Chef
Photo Credit: TVGuide
Since then, Lofaso has been known as an executive chef, and she soon ventured into the restaurant business with "Black Market" in Studio City, California. Likewise, in August of the year 2012, Antonia published her book, The Busy Mom's Cookbook: 100 Recipes for Quick, Delicious, Home-Cooked Meals.
Additionally, she also appeared in reality series like Cutthroat Kitchen and Restaurant Startup among other things.
As of now, Antonia is a partner-owner as well as the executive chef of restaurants in Los Angeles such as "Black Market Liquor Bar" and "Scopa Italian Roots," and because of her growing success, we have reasons to believe this is just the beginning of her endeavor.