Entertainment
Game Of Thrones' Kit Harington Happy To Be Dating Actress Girlfriend Rose Leslie; Any Chance Of Getting Married?
It doesn't usually happen that the on-screen romance makes its way to off-screen. Very few people are blessed to share love both on and off screen.
And out of those few people, Kit Harrington makes it in the list. Famously known and enormously loved- character, 'Jon Snow' played by Kit Harrington in the HBO's drama series- Game of Thrones makes every girl drool over him, for whatever he does.
But Ladies, the man who you always dreamt of dating, has been booked already!
Kit Harrington has been in love with his co-star Rose Leslie, for a while. So, what are his plans on taking the relationship any further? Are they getting married soon? Let us find out.
Jon Snow's Onscreen, Kit Harrington's off-screen romance!
Christopher Catesby Harington, known by his stage name Kit Harrington and more popularly known by his character Jon Snow has been all over the tabloid for having justified a very dominant character on Game of Thrones.
Kit has been in the series since the beginning and played the role of an illegitimate son of Ned Stark, the noble Lord of Winterfell. However, knowing his status limits his prospects, John joins the Night's Watch, who guards the far northern borders against the wildlings who live beyond The Wall.
Moreover, being a Night's Watch, Kit was supposed to keep his virginity intact, but Ygritte, played by Rose Leslie, didn't let that happen. As their characters felt in love and it resulted in; kit giving away his virginity.
Kit met Rose for the first time on the set of Game of Thrones itself, and while getting to know her as their characters were building, they started generating feelings for one another in real life as well. Kit hadn't revealed the exact time as to when he started dating her, but they do flaunt their love publically, which has now blossomed quite adorably.
Talking about their relationship, Kit said,
"It's as much her relationship as it is mine and I can't speak for both of us, But yeah, we are very, very happy. So that's what I'll say about that."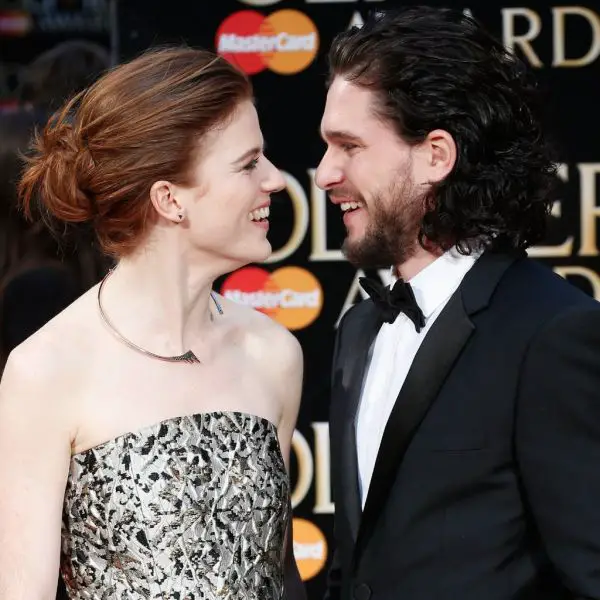 Caption: Kit with his girlfriend Rose; smiling as they look at one another.
Photo Credit: Popsugar.com
In the June/July issue of Esquire, Kit also revealed that he, along with his partner Leslie, are moving in together, taking their relationship to the next level.
But in an interview, where he was asked, are you set to make Rose, your wife? Kit responded he don't want to rush into it.
Caption: Kit sharing and Nicole Kidman on The Late Late Show with James Corde, where Kit reveals about his relationship plans. Published on June 7, 2017.
Their fans adore them both as a couple, and Kit doesn't miss any chances on making her feel special. Here's an Insta post made by Kit wishing Rose her Birthday,
However, just a day or two before, Life and Style magazine reported the news of the couple being engaged. A source revealed,
"Kit recently cooked Rose a romantic candlelight dinner and proposed to her, she burst into tears and immediately said yes!"
But just hours later of their engagement being talked about by many, the couple categorically denied the engagement rumors.
Bummer for the fans who were happy about the onscreen duo being engaged!
Harrington was also reported dating Anna Cyzon, a recording artist and an actor back in 2011. The speculations about Anna being kit's partner were made since they both were spotted in some venues together.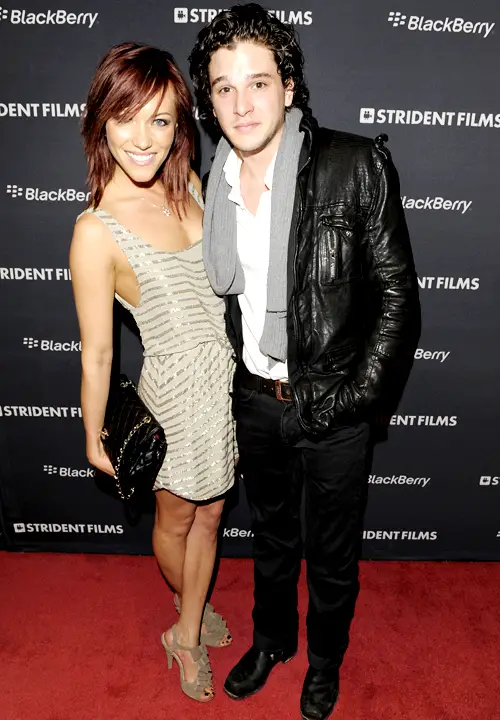 Caption: Anna and Kit Harrington attending 'Textuality' premiere in Toronto, 19 April 2011.
Photo Credit: tumblr.com
Although the speculations were made, neither of them talked about their relation officially, letting us wonder if they were ever a thing. However, when the media got hit with the news about Kit and Rose dating, the rumors with Anna automatically buzzed off.
Kit Harrington's Relationship with Game of Thrones:
Kit rose to fame with his character as Jon Snow, and the banter 'Jon Snow knows nothing' is as famous as him. But he does know many things, as he is playing a character around which the storyline of other character pivots. Well, Game of Thrones has been a vital part of his life!
He shares a very friendly bond with his cast members; beginning with Emilia Clarke, known as Mother of Dragon in the series. They both haven't shared a single scene together, but they share a close bond. Emilia even confessed that she finds it amusing going out with Kit as the fan recognizes him but not her.
She told GQ magazine,
"It's always been funny going out with Kit, because he's so recognisable, We went to a FKA Twigs gig and it was mental. I went to the loo and in the cubicle on either side the girls were like, 'That's Jon Snow out there! Don't know who that random girl is..."
Furthermore, he is also close to Lena Headey, AKA Cerci Lannister, and his onscreen sister Sansa Stark.
Moreover, John has been one of the most loved characters in the show, as his death in the season five finale almost broke everyone's heart. But kudos to Melisandre, who revived him from death.
Kit talks about the difficulties while having to hide the reality behind John Snow's death in the fifth season.
Caption: Kit gave away the secret just to avoid the ticket for driving above the speed limit, published on May 14, 2016.
Moreover, the series is on its verge of ending, and all the cast members, along with the fans are finding it difficult to bid the show; 'Goodbye.' It has been more than eight years for few actors that they started filming for Game of Thrones, and they share an eternal attachment to the show, which is hard to let go of.
Kit and Emilia talked about the things they will miss and how difficult it will be at the end.
Kit expressed,
"I'll miss his northern grumpiness. I was picked because there's something in me a bit like him, I think," he remarks. "It sounds like a cliché, but I will miss stepping into him each year. This is probably the most important job of my life. It's a huge thing and it's been very close to my heart. I'll miss the family and coming back here, and even this costume and the fight scenes. The costumes and weaponry are incredible. I said from the start that I wanted the Long Claw sword but as the (show's) momentum's grown, it's become very expensive and will probably end up in a HBO museum. Hopefully, they'll make me a replica."
Emilia added,
"It's weird - we've spent about four years of our lives in Belfast," she says. "The thought of it ending is enormous and crazy and weird. I can't even imagine the weirdness and tears when it ends, and the sadness - hopefully I'll be sitting on the throne and that will make it all better. I hope Game of Thrones is remembered for beautiful storytelling; that would be the biggest goal."
Hopefully, the show has a dramatic ending to surprise all the viewers with and despite the show is about to end, let's hope, we will still get to witness Kit's and Rose's romance off-screen.
Stay with us for emerging updates on Kit Harrington!