Entertainment
Graham Norton, Never Been Married, Talks About Gay Marriages: No Relationship After Split With Partner
It is always a bold move to stand up for what belongs to you. We can hear many such gay men talking about the rights they shouldn't be deprived of. Gay marriage comes foremost in the list. Graham Norton too seems to be in favor of this move.
In an interview with hotpress this year, Graham Norton has talked about same-sex marriage citing the fear of gay marriage as a homophobia adjacent. He said, meaning it towards the Ireland government,
"If they really want to be pedantic, I suppose a fear of gay marriage isn't actually homophobia, but it's homophobia adjacent; it's not far off. So I think it was incredibly disingenuous of them to take legal action against RTÉ and Panti. It's embarrassing for everybody."
Graham Norton's Relationships (Gay, Partner, and Dating):
Graham Norton was in a relationship with Trevor Patterson. The couple started dating in 2011 but eventually got separated in 2013 because Trevor couldn't deal with Graham's excessive drinking habit and the act of prioritizing his two dogs before Trevor.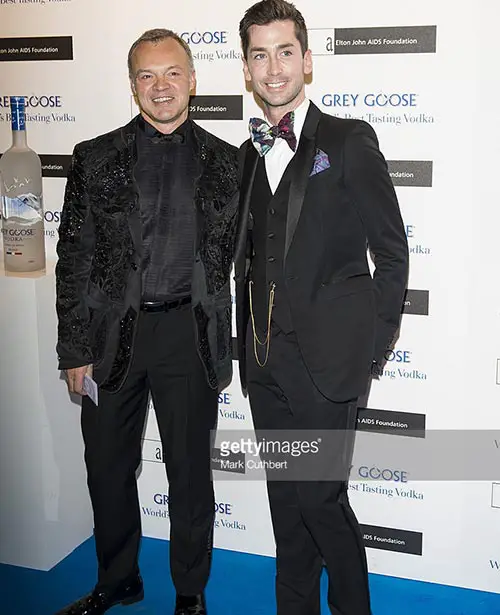 Caption: Graham Norton and Trevor Patterson attend the Grey Goose Winter Ball in London, England on November 10, 2012.
Source: gettyimages.com
In an interview with the Dailymail in 2013, Graham's ex-partner/boyfriend discussed the heartbreak, he went through, when they split. He said,
'He could drink up to four bottles of wine in an evening. I can't do it and struggled to cope without a good night's sleep. Sometimes I said no, but he would always go out. He loves to drink and it's usually sauvignon blanc, champagne and vodka and tonic. Even if we stayed home he would have some wine and told me he liked to have a glass before his show to help take the edge off."
This split seemed to have impacts on Trevor only as Graham, shortly after the breakup, began dating Andrew Smith.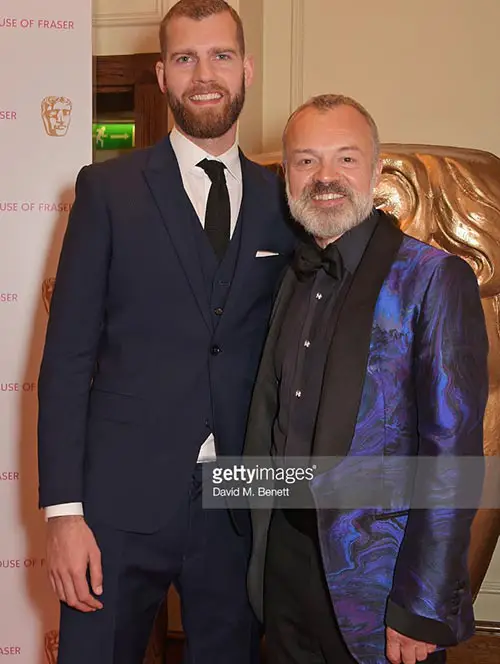 Caption: Graham Norton and Andrew Smith attending the After Party dinner for the House of Fraser British Academy Television Awards at The Grosvernor House Hotel on May 10, 2015, in London England.
Source: gettyimages.com
Graham was dating his music marketing consultant boyfriend, Andrew Smith, but eventually, this relation couldn't last either. The couple broke up during the summer of 2015, and this left Graham shattered and heartbroken.
After some months, Graham said during a chat with his Radio 2 co-presenter, Maria McErlane that he would now prefer to stay and live alone for the rest of his days. This is how he said it,
"You have your own rules as you get older. I would prefer to live alone for the rest of my life rather than live with towels that were folded incorrectly. Petty is important. That's why marriages break up. Marriages don't break up because of big things."
This clearly stated that he does not wish to get married and remain as a single gay man but something came up that didn't actually add up to his words.
According to The Sun, this Irish radio presenter, and comedian was spotted on Tinder app in search for love. Looks like he just couldn't stand by his words and is on the move now.
Norton's Short Bio:
Graham Norton was born on April 4, 1963, in Dublin, Ireland and currently ages 53 years old. He went to the University College, Cork where he studied French and English but did not complete it; however, he did receive an honorary decorate from University College.
He moved to BBC in 2005 where he hosted the Saturday evening reality TV series Strictly Dance Fever on BBC One. In 2011, Graham started to present his own show on BBC America called Would You Rather…? with Graham Norton.
Graham also serves as a commentator for BBC's Your Country Needs You. Currently, Graham presents BBC One's show Let it Shine alongside Gary Barlow.