Entertainment
Maisie Williams Is Dating Her Boyfriend But Also Shares A Kiss With Co-Star! Leaked Pictures To Affect Her In GOT?
Maisie William, who rose to fame as Arya Stark from the popular HBO drama series Game of Thrones started at a very early age. Maisie is successful in her career, and similar is the situation in her personal life, as she is blessed with a supportive family and now she also has a man in her life taking care of her and adoring her for who she is.
Meanwhile, when everything seemed to be as smooth as one could dream of, a topless picture of her; caused by a wardrobe malfunction leaked and made its way to the social media, and everyone seems to be passing an opinion.
In this competitively professional world, will this incident hamper Maisie's career, leading her to lose her role in the hit series of Game of Thrones? Let's see through if there are any chances of adverse consequences to the incident.
Maisie William's love that is no more hidden.
Maisie, who hid her relationship for quite a time came gunning, as she recently revealed her boyfriend's name who stole her heart through an Instagram post by tagging the man himself. The lucky guy's Ollie Jackson and her fans were all excited about finally getting to know Maisie's choice.
Jackson, as reported, is Maisie's friend from her high school. She hasn't revealed, when did they start dating, but it seems like they will be making their journey together for a long-long time. As they seem; happy being in one another's company.
The picture of the duo speaks for itself, as Maisie never second guesses while sharing their romantic pictures over Instagram.
Here is some glimpse; Maisie posted about how lucky she was to be celebrating her recent birthday with the man she loves.
She also posted pictures from her vacation with Ollie Jackson in Morocco. The couple looks relaxed enjoying their moment together.
Furthermore, talking about the man she is in love with; Maisie told UK's InStyle,
"I feel like I'm in love right now, but I don't know what I am going to feel like down the line. That's why I am kind of closed-minded about marriage — I don't even know if I want to get married."
Despite her love for Ollie Jackson, she has a career ahead of her and Maisie knows how to act professionally!
Maisie starred in a film-"The falling" where she is found to be kissing her co-star and shooting a sex scene.
Maisie shared; it was challenging and equally awkward filming for the movie,
'It was extremely awkward!' she said. 'But [co-star] Joe [Cole] was very sensitive to the fact that I had never done a scene like this before, and it was great to work with someone who was so considerate of that."
You can check out the trailer for the movie here,
Caption: Official trailer of The Falling by Maisie Williams.
Maisie, frequently grabbing media attention.
Margaret Constance Williams, who is famous with her name- Maisie Willaims, is known for conquering all the opportunity that she took with both the arms wide open. She is now enjoying the payoff in return for the hard work she vested in her work.
However, she has made it to the media for different reasons few years down the line. Two years back, Maisie was spotted smoking a cigarette which created a fuss, as she was just 17 years old when it happened.
It was unsure how Maisie obtained the cigarette given that Louisiana law states; one must be 18 years of age to purchase tobacco.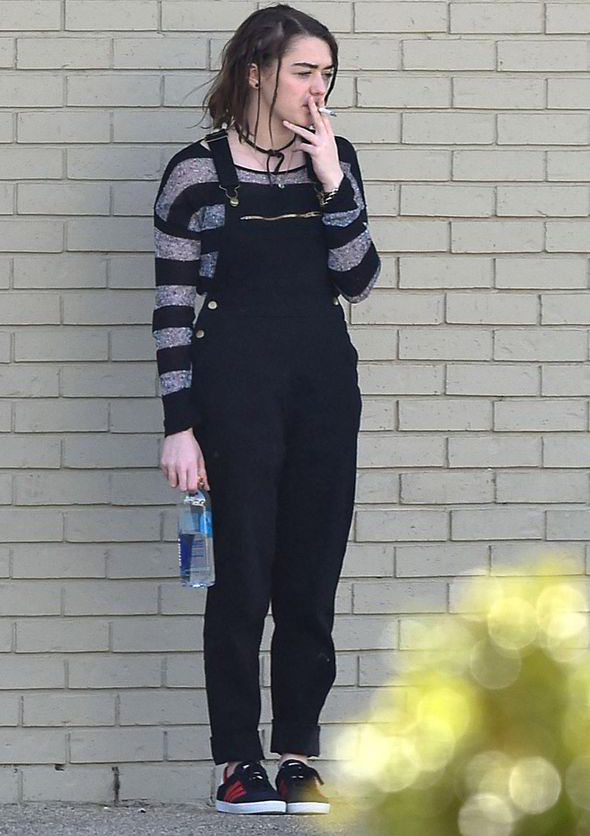 Caption: Maise Williams smoking cigarette on the set of her new film 'The Devil And The Deep Blue Sea' in New Orleans.
Photo Credit: Express.co.uk
Similarly, it was around December 2016 when another buzz was created, and she suffered a social media disaster, as a topless photograph of her was reportedly leaked.
Maisie happened to share the picture with her private circle via Facebook, which unfortunately got leaked, causing a chaos online. The photographs show the 19-year-old posing topless on a rock, with her back turned to the camera.
However, the image is not explicit in nature, and hopefully, it won't result in negative consequences, affecting her career.
A Tattoo dedicated to Game of Thrones!
It was Game of Throne's character- 'Arya Stark' that highlighted Maisie's' talent and rewarded her with the fame she possesses now. Making it relevant that she has an attachment to the show and her co-actors, as she has been a major part of, for five years now.
Out of all the cast members, Massie Williams shares the strongest bond with Sophie Turner; who plays Arya's on-screen sister, and they both carry the same relationship off-screen.
Proving their bond, both the girls share the same tattoo. What could be so important to them that they engraved it on their skin?
Well, it's the life-changing date for both the actress; 07.08.09- its August 7, 2009, the same date when they got the roles for Game of Thrones.
However, Sophie explained in an interview with E! magazine, that the initial plan was something different,
"Thrones castmates made plans to get matching tattoos ("wolves" were among the options) at the end of the series."
But due to the possibility of one of them getting killed before the final season, they decided to engrave it before anyone killed them.
We are not sure if Arya Stark will achieve victory in the upcoming battles of Game of Thrones, but Maisie Williams has been triumphant in her career which has helped her accumulate a net worth of $ 3 million.