Entertainment
Mel Rodriguez Reveals Bits And Pieces From His Married Life With Partner! Debunking The Gay Rumors
While portraying a role/character with utmost conviction, the chances are that the audience tricked into believing that the character being justified is the actors' real personality.
Mel Rodriguez falls under the similar category, as he has essayed the gay character with so much of conviction in the series, 'Getting On' that people have conjectured him to be a gay in real life as well.
Well sorry guys, your perception is debunked, as Mel has revealed that he is married to his wife.
Don't believe us? Take a look yourself!
Relationship: Married With Partner? Gay? Or Single?
Mel Rodriguez isn't single as he is married to his wife Desi, and they even share a daughter together, whose name is Stella.
Life is challenging in many aspects, but it becomes beautiful when you have a partner to share your joys and sorrows.
Discover:- Boy George, 'The Voice' Judge Married In Secrecy? A Different Kind Of Gay
Mel's wife Desi has been his strength and has supported him in difficult times of his life. Looking back at the difficult period in his life, Mel appreciated the happy time and cherished the accomplishment through tweets on January 17, 2016.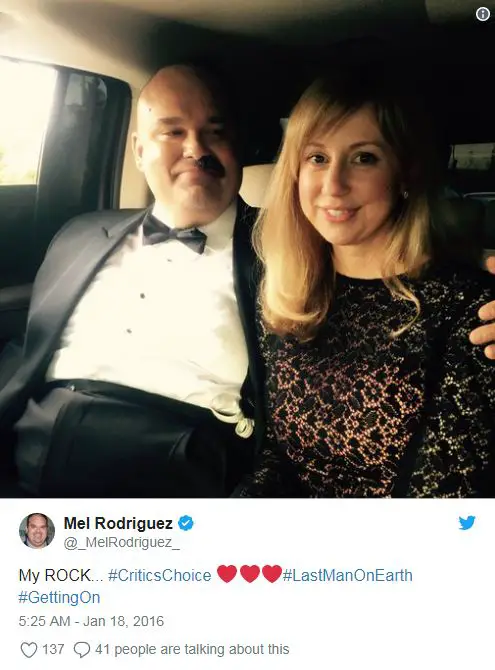 Mel and his life-partner, Desi attend 2016 Critics Choice Awards (Photo:- Mel Rodriguez's Twitter)
Two hours after tweeting the picture above, the Getting On actor sent out another tweet recounting his humble beginnings. He revealed that he and his wife were homeless five years ago. The tweet read:
"5 years ago today, my wife and I were homeless. Tonight we're headed to the @CriticsChoice awards... From our HOME #ThankYouGod #LifesATrip"
When Mel is not at home, someone is waiting for him eagerly; and it happens to be his daughter, Stella.
Read Also:- On-Reel Gay Romany Malco Wife Rift | Reveals Dating Status Now
Mel - who, like many of his Hollywood counterparts have faced gay allegations - shared a picture of the daddy's little girl, Stella where she is looking through the window waiting for her dad; and his wife, Desi captured the beautiful moment in a picture.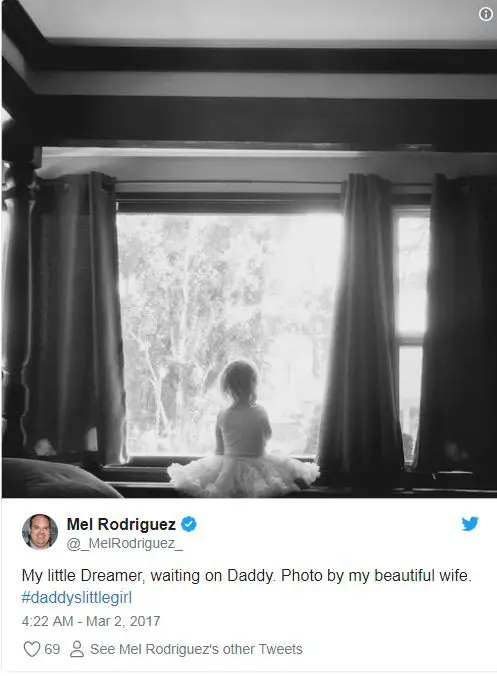 Mel shares an insight into his married life by tweeting his daughter's picture (Photo: Mel Rodriguez's Twitter)
Well, Mel's tweets speak volumes about his relationship with his wife and daughter, and the family seems to be living happily in their private paradise.
Interesting:- Ryan Nassib, NFL Quarterback Stats, Salary & New Contract
Single Most Important On-Screen Performance: Getting On
Talking about his professional life, Mel is best known for his performance in 'Getting On' as Nurse Patsy de la Serda. In an interview back in November 2014, Mel described his character as,
He is a beautiful tragedy. He is difficult to describe because he is constantly evolving and changing. One day he is gay, one day he is not. One day he wants to run the nursing program, the next day he wants to throw it all away and run away. He is very layered, just like a person in real life. He is obviously gay but also religious – so just like in life, it's hard to sum him up. But he is funny! I like to think that he shows the comedy that exists in real life.
Moreover, he considers his role in 'Getting On' as his break on television as it is layered and complex; and he feels lucked out to portray it.
I feel like I am in it right now. Without sounding too cliché, my part on "Getting On" is the best role I've ever had. It is so rich, it is so well rounded, and I am happy to be right here. I feel like I lucked out and got one of the richest characters on TV because he is so complex.
The support and encouragement of family are important when you want to pursue a career in the field of acting. Mel shared that he had a supportive father, but his mother was scared when he shared his desire of becoming an actor.
My mom is very practical, and she originally wanted me to have something to fall back on. She was a little fearful of my becoming an actor, because she didn't see it as a way to make a living. My dad, who was born and raised in Cuba, was really cool with it. He had once wanted to be a painter, but his old-school father had said No. So when my father found out I was interested in performing, he was incredibly proud and supportive of my dreams. When I go out with him in Hialeah, now he embarrasses me pretty thoroughly.
Most recently, Mel was cast to play YouTube Premium's a one-hour dark comedy series On Becoming A God In Central Florida. The highly anticipated YouTube series is set in the 1990s and will feature some of Hollywood's biggest names including Kirsten Dunst, George Clooney, and Beth Ditto.
You Better Not Miss:- Is Danny O'Donoghue's Stunning Girlfriend His Wife-To-Be? Love Screams Yes!
Earlier this year, the movie Overboard featuring the 45-year-old actor as one of its leads proved to be a massive box-office success. The film grossed a worldwide total of $91 million, against a budget of $12 million.
Likewise, he narrated an essay written by Andy Christie called "She Handed me a Cup from the Fountain of Youth."
Weight Loss Chronicles: On-Screen As Well As Off-Screen
Obesity has been the growing problem of today's time, and Mel got an opportunity to portray the feelings of an obese person through the character of Ken in the film 'Fat,' who is 'horribly obese.'
While telling the story of a fat person, in the plot of the movie, Mel's character attempts for weight loss.
Similar:- 'Insecure' Actress Natasha Rothwell Bio: Age, Weight Loss, Husband Talks & Facts
Mel has portrayed the pain of the character well, and his performance resonated with the audience.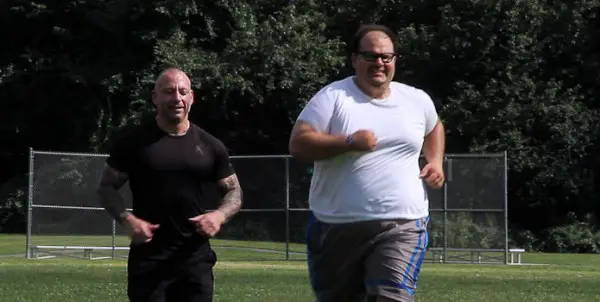 Mel Rodriguez as Ken with his on-screen trainer trying to lose weight (Photo Credit: Collider.com)
As per reports, in National Post back in September 2013, Mel frankly shared that he has faced challenges in the industry due to his size.
Moreover, he revealed that the movie has helped him lose 30lbs and pushed him to get back into the gym to become healthier.