Entertainment
Is Mikki Padilla Married and Has a Husband? What Has Kept her Busy?
Sometimes people get so busy in pursuing their dreams that they often forget to look back at what they have missed. However, some choose to keep moving forward with their lives longing to catch their dreams in the future.
Well, it's all about the priorities; however when a celebrity chooses to do so, it surely raises a lot of concerns among the fans as they wish to know every detail about the person whom they idolize the most.
Similarly, the American actress and model, Mikki Padilla became so focused on grooming her career that she hasn't let her personal life come into the limelight.
Nevertheless, it won't remain the same for much longer, as everything regarding the lady will be revealed here today. So, keep on reading!
Everything You Want To Know About Mikki Padilla
Born on May 27, 1974, in Denver, USA, Mikki Padilla grew up in Santa Fe, New Mexico with her German-American mother and her Spanish-American father. The actress grew up very close to her parents and considers them her best friends.
Mikki, who started playing sports at the age of five, was very good in baseball, basketball, swimming, and fast-pitch softball. While growing up, an avid athlete, Mikki, discovered her interest in acting and modeling. Right after receiving her degree, she moved to Los Angeles to pursue her dream of acting. Prior that, she was one of Avon's five top Latina models in New York.
Mikki first appeared in the 2001 film 'Seance' and continued her work in many other projects such as Martin Lawrence Live: Runteldat (2002), Malcolm in the middle(2003), The Deviants (2004) and Star Party (2005).
According to a source, Mikki Padilla was seen in the movie 'Ghost Hunters: Point of Contact' back in 2006 and also joined the cast of a comedy film, 'Pool Party' from Farmview Films back in the same year which got released after a year.
Besides movies and series, the actress has also filmed many commercials and her 'Blind Date' commercial which was released in the year 2009, got plenty of recognition from her fans.
Caption: Mikki Padilla waiting for her boyfriend in the "Blind Date" commercial. (Published on November 19, 2009)
Mikki isn't just an actor or a model, but she is also a writer and author. She has published her own book titled 'Been There, Done That... now doing MORE!' back in March 2013.
The multi-talented beauty was also seen as the co-host of an American Game Show, 'Catch 21' by GSN which aired its four seasons from the year 2008-2011.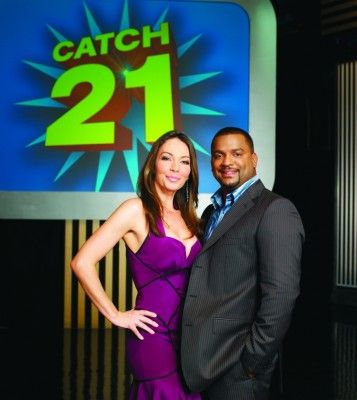 Caption: Mikki Padilla posing for the Catch 21 show alongside Alfonso Ribeiro
Photo Credit: FamousFix
Miki has surely gained a lot of acclaims through her work, and her admirers are quite confident that she enjoys a good net worth. However, her earnings and net worth is still a mystery.
Talking about Mikki's love life, the actress hasn't revealed much about her dating affair and prefers to keep it a very low profile. Well, she hasn't mentioned about her possible boyfriend or partner. In this regard, the privacy in her love life has heightened the number of curiosities among her fans.
Despite the questions raised about Miki's relationship status, the 43-year-old still favors keeping her love life a secret. Well, it's difficult to say if the lady is living a blissfully married life with her husband or is still in search of a perfect boyfriend.
Mikki, who stands at the height of 5' 5", has maintained such secrecy in her love life that there aren't any rumors swirling around her which have kept all of her fans in mystery in regards to her love affairs!