Entertainment
Randy Bick Dating Kathy Griffin On The Job! A Relationship Beyond Expectation
Marketing executive Randy Bick is mostly known for his ecstatic dating relationship with American comedian Kathleen Mary Griffin, who is commonly known as Kathy Griffin.
The lovers are setting relationship goals while replenishing their days amid collaborative jobs and their vast age gaps.
So, why not have a brief look at the duo's unbelievable relationship and get familiar with them?
Kathy Griffin Never Expected Love Relation To Last; Supports Girlfriend Decision
Well, the handsome 37-year-old Randy, who is 18 years younger than his comedienne girlfriend, first met his love at a food and wine festival held by The LA Times back in 2012.
See More:- Married And Divorced Once, Did Kathy Griffin Turn To A Lesbian Or Has A Boyfriend?
Randy connected with Kathy at first sight and, the couple started dating. They were spotted enjoying their time together in one of the Miami's beach on 1 June 2012.
The lovebirds were even photographed lip-locking and sharing intimate moments with each other while enjoying the waves.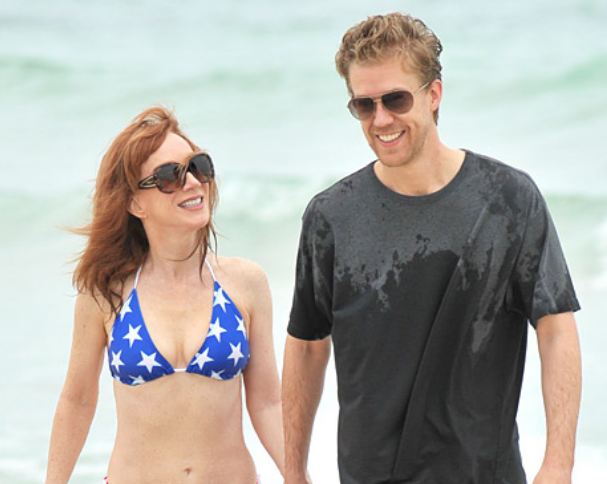 Randy Bick in smiles with his girlfriend, Kathy Griffin at a beach in Miami on 1 June 2012 (Photo: usmagazine.com)
Though the couple was smitten since the beginning of their relationship, Kathy during an interview with PEOPLE, on 5 October 2016, revealed that she never expected her relationship with Randy would flourish and last long.
Kathy reasoned the age gap as the main reason for not expecting their relationship to turn true. And admitted that she thought their meeting would be nothing more than just a one night stand.
"Well you know I didn't think it would last [because] he's 18 years younger than I am!" I thought he was just a man-whore if you will."
Moreover, Kathy described how things changed and uttered that they were having a great time. She even gushed about her boyfriend and quoted him as a regular sweet guy, who is not anywhere near like a Hollywood guy.
Also, Randy supported his 57 aged girlfriend while she shaved her head to support her cancer-victim sister almost two months prior to her death in November 2017.
Don't Miss:- Is Griffin Newman Married and Has a Wife? His Twitter Says No
Job Fortifies Dating Affair; Relationship Like Married Couple
Randy, who attended the University of Arizona, knows well how to spend quality time with his partner. The toyboy of Kathy works as a tour manager for her and prepares the schedule for her. He even doesn't shy to help Kathy's staff sell merchandise at her shows.
With a job that links to the profession of Kathy, Randy indeed gets time to be around his love and let their affection grow. And perhaps that's one secret on how their love is growing stronger with each passing days.
You May Also Like:- Andy Cohen Along With Gay Activists Raising Voices: Dating With Journalist Partner
Further, the lovebird even resides together at Kathy's lavish Bel Air mansion and spends most of the time with one another.
After Randy's American comedian girlfriend made news headline with her dispute with Australian television personality Samantha Armytage and former boss Andy Cohen.
The pair was spotted walking holding hands into the Astor Theatre in Perth for Kathy's comedy show back in November 2017, where Kathy had neatly styled her short locks after she had shaved her hair. They were also photographed together while they stepped out for dinner in Los Angeles on 30 December 2017.
Interestingly, the pair shares the glimpses of their love life in their social media accounts without hesitation.
On 18 January, Kathy, who holds a net worth of $20 million, Instagrammed a picture with Randy and via the caption affirmed that they had been together for more than six years. Kathy even quoted her boyfriend as the best boyfriend in the world.
Read Also:- Carl Radke Dating At Age 32! Slaps Gay Accusation, In A Real Relationship
Randy and Kathy together make a cute family, and they are already living a married-like-relationship. As of now, the wedding bells are only yet to ring for both the lovers to pronounce them husband and wife.
Since the couple has been living as a family, their neighbor, KB Home CEO Jeffrey Mezger and his wife Sandra filed the lawsuit on July 2018 against the soon-to-be-married couple after their frequent complaints about noise. Also, the neighbor claimed that the popular couple has been secretly recording their family video and audio illegally to endorse their campaign about launching complaints about noise.
At first, the pair complaint about the noise back in September 2017 after their neighbors' grandchildren were having fun in the pool.
When Randy and Kathy started to disturb their family privacy, the Mezgers family sued against the pair for nuisance, invasions of privacy, false light, and violation of various municipal codes.