Entertainment
Rhian Sugden Managing Relationship With Boyfriend With Another Dating Affair In Hand?
Famous glamor and lingerie model Rhian Sugden has plenty of hearts beating for her, and that's no surprise given the beauty she possesses. But along with the fame and name she has earned for her through her Page 3 career, she has also been surrounded by controversies and who could forget her sexting scandal.
Let's go a bit deep in this regard.
Dating Since 2013; Engaged
Rumored to be dating in the year 2013, lingerie model Rhian Sugden and Oliver Mellor were spotted at various places together leaving fans wondering if they are dating each other and that turned out to be the case when the pair revealed that they have been very close to each other and are keen as well.
Rhian Sugden and Oliver Mellor got engaged on the 24th of November in the year 2014. Like every relationship gets put to the sword at some moment in life, their's did too when Sugden was revealed to still be in touch with Vernon Kay who she had been involved in the famous sexting scandal.
See Also:- Annalee Belle Age 30 & JD Scott Are Engaged, Getting Married Soon
But putting the issues aside they made their love win and thus, came out of the challenging phase unscathed. A feed from Sugden posting her boyfriend Mellor's photo.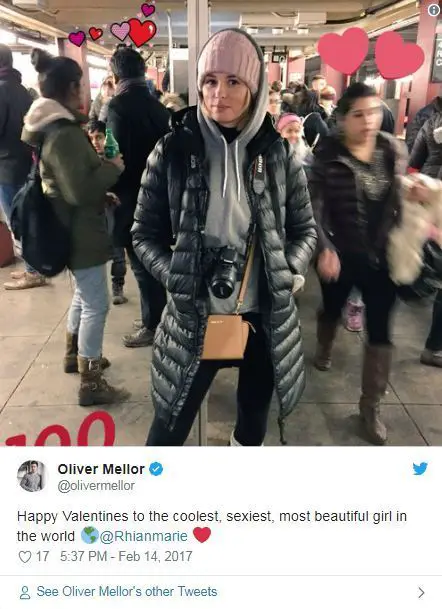 Oliver Mellor wishes girlfriend Rhian on Valentine's day 2017 (Photo: Oliver Mellor's Twitter)
Well, from onwards, the couple would be celebrating every event together.
Don't Miss:- Sophie Mudd Age 20 Wiki: Parents, Boyfriend To Measurements & Net Worth
Fairy Tale Wedding, Married After Six Years Of Dating
After facing many ups and downs in the dating life, Rhian and her fiance have finally made it to their aisle. The couple got married in a beach wedding ceremony in Turkey back in September 2018.
For the happiest day, the glamour model wowed in a low cut white lace tulle wedding gown. Their wedding venue, Turkey holds the great memories for the couple as they have enjoyed their romantic getaway since their dating life.
Dive In:- Paige Price Engaged To Actor Frankie Muniz; Officially Getting Married Now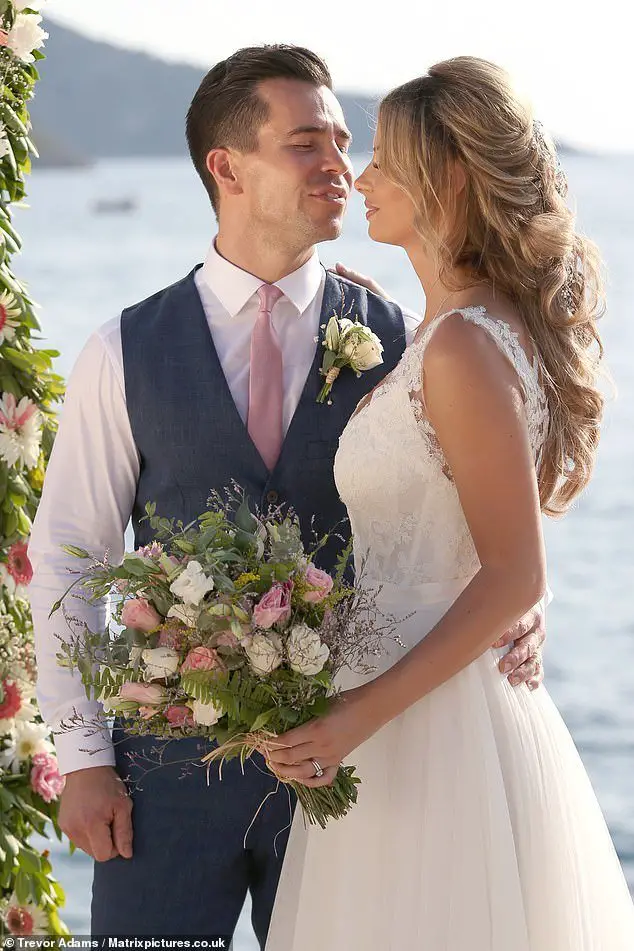 Rhian Sugden, husband Oliver Muller on their wedding day (Photo: dailymail.co.uk)
Before Rhian met her husband, she was involved in a secret scandal with the TV personality Vernon Kay back in 2010.
Sexting Scandal In 2010 With Married TV Star Vernon
While she was enjoying the spotlight in the industry, people got to raise some major eyebrows over the fact that the English lingerie model swapped flirty texts with married Vernon Kay.
The sexting scandal that shocked everyone took place in the year 2010 when Vernon was reported to have swapped flirty texts with the lingerie model behind his wife's back which sparked the controversy.
Discover:- Where Is Jaye Davidson Now & What Is His Net Worth Now? Model Update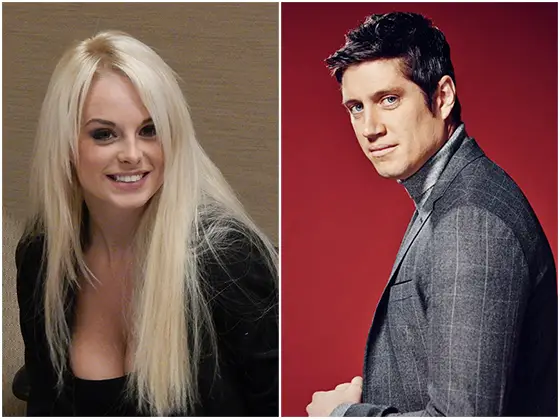 Rhian Sugden and Vernon Kay were involved in a major controversy in the year 2010 (Photo: liverampup.com)
Not only that, her fiance, Coronation Street doctor, Oliver Mellor got angry when the news flashed out that Vernon and Rhian were still in touch after the scandal. .Some sources claim as such in this regard.
"Oliver is away working, so he hasn't seen Rhian since the claims emerged. He was annoyed to find out she had been messaging Vernon, especially as she had kept it secret from him."
When Mellor ignored Rhian's phone calls several times before answering finally, they got into a huge row, and that led to the pair facing some major ups and downs in their relationship resulting in Mellor having a break up with the star model. Some sources close to the couple said;
"Oliver is away working, so he hasn't seen Rhian since the claims emerged. He was annoyed to find out she had been messaging Vernon, especially as she had kept it secret from him."
Not only that, the scandal nearly ended Kay's own marital relationship with his wife. It's understandable for Mellor to get upset seeing his soon to be bride's saucy texts with someone else.
Recommended:- Kate Upton & Husband First Baby, Proud New Parents To Daughter Genevieve
But Rhian made it clear that it was Vernon who was trying to reach her out rather than her being the one to make a move. Vernon himself had something to say about this,
"I was contacted by Rhian out of the blue back in December regarding the story in 2010 claiming she had information she wanted to pass on.
he further added;
"I recognize how it may look when messages are pulled out of context but there was never any inappropriate intent to our communication. I was merely trying to find answers to questions that I've had since 2010."
Both are entitled to their opinion as to who had made the first move and while people wonder whether or not Rhian has both her hands full. The model had her own back and slammed the news by calling Kay, "nothing but a liar." She said,
"He's nothing but a liar,' 'It's crazy for him to say he told Tess he'd been messaging. I'm not being labeled a home-wrecker. The only person responsible for wrecking Vernon's marriage is Vernon himself."
She has also indicated that she has nothing to do with Kay anymore and thus, it seems that Mellor and Sugden too have buried the hatchet and have been spotted together on several occasions.
They made their appearance together at a red carpet which shows that things might be headed in the right path between them.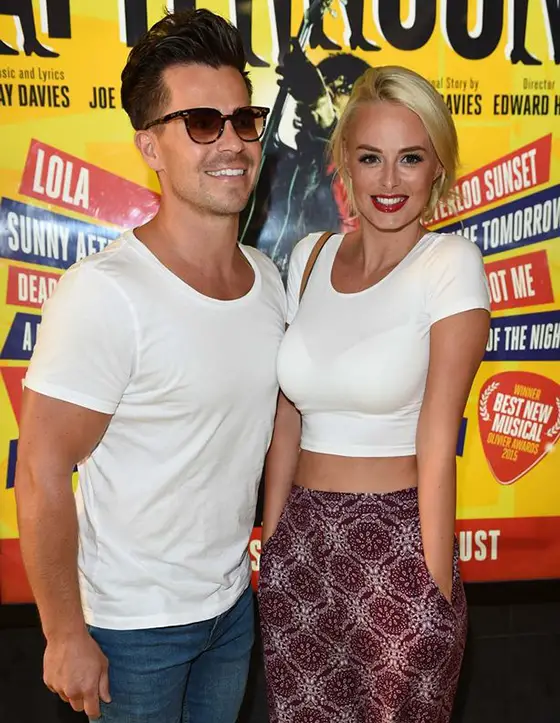 Rhian Sugden and Oliver Mellor rock the red carpet for the first time since the sexting scandal, Aug 2016 (Photo: irishmirror.ie)
And famously, the pair were spotted at the birthday celebration of Sugden when they looked absolutely fine and normal with each other.
Radcliff, Red Manchester raised Sugden has been most famous for her Page 3 career and her willingness to grow and hunger in the industry has served her well which can be seen through her net worth of an estimated $300 Thousand.