Across the globe, multitalented people have always claimed the spotlight no matter what field they chose to specialize in. One such individual is Aisha Tyler, who is an American actress, comedian, director, author, writer, comedian, and also a talk show host.
Her acting career has yielded over 63 credits as of 2019. Among her many works include Death Sentence, Axis, Friends, For One Night, and Criminal Minds.
In terms of professional success, she leaps beyond many, but what about her personal life?
Wedding & Divorce With Husband
Aisha got married to her longtime boyfriend turned husband, attorney Jeff Tietjens in 1992. A pair of high school sweethearts at Dartmouth College, New Hampshire. The couple remained married for over two decades before separating in January 2015.
Her husband filed for divorce in April 2016, citing irreconcilable differences as the leading cause of their split.
Also Divorced:- Find Out Why Corey Bohan & Audrina Of The Hills Finalized Their Divorced
It was initially rumored that the main reason for their seperation was because of Aisha's inability to bear kids. The infertility struggle was a real problem for the two, they even tired multiple procedures, but nothing worked.
Aisha even told she was sad that she couldn't give her ex-husband any children of their own. However, infertility was not the cause of the end of their relationship as two years before their split; they had decided to stop trying for children.
In May of 2017, the husband and wife duo officially finalized their divorce. The couple decided to divide their property and assets, and her husband even received $31,250/month for four years as spousal support.
The lady openly talked about her split and even poured her heart at times; however, her husband Jeff remained mum during the entirety of the seperation.
New Lesbian Romance
Since her split with Jeff, Aisha remained a little off of the dating life. However, love came knocking down on her door once again.
Now, Aisha is enjoying a romantic life with girlfriend Emily Bett Rickards. The news of their potential relationship first came to surface in 2018. Her romance got revealed when the celeb took to Instagram on 27 October to share pictures of them kissing and laughing in each other's embrace.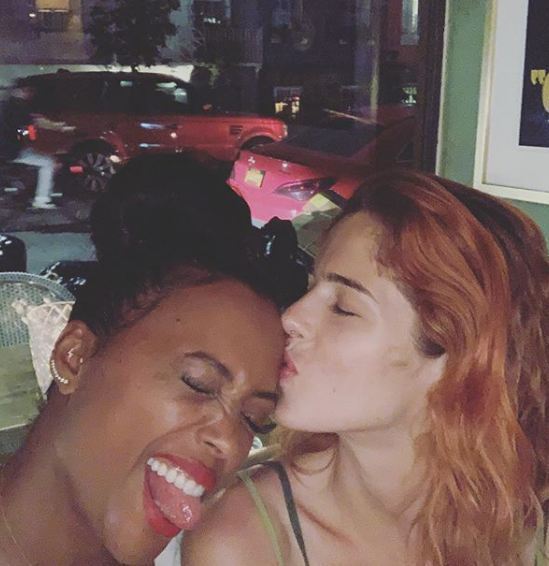 Aisha Tyler with girlfriend Emily Bett Rickards in July 2019 (Photo: Aisha Tyler's Instagram)
The photographic moments are more than enough proof to make them a couple. Aisha and her girlfriend also shared quite the time during Emily's birthday on 24 July 2019. However, none have confirmed the nature or existence of a relationship.
Parents Detail
Of African American heritage, Aisha Tyler is the daughter of father Robin Gregory and mother, James Tyler. She was born on 18 September 1970 in San Francisco, California.
Interesting Story:- RZA Reveals Wife, Family Story & Mistakes, Net Worth Covers All But Still Regret
She also has a sister named Feri Tyler. The two sisters were seperated after their parent's divorce. While Feri went on to live at Oakland, Aisha lived in San Fransisco. They didn't get the opportunity to become close at an early age but later reconnected as adults.
Net Worth Info
For the 6 feet (1.83 m) tall beauty, success in professional life was inevitable. A nominee to multiple Day Time Emmys for her work in The Talk, Aisha is quite famous for the height she has achieved in her acting career.
With a vast array of skills displayed throughout her career, including projects on movies TV shows, series Aisha has efficiently summed up a fortune worth of $8 million.