Entertainment
Alex Karpovsky Age 43 Facts: From Wife Absence, Ethnicity To Girlfriend Rift
Little over a year after bidding farewell to his Girls' character Ray Ploshansky, actor Alex Karpovsky made a strong comeback in 2018 with his stellar performance of the role of Craig opposite Julia Roberts in Homecoming.
Ironically, the Girls' actor has had very little success when it comes to keeping around a girlfriend for much longer. Perhaps, the requirements he has listed for a wife prospect is all too jarring.
As prevalent as his love life is among his fans, it pales in comparison to the discussions about his ethnicity. Read along to learn more including Alex's age, net worth, tv shows, movies, family background and more!
Ran Through His Ex-Girlfriend's Messages; Pre-requisites For Wife Revealed
Was the now-infamous scene (in HBO sitcom Girls) wherein Alex's character runs through Lena Dunham's Hannah based on real-life events?
See Also:- Rick Harrison Married Life With Wife & Family Balanced Perfectly | Bio Unveils
Absolutely! By Alex's admission, he has had a similar experience with one of his ex-girlfriends in the past. Speaking to Vulture in 2012, the Beeswax actor shared:-
"I went through one of my ex-girlfriend's phones once. I went through her text messages, which I think is in a way a modern dairy. Most girls don't keep diaries anymore, and their text messages are a reflection of their dialogue. You can get a lot of information."
According to Alex, his yet-to-be-named ex-girlfriend had left him no choice. He claimed:-
"I'm not proud of it. But there were suspicions and I tried to deal with them maturely by talking about them and she denied them — so I felt like I was given no choice. I'd like to say I'd never go through a girl's diary, but I don't know."
For the Boston University graduate, extraordinary times call for drastic measures. If he loves his muse enough, he might "have to do something extreme."
Don't Miss:- Nate Diaz Wife-Like Relationship With Girlfriend | Diaz Brother's Ethnicity Talk-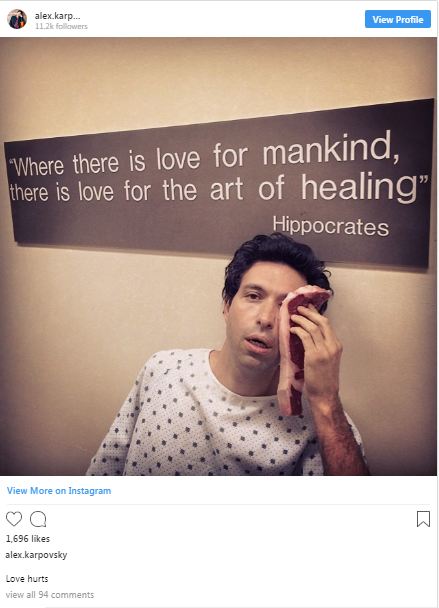 Alex being his usual self (Photo:- Alex Karpovsky's Instagram)
A staunch supporter of "exes can't be friends" narrative, Alex is far from a perfect boyfriend. Nevertheless, he seems to be in search of an ideal wife. The Newton Massachusetts-native once jotted down the prerequisites for his potential wife.
Appearing on Rookie Mag's "Ask A Grown Man" series in 2012, he listed:-
"Sincerity, confidence, sense of humor, humility, sense of style, dance ability..."
But does his future wife comes from the same faith as he?
Interesting:- Nicole Threatt Age 48 Wiki: Kids, Ethnicity, Net Worth | Dr. Dre's Wife Details
More On Alex Karpovsky Including Age, Ethnicity, Net Worth, Family, Movies & TV Shows
Not necessarily! Or that's what Alex has always implied.
As for his ethnicity, the Homecoming star - who hails from a Russian-Jewish family - is a white man by default. Unlike many of his peers, he seems to relish over the ambiguity of his identity, ethnicity-wise.
Comparing and contrasting his life with that of his Girls character Rey, Alex, age 43, sarcastically quipped:-
"They'll just use Ray and Alex interchangeably. Sometimes I let it go. Other people will say 'That's the most Jewishy-Jewy ************. How is he not Jewish?'"
Born on 23 September 1975 to a scientist father, Alex's initial decision to drop out of his Ph.D. in visual ethnography may not have sat very well with his family members at the time.
But given his successes - one that seems to reflect on his burgeoning net worth - since his 2005 debut The Hole Story, first as a director then as a writer, they ought to be proud.
Discover:- Sonya Curry Age 52 Bio: Height, Ethnicity To Net Worth, Instagram & Facts
Since his debut, the 43-year-old has gone on to star in numerous movies & TV Shows including Law & Order: SUV, Inside Llewyn Davis, Rubberneck, and Hail, Ceaser! Another notable film by Alex is Gayby -- a movie about a gay couple who's trying to conceive.