Entertainment
Angel Iris Murphy Brown 2018: Birthday With Father Eddy, Parents Battle,11 Siblings
The 11-year-old celeb kid has been in the eye of the media because of the adults in her life. on 3rd April 2018, Angel celebrated her birthday alongside her father Eddie. It was previously reported that Eddy had been keeping distance with Mel B and their daughter Iris. However, his presence at Angel's birthday party proves otherwise. If Eddy accepts the fatherhood of Angel, Stephen Belafonte's request for step-parents visitation rights with Angel will be denied by the court. Mother Mel B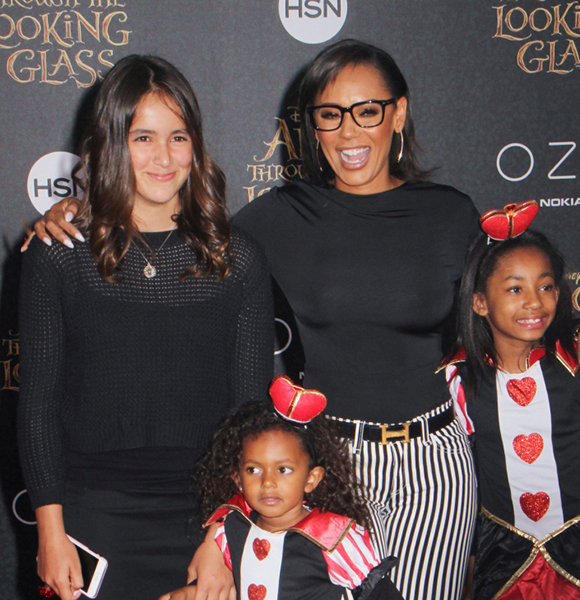 Angel Iris Murphy Brown is best known as the daughter of American comedian Eddie Murphy and British Singer Melanie Brown.
The 11-year-old celeb kid has been in the eye of the media because of the adults in her life.
Father Denies Parentage, Parents Disagree
Angel Iris Murphy's age in 2018 is 11. She was born in 2007 when the former Spice Girls star, Melanie B, and American actor Eddie Murphy got split after their short fling.
Soon after they separated, Angel's birth became a significant issue in the lives of both Mel B and Eddie. The court had to get involved when Mel B filed a case to establish Eddie as the father of her daughter. 
As the couple got separated in December 2006, Eddie insisted that the parentage of the unborn baby cannot be decided until the paternity test.
Talking to Dutch TV show RTL Boulevard about his separation with Melanie and her pregnancy in December 2006, Eddie said,
We're not together anymore.And I don't know whose child that is, until it comes out and has a blood test. You shouldn't jump to conclusions, sir.
Melanie filed a Superior Court petition to establish Eddie as the child's father legally. Later, in June 2007, Eddie submitted his DNA test ordered by the court. The test ultimately established him as the biological father of then two-month-old Angel.
Mel B Pregnant During Angel's Birth, Custody Battle
Mel B was pregnant with Angel when she started dating American film producer, Stephen Belafonte.
Later, Mel B got married to Stephen in 2007 and Angel started living with the newly married couple along with her big sisters, including half-sister Phoenix Chi Gulzar, (born in 1999 to Melanie and Dutch dancerJimmy Gulzar) and Giselle Belafonte (born in 2004 to Stephen and his past relationship).
Later, Angel got a new sibling, Madison Brown Belafonte, a daughter born to parents Melanie and Stephen in 2011. 
Unfortunately, in March 2017, Melanie filed a case against her then-husband, Stephen, citing "irreconcilable differences. She claimed that her former husband physically abused her during their more than ten years long marriage.  
However, the couple was already separated in 2016, but the divorce was finalized in December 2017. Stephen reportedly got a restraining order to be far from Melanie and her three children prior to the divorce settlement, which was later pulled off.
Post the divorce settlement; Angel became the center of a visitation battle between Melanie and her ex-husband, Stephen.
Stephen claimed that he should get step-parent visitation rights with step-daughter Angel since he raised the child from her birth. He insisted that Angel called him dad since she started to talk. Further, he also emphasized that Eddie was 'not interested' in having a father-child bond with Angel. 
He claimed Angel "called me 'dad' since she started to talk" and said he should have step-parent visitation rights because he helped Mel B raise Angel from the get-go.
However, Melanie refused to let Stephen visit Angel alleging he would be a bad influence on her daughter. She then claimed that he once showed her daughters an ISIS beheading video and gave medicine to their daughter Madison which made her ill.
2018 Update: Distressing Letter, Celebrates Birthday With Biological Father  
In March 2018, Angel's grandmother, Andrea Brown posted a distressing letter on her Twitter which she said was written by Angel. 
The letter suggests that Angel never wants to see her step-father again.
Andrea Brown shared a distressing letter from her granddaughter Angel. (Photo: Andrea Brown's Twitter)
A part of the letter reads,
"I never want to see him ever again it'd be like reliving a horrible part of my life. The worst part about the times I lived with him is when I'd try to stop the fights and cursing. When I tried he would say 'oh shut up', and I would be so scared I wouldn't say anything else. I witnessed a physical fight. I was lying down in my mother's room 'sleeping'. I woke up to a fight.I can't remember what it was about, but I heard Stephen hitting mommy's hand, it was hard cause I heard it. Mommy said 'you snapped my nail off' so it was hard."
However, the letter remains controversial, and many believe the letter wasn't written by Angel.
Currently, Angel is living with her mother and siblings. She has altogether 11 siblings in total from the relationships of Stephen Belafonte, Mel B, and Eddy Murphy, if not counting the unconnected children of other connections Eddy and Mel B witnessed in their respective dating/marriage lives.  
Altogether, Stephen has two children, including Madison, and Giselle. Mel B has three children, including Angel, Pheonix, and Madison. Likewise, Eddy has nine children including Angel.      
Recently on 3rd April 2018, Angel celebrated her birthday alongside her father Eddie, whose birthday also happened to be on the same day.
Eddie's daughter Bella Murphy, born to his ex-wife Nicole Mitchell Instagrammed a video of Eddie and Angel celebrating their birthday on 4 April 2018.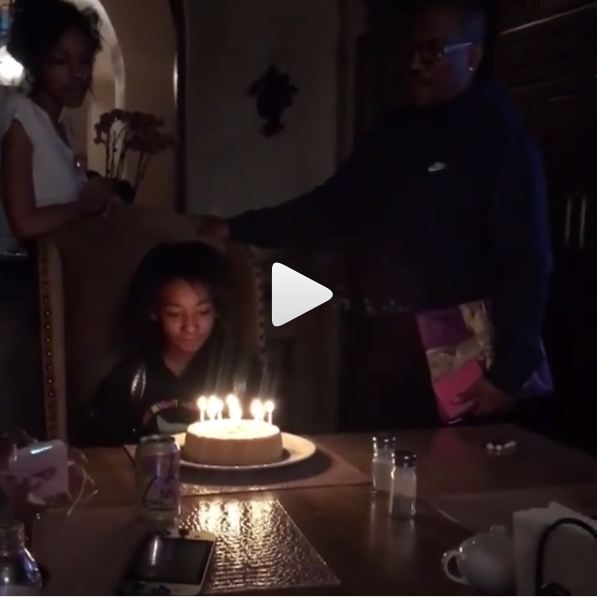 Daughter Angel celebrates her 11th birthday with her father Eddie in April 2018. (Photo: Bella Murphy's Instagram)
It was previously reported that Eddy had been keeping distance with Mel B and their daughter Iris. However, his presence at Angel's birthday party proves otherwise. If Eddy accepts the fatherhood of Angel, Stephen Belafonte's request for step-parents visitation rights with Angel will be denied by the court.