Entertainment
Dominic Monaghan Shares Lord Of The Rings' Matching Tattoo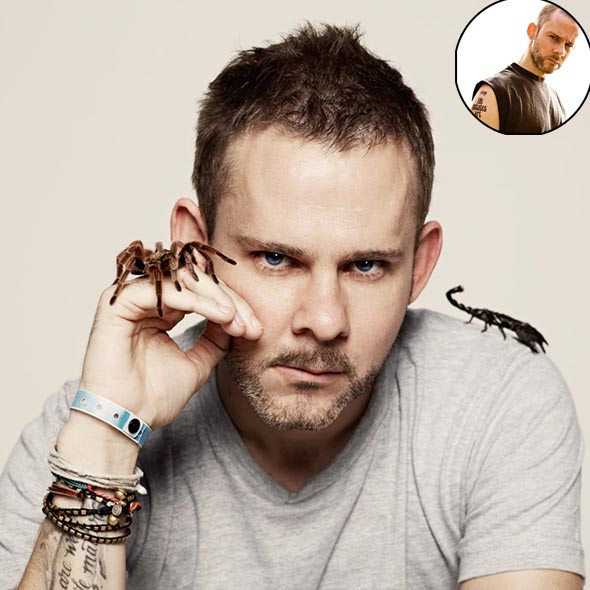 Dominic Monaghan is one of the important members of the Lord of the Rings Franchise. The Lord of the Rings casts are so close to each other that they have matching tattoos on different parts of their bodies. Yup, the Lord of the Rings cast got a matching tattoo symbolizing their bond. Let's learn more about it. 
Dominic Monaghan's The Lord Of The Rings Tattoo
Being a part of the Lord of the Rings franchise is obviously a huge deal, but what would they do if the entire cast became like family? Of course, the solution is to go out and get a matching tattoo, which is exactly what the cast members did.
In an interview with Entertainment Weekly, actor Dominic Monaghan shares his greatest story ever told, where he reveals the moment he and his cast members decided to cherish their special bond by getting a matching tattoo. The cast felt the experience of nearly two years of filming was so strong that the actors of the Fellowship got matching tattoos a week before the end of production to solidify the relationships they formed in New Zealand. 
Learn About: Ellie Haddington's Lesbian Portrayal Has Her Fans Doubting Her Sexuality!
They had a long discussion about what to get tattooed. They had different options like the Ring of Power, the words "brotherhood," or "fellowship," but they finally agreed on getting the word "nine" in Elvish, a language made up by J.R.R.Tolkien, the author of the Lord of the Rings, which is used by the Elves. 
They decided to get the "nine" in Elvish because it was quite delicate and had a beautiful design, and according to Viggo Mortensen, they got it because that's what they were, nine.
Everyone got inked in different parts of their body, except for John Rhys Davies, who played Gimli, who didn't get the tattoo and had his stunt double receive it instead. 
However, the Lord of the Rings director also got a tattoo that says "Ten" in Elvish. 
Dominic discusses his special bond with the Lord of the Rings actors and how they will always have a special place in his heart. After his performance in Lord of the Rings, he was nominated for several prizes and achieved international acclaim and success.  
But what if we tell you that Dominic, who has established a great name in the entertainment industry, might still be single? 
Dominic Monaghan's Wife
Dominic has made a huge success in the entertainment industry and has made a lot of fans. From starring in more than a dozen films and television series, he has been able to accumulate a net worth of $12 million.  
With his increasing popularity, his personal life has grabbed huge media interest. But on the other hand, the actor prefers to keep his private life away from the spotlight, and there is no evidence of him having a wife.
However, the 45 years old actor was previously in a relationship with actress Evangeline Lilly. The couple started dating around 2004 when the two met on the set of Lost. The couple had on and off relationships for five years but eventually broke up in 2009. The reason for their break up was not made public instantly, but after four years of their separation, Dominic tweeted, claiming that he doesn't date cheats. After his tweet referring to his ex-girlfriend, we can assume that the real reason might be that his ex-girlfriend Evangeline was apparently cheating on him. However, his ex-girlfriend Evangeline did not respond to his allegations.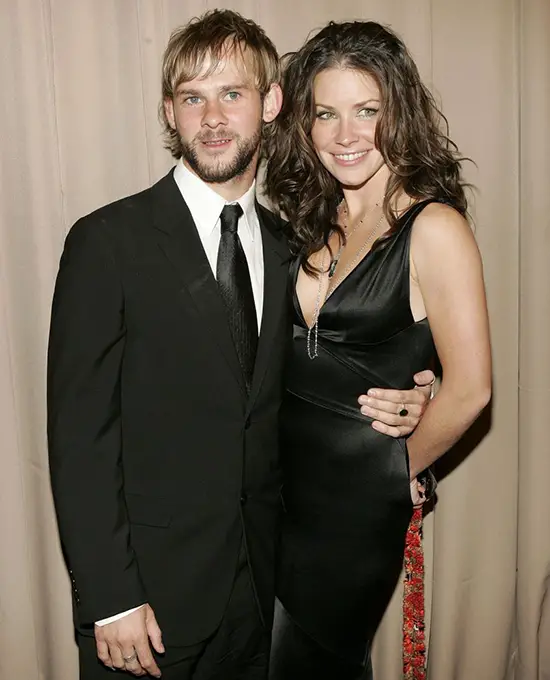 Caption: Dominic and Evangeline dated for five years, eventually splitting after Evangeline was caught fooling around.
Photo credit: popsugar.com
Evangeline is currently enjoying her life with her partner Norman Kali with whom she has two children.
Get to know: Lara Jean Chorostecki -Single or Secretly Married?
However, Dominic has remained single for a long time, leading to suspicion that him being gay. The speculation began when he wished his co-star Billy Boyd a happy birthday in August 2017 and mentioned him as an inspiring life partner. But Billy is married and also has a son with Alison McKinnon. On the other hand, Dominic has been in a relationship with Evangeline, indicating that he is not gay. However, Dominic does support LGBTQ+ Community.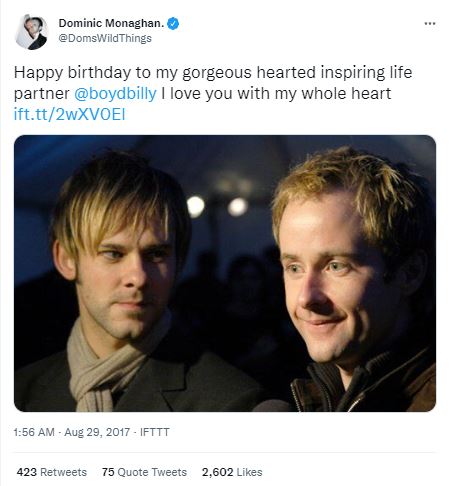 A birthday wish for his forever friend Billy Boyd a birthday wish. (Source: Twitter)
Moreover, Dominic has been focusing on his career, making him too busy to find a suitable partner. We'll keep you updated if he finds the love of his life. Till then, stay tuned with us.