Entertainment
Attractive Actor Dominic Monaghan Reveals Lord Of The Rings' Cast Tattoo! What About His Married Life, Wife and Girlfriend?
It already is a huge deal to be a part of the Lord of the Rings franchise and when the whole cast becomes something like a family, what would you do? The answer, you go out and get a matching tattoo, and it is exactly what the cast members went ahead and did.
In an interview with the Entertainment Weekly, actor Dominic Monaghan shares his greatest story ever told, where he reveals the moment he and his cast members decided to cherish their special bond by getting a matching tattoo. From different options like the Ring of Power, the words "brotherhood" or "fellowship", they finally agreed on getting the word "nine" in Elvish, a language made up by J.R.R.Tolkien, the author of the Lord of the Rings, which is used by the Elves.
They eventually decided on the tattoo because it was quite delicate and had a beautiful design and according to Viggo Mortensen, they got it because that's what they were, nine.
And what does the director Peter Jackson get? A tattoo that says 'Ten' in Elvish, ironic I must say!
More about Dominic Monaghan:
Dominic Monaghan is an English/German actor living in Los Angeles, California. He gained popularity in 2001, playing Meriadoc 'Merry' Brandybuck in the Lord of the Rings trilogy and maintained his fame playing Charlie Pace in the television series Lost. From starring in more than a dozen films and television series, he has been able to accumulate a net worth of $12 million.
Relationship Status:
The 39-year-old actor was previously in a relationship with actress Evangeline Lilly. The couple started dating around 2004, as the two met on the set Lost. They went on dating for around five years and eventually split up in 2009.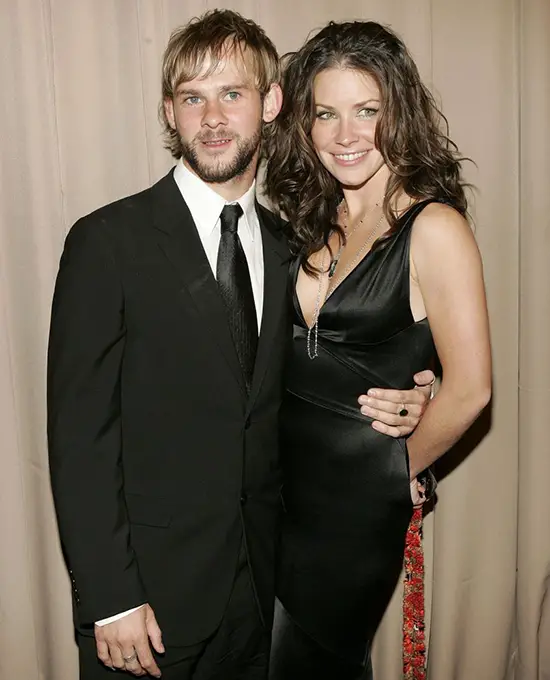 Caption: Dominic and Evangeline dated for 5 years, eventually splitting after Evangeline was caught fooling around.
Photo credit: popsugar.com
The split was a mystery as none of the actors had anything to say, but in 2013, Dominic spilled the real reason behind the split, and the real reason might be that his former girlfriend Evangeline was apparently cheating on him.
Now that the actor is single, and has been single for quite some time, is he considering settling down and having a wife? Apparently not. Back in 2013, Dominic made headlines as he confirmed sending texts to a woman, criticizing her as being 'riddled with herpes', as she turned him down for sex. The woman in question revealed that Dominic had been trying to convince her to come to his house and get 'loosened up' for quite some time. Not quite a husband like huh Dom?