Around 2011, social media sensation-turned-pop singer Austin Mahone made waves after he - with an assist from Alex Constancio - created several viral videos. Both of his first two songs 11:11 and Say Somethin charted the Billboards.
Because of his tender age and fan following - mostly made up of teenage girls - the San Antonio Texas-native garnered the title of "second coming of Justin Bieber."
An ever-present force online, Austin boasts over 10 million followers on Instagram. Meanwhile, over 9 million fans follow him on Twitter. Beyond his startling career, read along to learn personal details about the viral singer! 
Age, Height, Education & Net Worth
The "All I Ever Need" hitmaker - now age 23 - stands tall at the height of 5 feet and 11 inches (1.8 m).
Born on 4th April 1996, Austin spent his formative years in San Antonio, Texas. He recieved his high school education from either Lady Bird Johnson High School or La Verina High School.
From early on, everyone knew of his high musical aptitude - he even taught himself to play instruments such as drums, guitar, and keyboard without any lessons. All thanks to his chart-topping songs, gifted musicianship and few notable brand endorsements, Austin now boasts a reported net worth of $5 million.
Dating History: Girlfriend Now?
Austin's dating history is just as illustrious as his musical achievement.
Starting with Stephanie Scott, the current Cash Money signee enjoyed a brief fling with an American actress between December 2012 and March 2013.
After splitting from his ex-girlfriend Stephanie, in September 2013, he ignited a romance with songstress Camila Cabello. The duo wouldn't officially begin dating until August 2014. A month after confirming the rumors, in November 2014, Camila announced their break up.
When things didn't work out between Austin and his once-girlfriend Camila, he found solace in pop singer Selena Gomez's company. Though the reports suggest that the pair began dating from January 2014, both he and Selena denied ever being an item. They got acquainted through Taylor Swift.
Selena Gomez Related:- Taylor Lautner Dating New Girlfriend & It's Official | Announced With A Kiss
Around the same time, the Say You're Just A Friend singer reportedly build romantic ties with Kira Kosarin. And then in 2015, he and songstress Becky G became the Hollywood's "It Couple" after they got spotted partying on a yatch. The romance, however, lasted for four months only.
Towards the end of 2015, Austin met fitness model Katya Elise Henry through Instagram. A few months later, he and his then-girlfriend Katya got spotted in Disney World. Like his previous love, this too ended in a sour note. In February 2017, he confirmed the separation on Maria Lopez's Extra.
Katya is now dating Los Angeles Lakers Kyle Kazuma.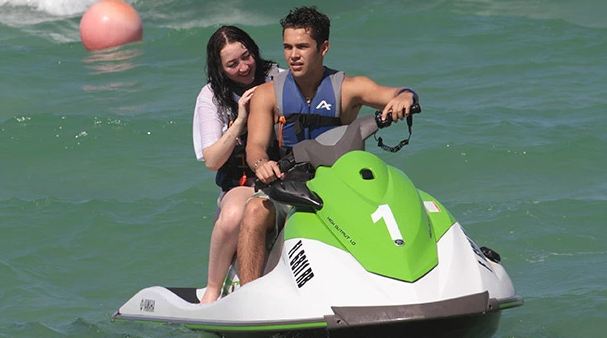 Austin Mahone with his ex-girlfriend Noah Cyrus in Miami circa July 2017 (Photo:- Hollywoodlife.com)
Noah Cyrus is the 23-year-old singer's last known girlfriend. In the latter half of 2017, the duo enjoyed a brief romance. After him, Austin's ex-girlfriend Noah began dating rapper Lil Xan.
Family Life - Siblings & Parents
For all his charm and out-going personality, Austin didn't come from a conventional family per se. When he was 16 months old, his father Charles Edgar Mahone passed away.
Sensing a need to have a father-like figure around after the family tragedy, his mother Michele Lee tried her best, but it didn't always pan out.
Instead of letting the absence of both parents discourage him, Austin saw it as a fuel to do better and as he puts it "go hard now." To this day, he credits his mother for all his success.
The What About Love singer appears to be a single child as there is no trace of his biological siblings.