Entertainment
Brennan Elliott Can Achieve Anything With His Wife By His Side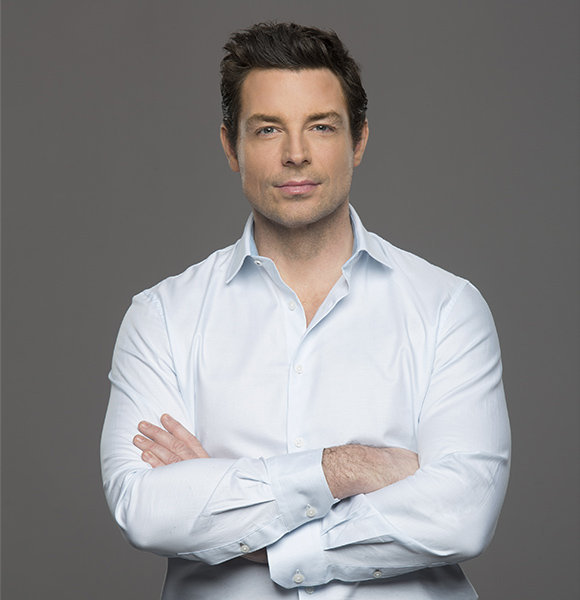 Some people are born with marriage material in their DNA. One of them is The Grey's Anatomy actor Brennan Elliott. 
Brennan is a family material guy who maintains a healthy balance between his personal and professional life. With his wife by his side, he is able to achieve everything in his life.
Let's find out who is Brennan's Love of his life. 
Brennan Elliott's Wife
Brennan Elliott has been married to Camilli Row since 2011. The duo met through a mutual friend in the 1990s. They instantly hit it off and started dating before Brennan was struggling as an actor. 
As long as Cami is by his side, the sky is the limit!
Don't Miss:- How Much Is Kendu Isaacs Net Worth? Bio Unveils Kids & First Wife Info
At age 47, Brennan standing well beyond the height of 6 feet, seems to have conquered it all. With a filmography that can rival the best of the best in Hollywood, the Strong Medicine actor is easily one of the best-paid actors working today, reflecting his seven-figure net worth.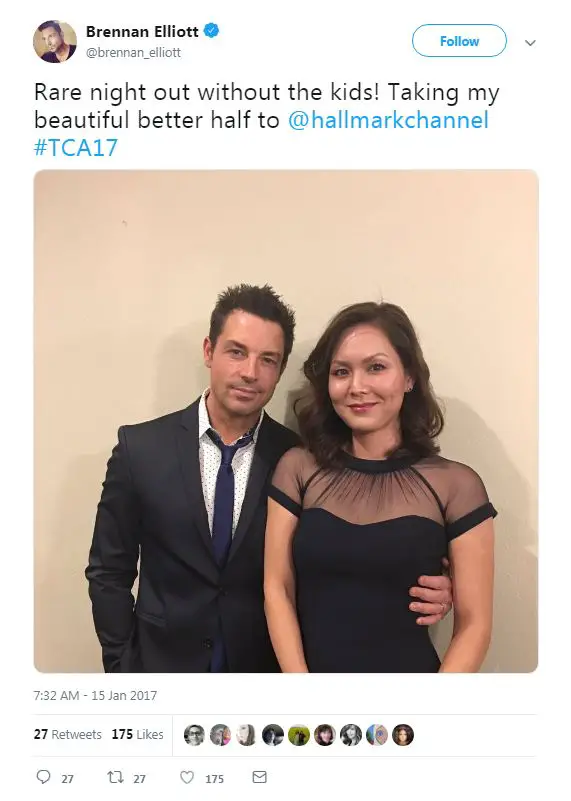 Brennan enjoys a rare night out with his spouse. (Photo:- Brennan Elliot's Twitter)
However, Brennan took some time to reveal his spouse publicly. Despite being a popular celebrity's partner, Cami prefers keeping her personal life away from the spotlight. 
Brennan, on the other hand, expressed his confusion about their marriage's longevity in a tweet on the eve of his fourth wedding anniversary.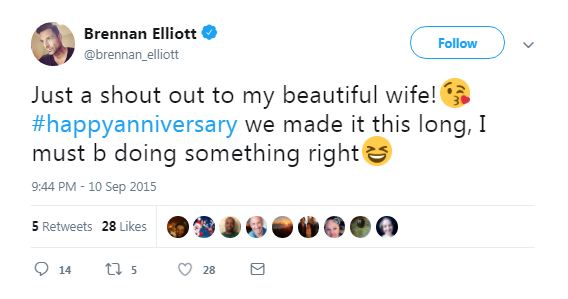 Brennan opens up about a startling discovery on his wedding anniversary (Photo:- Brennan Elliott's Twitter)
Apart from being hilarious, he doesn't forget to express his gratitude toward his wife for keeping things intact at their home. In an interview with My Devotional Thoughts in 2017, he said, 
"Without her, I wouldn't be able to do what I do. She's the best of the best for sure. I'm so blessed that God gave me somebody that just works for me and I work for her. It's special. She's a special, special person."
Likewise, in the five months prior interview with the same publication, Brennan had echoed similar sentiments while discussing his relationship with Cami. He expressed:-
"If she wasn't taking care of the kids and taking care of our whole life, I wouldn't be able to go off for months at a time and work. It's a fifty-fifty relationship, and I give her all the kudos in the world."
The pair has been married for more than a decade and has a special bond with each other. They have two children, a son, and a girl, to whom they give their whole attention.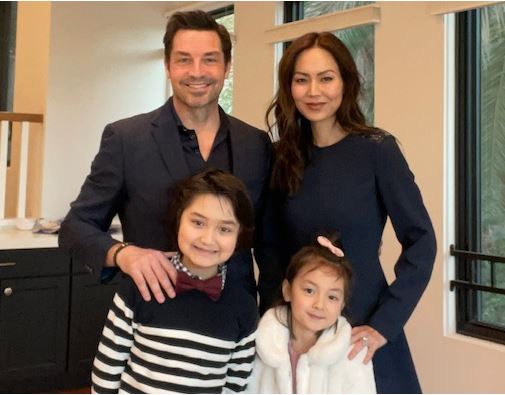 Brennan with his family. (Source: Hope For Stomach Cancer)
However, things began to change when Cami got diagnosed with cancer.
Brennan Elliott's Wife's Cancer
In early April 2022, Brennan took his Instagram to share his wife's cancer journey. Cami was recently diagnosed with Stage IV metastatic gastric cancer. 
Cami was first diagnosed with cancer in 2018. She got lucky and found out in time; however, this time, it appears to be a little more serious.
Interesting:- Jon Gosselin & Girlfriend Getting Married Soon Amid Children Custody Battle
Regardless, the couple has been positive about the treatment. Brennan describes Cami as the strongest person he knows who has bravely faced cancer. 
He recalls his wife's several surgeries and chemotherapy treatments. He also clarifies sharing his story to inspire his audience rather than gain popularity. His fans keep Cami in their prayers and constantly ask for updates on her health.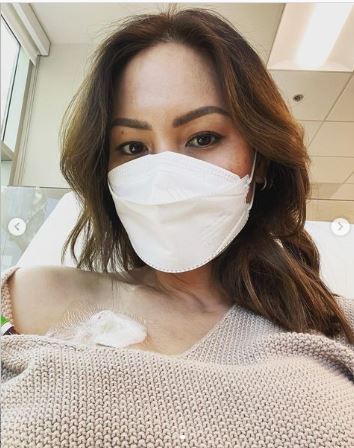 Brennan posted an appreciation post for Cami. (Source: Instagram)
Cami has always stood beside Brennan, and it's hard for him to go through something so unfair with the love of his life. 
On the other hand, Cami shares her journey with Hope For Stomach Cancer, an organization that educates people about the disease.
Discover:- Vincent Martella Movies, Net Worth & Family; Is Walking Dead Actor Gay?
Despite going through such a traumatic experience, Brennan and Cami still continue to inspire others.
We wish Cami a speedy recovery. 
We will surely update you more about Brennan Elliott in the coming days. Till then, stay tuned.