Entertainment
Brennan Elliott Amazed On Wedding Anniversary With Wife, Why?
All of My Heart: The Wedding - a follow up to 2017 flick of the same title - stars Brennan Elliott and Lacey Chabert, age 36, as its lead, whose characters find themselves in a financial quagmire as the big day approaches.
Unlike in the movie, Brennan and his wife, perhaps, didn't live through the same experience. Because by the time they had married, the former's net worth had already skyrocketed to new heights.
Suffice to say, the Home & Family actor continues to be amazed by what he has been able to achieve. Exhibit A: his admission on the eve of their fourth wedding anniversary!
Startling Admission On Wedding Anniversary; Wife Keeping The Married Couple's Family Intact
Safe to say, some people are born with marriage material in their DNA. Could Brennan be one of the stated people?
Interesting:- Jon Gosselin & Girlfriend Getting Married Soon Amid Children Custody Battle
His tweet on the eve of his fourth wedding anniversary seems to suggest so. While giving props to his wife Cami Elliottouple, the Calgary Canada-native also sounded befuddled at the longevity of their marriage in the mentioned tweet all the while hogging all the credit.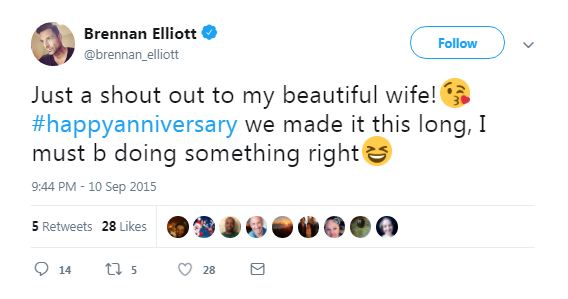 Brennan opens up about a startling discovery on his wedding anniversary (Photo:- Brennan Elliott's Instagram)
Despite the tongue in cheek manner of his tweet, it's imperative to know that the Nanny Express star doesn't forget to express gratitude for keeping things intact at home. Stressing the importance of his wife's contribution in 2017 My Devotional Thoughts Interview, Brennan quipped:-
"Without her, I wouldn't be able to do what I do. She's the best of the best for sure. I'm so blessed that God gave me somebody that just works for me and I work for her. It's special. She's a special, special person."
Such is the nature of their relationship that Cami calls him "her little mess." The Grey's Anatomy actor, who raises a 5-year-old son & a 4-year-old daughter with his wife, acknowledges that they couldn't be more different but stresses the complementary nature of the married life.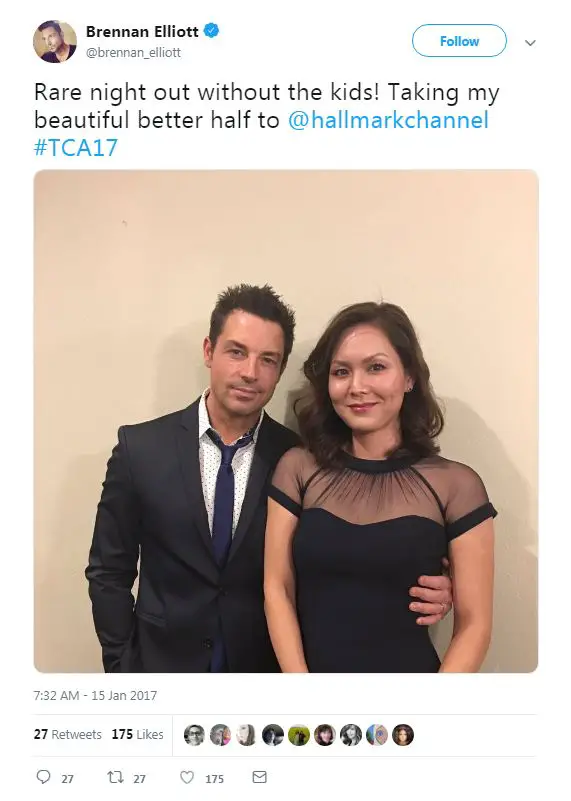 Brennan enjoys a rare night out with his wife (Photo:- Brennan Elliot's Twitter)
Don't Miss:- How Much Is Kendu Isaacs Net Worth? Bio Unveils Kids & First Wife Info
Likewise, in the five months prior interview with the same publication, Brennan had echoed similar sentiments while discussing his relationship with wife. He had said:-
"If she wasn't taking care of the kids and taking care of our whole life, I wouldn't be able to go off for months at a time and work. It's a fifty-fifty relationship, and I give her all the kudos in the world."
Isn't it amazing that despite being married for more than seven years, Brennan is just now learning what a fantastic woman Cami is?
More On Brennan Including His Age, Net Worth & Height
As long as Cami is by his side, the sky is the limit!
At age 43, Brennan seems to have conquered it all. With a filmography that can rival the best of the best in Hollywood, the Strong Medicine actor is easily one of the best-paid actors working today -- a feat that reflects his seven-figure net worth.
Discover:- Vincent Martella Movies, Net Worth & Family; Is Walking Dead Actor Gay?
Standing well beyond the height of 6 foot, not only does he tower over his counterparts in a metaphorical sense, but the physical intuit as well.