Entertainment
Christian Keyes Has a Son but Who Is the Baby-Mama? Talks About His Ideal Girlfriend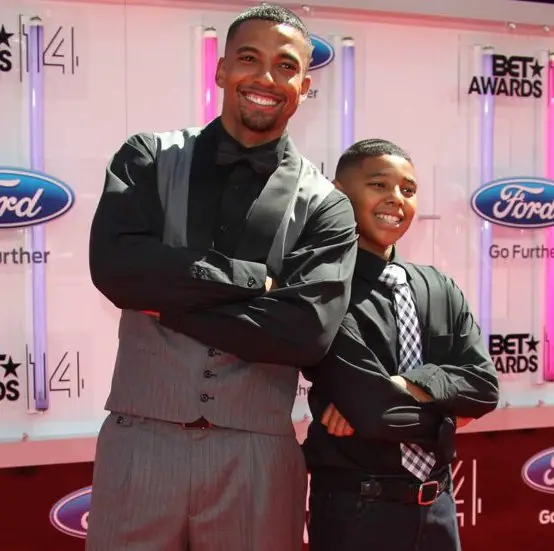 Celebrities tend to keep their personal life away from the media. But Christian Keyes is at another level.
He has been able to hide the mother of the son till now. So what might be the reason? Let's find it out!
Who Is Christian Keyes's Baby-Mama?
Christain is said to be single at the moment. He has not been married previously to have a wife, but he has become parents to his son Christian Keyes Jr. 
Christian's baby boy was born in December 2002. However, the Saints & Sinners actor has not revealed his child's mother to the world. 
However, recently there has been speculation that the baby mama of his son might be the singer Cheryl Pepsii Riley.
Christian and Cheryl shared the same photos on their Instagram accounts on the occasion of Father's Day. Christian even mentioned Cheryl in his post.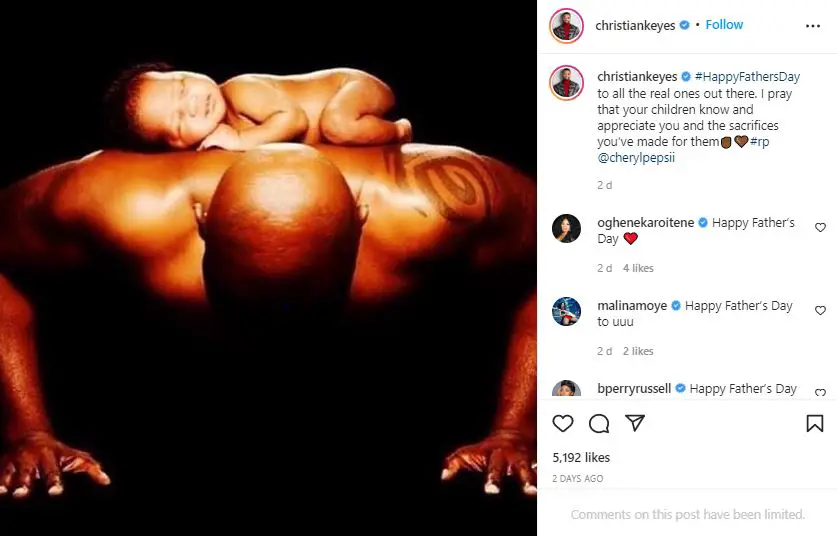 Christian mentions Cheryl Pepsii Riley in his Father's Day Post. (Photo: Instagram)
There has been no information regarding the reason for tagging Cheryl in his post. Fans are still waiting for their comments. 
Explore: Mark Levin Spills the Beans: Shocks Everyone When He Says My Fiance's son. New Wife?
Even if Christian has not mentioned anything about his baby mama, he has been a great father to his son. 
Even with his busy schedule, Christian separates his time for his boy. He always posts their father and son moments on his Instagram. 
Christian wallpaper is the picture with his son, Christian Keyes Jr. (Photo: Instagram)
However, in an interview with rollingout, Christian admitted that having a child is not enough for him. He intends to have more children, perhaps even adopt one, and raise it with his future wife.
Christian has even discussed the characteristics of his ideal girlfriend.
Christian Keyes Ideal Girl
In an interview, Christian opens up about his ideal girlfriend and reveals his preferences regarding his girl. When asked about his perfect date, Christian said he wished to go on a dinner date in a restaurant where his girl's favorite band would play and later grab some dessert and finally spend the rest of the night at home.
When asked about three things that Christian looks for in a woman, he said,
She definitely needs a sense of SPIRITUALITY, that's huge. DRIVE is second! She has to have the type of determination that "she is O.K. with or without my help." She also needs a SENSE OF HUMOR. I am silly when I'm not working and just being myself. I like to laugh and have a good time. There are times to be serious and then there are times to just relax and have fun.
Christian also revealed that the smile and eyes are his favorite part of the female anatomy. Further, he even shared that his celebrity crush was Sanaa Lathan.
Moreover, when asked about the most exciting place where he had sex, he replied,
Let me see…on top of my Camaro at the local high school and we set off the alarm. (LOL)
Although Christian has shared his viewpoint and preference for his ideal girlfriend, he has never revealed anything about his possible girlfriend and has kept his love life, tight guard. 
Know More: Genevieve Nnaji Is Waiting for Her Soulmate!
His silence about his dating life has made gay rumors, but only time will reveal the truth of his speculated gay sexuality. However, some sources claim he is in a relationship with Baje Fletcher. But none of them have said anything about this speculation.
Looking at his social media, it seems like Christian is focusing more on his career than dating. 
Christian Keyes's Career
Christian was born on July 24, 1975, in Detroit, Michigan, United States. He began his career as a model and fitness trainer and made his acting debut in 2005 with an appearance in the film Diary of a Mad Black' and went to do a recurring role in  Television Series 'Let's Stay Together.'
He has shown his awesome performances in films like 'Perfect Combination,' 'Lord, All Men Can't Be Dogs,' 'Note to Self,' 'Black Coffee,' and others.
Learn About: Wendy Williams Hints at Mysterious New Boyfriend
Besides being part of a movie, he produced masterpieces like 'Lord, All Men Can't Be Dogs,' 'Note to Self,' and 'The Man in 3B.'
According to Celebrity Net Worth, Christian has accumulated a net worth of $1.5 million with his hard work and dedication. 
We hope Christian finds his perfect partner in the coming future. 
Stay tuned with us for more updates on Christian Keyes.