Entertainment
Never-ending Love Between Colin Mochrie & His Wife. More on His Trans Daughter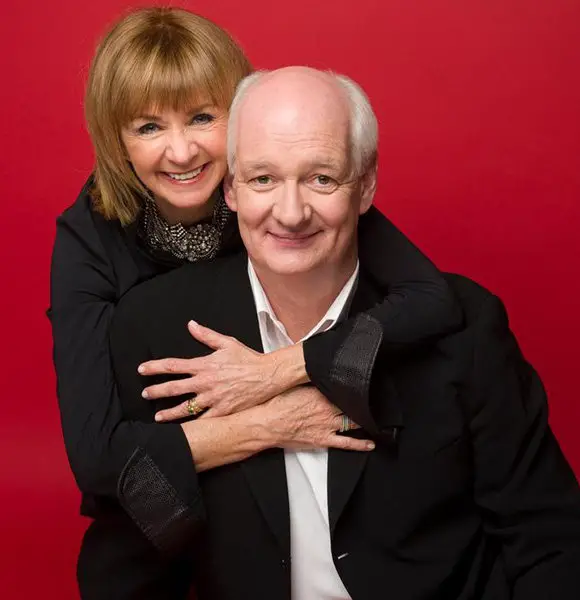 From the improvisation show, 'Whose Line Is It Anyway?' Canadian actor Colin Mochrie has improvised not only his comedic genes but also his fame and followers. 
Starring in the British and American versions of the comedy show, the actor has been entertaining the show for nearly a decade. 
However, what surpassed the show's duration was Colin's married life, which remained intact for much longer than the show, and the couple's love is still going strong despite the long years.
Colin and his wife often considered as the Duke and Duchess of comedy, have also become influential figures due to their support for their daughter's transition!
Colin Mochrie Married Life With Wife, Accepts Trans Daughter
Colin found love in the same profession as him, comedian-wife Debra McGrath. Colin's wife also works as an actor-writer and is renowned for her works in Expecting and The Joe Blow Show.
The Kilmarnock, United Kingdom native Colin, and Debra have worked together on the 2006 show, Getting Along Famously. 
You May Also Like:- Nick Offerman & Wife Mullally, Power Couple's Alternative For Actual Kids
Colin first met his wife, Debra, in 1987, two years before their wedding, at the Second City in Toronto and was hired for an acting job by her. Their friendship slowly turned to romance as Debra grew more and more dependent on him. Debra told in a 2017 interview,
"Colin was my anchor in the show, I could always depend on him. Then one day I went, 'Hmm… I think it's something else.' So I shamelessly pursued him. Typical of most men, he was clueless as a post."
Finally, the romance transformed into a lifelong marriage as the actor and his wife tied the knot on 8 January 1989. Even though the couple has been married for 33 years, Colin states that it is hard for him to kiss his wife on stage.
He said in an interview with Ottawa Citizen,
"The only thing that's weird for us is, if we have to kiss on stage, for some reason we sort of lose all our natural ability. I have no idea why it's easier to kiss (Whose Line Is It Anyway? co-star) Ryan Stiles on stage than Deb, because I am truly much more attracted to Deb."
Despite having the onstage difficulties, Colin leaves no opportunity of expressing his love towards Debra. On 5 July 2015, for the occasion of Debra's birthday, Colin shared a picture of his wife along with the most romantic message on Facebook.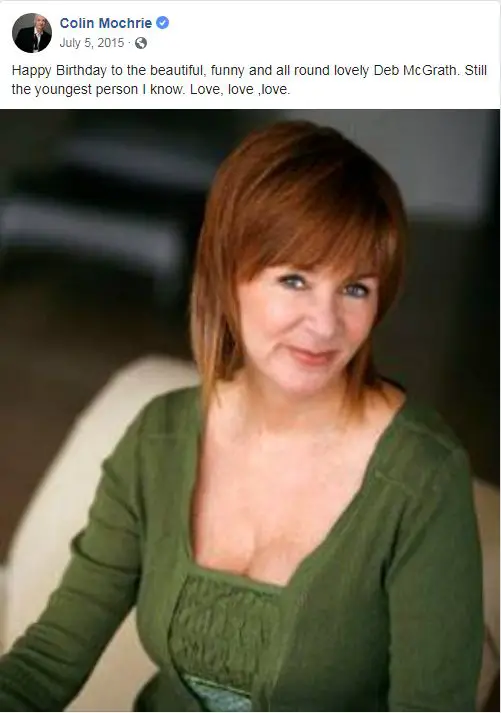 Colin wishes his wife Debra for her birthday on 5 July 2015 (Photo: Colin Mochrie's Facebook)
Similarly, Colin also posted a tweet for the couple's 29th Wedding Anniversary on 8 January 2018 and thanked his wife for not choosing someone better than him.
"The Lovely Deb and I celebrate our 29th anniversary today. She's the best and I'm so glad she never caught on that she could have done better."
Colin and his wife, Debra, are also blessed with a daughter named Kinley Mochrie, who is currently at age 31. Kinley, who was biologically born as a male and was previously named Luke, has received the support of his parents and family in her choice to become a transwoman in 2016. 
See Also:- Exclusive: Danica Roem Defeats 'homophobe' Republican to become The First Transgender Member of State Legislature!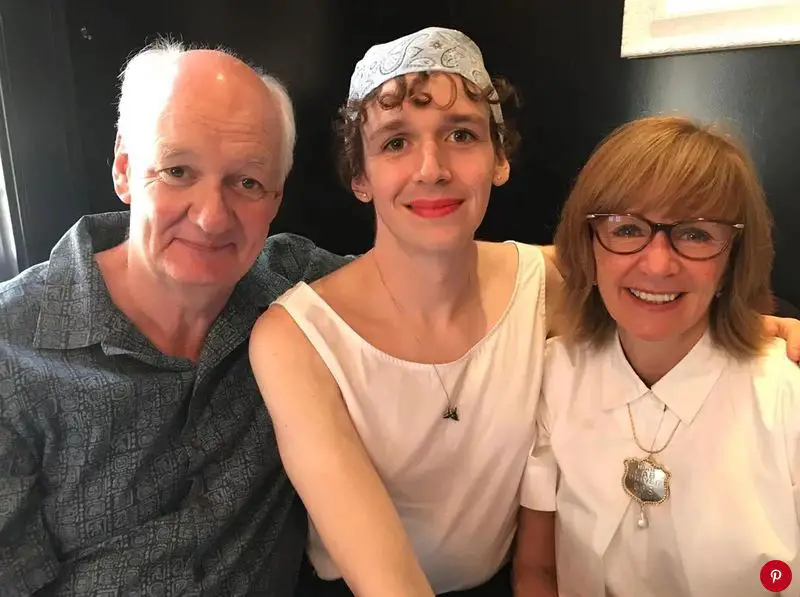 Colin, along with his trans daughter Kinley and wife Debra. (Photo: Pinterest.com)
Further, Colin has also come forward in support of his trans daughter and even shared a tweet which was enough to shut down all haters.

Colin shares a tweet to show his support towards trans daughter, Kinley (Photo: Colin Mochrie's Twitter)
Colin also mentioned in an interview that despite the transition, Kinley was still his child, and he would still love her.
"This is my child, this is the exact same person, with a new coat. All you want when you have a child for them to be safe, to be happy, and to be better than you."
After the transition of Luke into Kinley, Colin has even turned into a transgender advocate and has vowed never to discriminate against people based on their sexuality.
More on His Childhood And Family Details
Colin Mochrie, aged 64, was born as the son of an airline maintenance executive in Ayrshire, Scotland, UK. His family moved to Montreal, Canada, when Colin was seven and later moved to Vancouver at the age of 12.
Colin doesn't have many fond memories of his childhood and describes himself as a loner during his younger days. Colin also has a younger brother and a younger sister. He describes his childhood as well-spent fighting with his brother and being protective of his younger sister.
Don't Miss:- Neil Gorsuch Family & Romantic Tale With Wife Restores Faith In Love
While talking about his days as a young boy, Colin said,
"I fought with my younger brother, was protective of my younger sister and didn't get my parents."
Colin, who stands at the height of 6' 2 inches (1.88 m), is close to his nephews: Thomas Chambers and Munro Chambers, who both work as actors. The January Man actor is private about his family life and hasn't disclosed much about his parents and other members of his family. 
Stay tuned to get more updates on Colin Mochrie.