Entertainment
Daren Kagasoff Will Get Married To A Perfect Girlfriend! Meet His Ideal Girl
Daren Kagasoff Will Get Married To A Perfect Girlfriend! Meet His Ideal Girl. The award-winning actor Daren Kagasoff often indulged in girls on screen, but in real life, he has maintained a low profile. The real love life of the Secret Life of American Teenagers star remains a concern for his followers.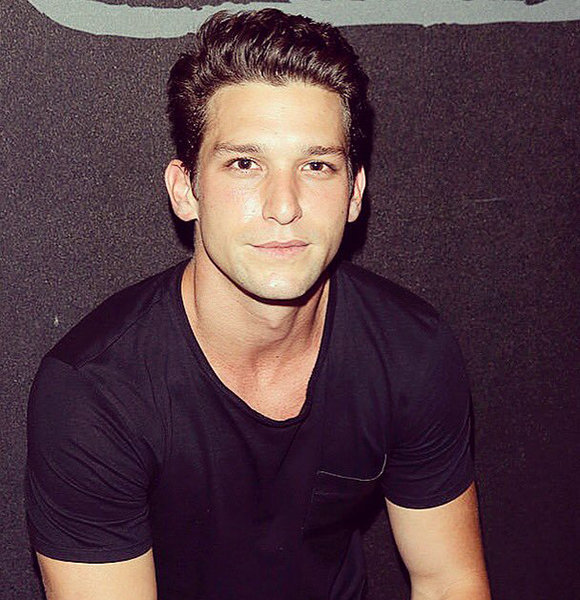 On-screen romance usually has a happy ending, but life persists beyond the "happily ever after" as well!
Getting a perfect companion is not something you wake up one day and decide; you find it on your journey. The journey involves going out on dates, rejecting and facing rejections; so to make the matter more relaxed, people usually enlist the characters they want in an ideal partner.
Actor Daren Kagasoff, famous for his role as Ricky in the ABC series Secret Life of American Teenagers, is often seen having multiple flings in the series. But he is a different man in real life. He believes in relationships and has even disclosed the qualities he wants in his ideal girl.
But has he found his perfect girl or is he still on the hunt? Keep reading to find that out!
High-School Girlfriend To Actress Girlfriend; Quality Of Ideal Girlfriend
The award-winning actor Daren Kagasoff often indulged with girls on screen, but in real life, he prefers maintaining a low profile. So the real love life of the Secret Life of American Teenagers star remains a concern for his followers.
Moving down the memory lane, Daren marked the beginning of his love life in high school which lasted two years. That longevity, however, did not lead them to married life.
See Also:- ABC's Lara Spencer Got a Divorce With Her Husband Ended 15 Years of Their Married Life: What About Children?
While recalling the experience, he accounted being so smitten by the relationship that his focus on everything else, including his school work, seemed to wear off. He even admitted to learning a lesson.
 "I definitely learned never to fall in love in high school because it just takes over your brain. We were so psychotic for each other that I didn't care about anything else. It was too much. Relationships are important but stay focused on all the things that are important. Figure out what you want."
Back in 2008, Daren got his big break with the role of Ricky Underwood starring opposite the Golden Globe-nominated actress Shailene Woodley as Amy. As he entered the world of glamour, he was no longer a commoner and was, therefore, followed and searched by many.
With 229k followers on Instagram, he sure has become a celebrity. But, did he find someone on his journey after a wrenched heartbreak with his high school girlfriend?
Although he remains single as of now, previously, he was linked with his co-actress Shailene Woodley, and he could often be observed flaunting the romantic relationship. The series wholly centralized on the love-life of the character Ricky and Amy, and it definitely ended on a happy note.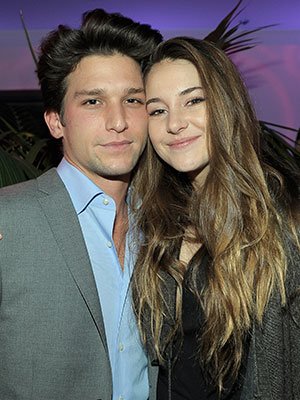 Daren Kagaoff with his Secret Life Of An American Teenager co-star Shailene Woodley (Photo: clevver.com)
Well, Daren and Shailene's five years long hot chemistry on-screen undoubtedly gave the audience a chill. As a result, their fans couldn't help but surmise that they were an item, for it seemed their emotions had spilled over off-screen.
Read Also:- Divorce with Married Husband of 25 Years in 2008, Carol Kirkwood Finally Finds Her Mr. Right. Boyfriend?
But, aside from the rumors, there are no reliable sources to establish their liaison as a fact, though Daren did admit to having a crush on Shailene and claimed that she is girlfriend material.
Moreover, it looked as if Shailene reciprocated with Daren's feelings as well. As per Shailene,
"Daren is a really awesome guy, and anyone would be dead lucky to be with him. I am dead lucky. See if you can figure it out." 
When we put the pieces together, the only conclusion we seem to form is that they dated. But the rumors had it that their relationship was too hard to sustain, with busy schedules on both ends. Perhaps their real love life did not end as scripted in the series!
Read Also:- Calum Hood Totally Open To Dating! Ideal Girlfriend Is Way Cool; You Should Meet Her
Unlike many celebrities whose affairs become evident to their fans, Daren is one hell of a steady man when it comes to his love life. On the one hand, it seemed that he was linked to his co-actress, while on the other, we could not ignore the steamy pictures of Daren walking arm in arm with the actress Jacqueline Wood.
Well, he has been dating Jacqueline for quite a long time: the news of their affair dates back to 2009. Their love life spilled out in public when they were captured locking their lips by paparazzi.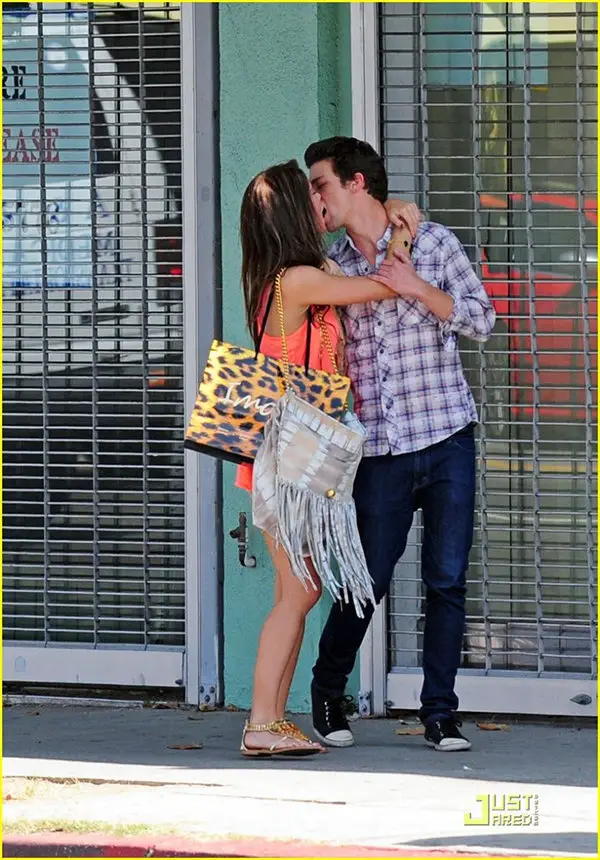 Daren kissing his then-girlfriend, Jacqueline Wood (Photo: JustJaredJr.com)
Don't Miss:- Michael Rainey Jr. Wiki: Details On Family And Net Worth!
But he remains interested in being in a relationship, as he has disclosed the qualities he seeks in his ideal girlfriend. As per Daren, the duo was often spotted shopping, clubbing, and casually strolling together. But, they slowly alleviated their presence from the media and ended their relationship with a silent departure.
 "I want a girl who lets me do my own thing, but who is going to be by my side the whole time, because I know I'd be supportive of her."
Daren, who had his first smooch when he was just thirteen, further admits that the lady should be a good kisser.
 And kissing is a big thing for me! You have to be a good kisser."
Instead of sharing the social media screen with the beautiful ladies, in 2018, he seems to content into his family life with parents. On 14 May 2018, he shared the picture of himself with his mother on Instagram referring to her as 'gun gun,'  and wished her "Happy Mother's day."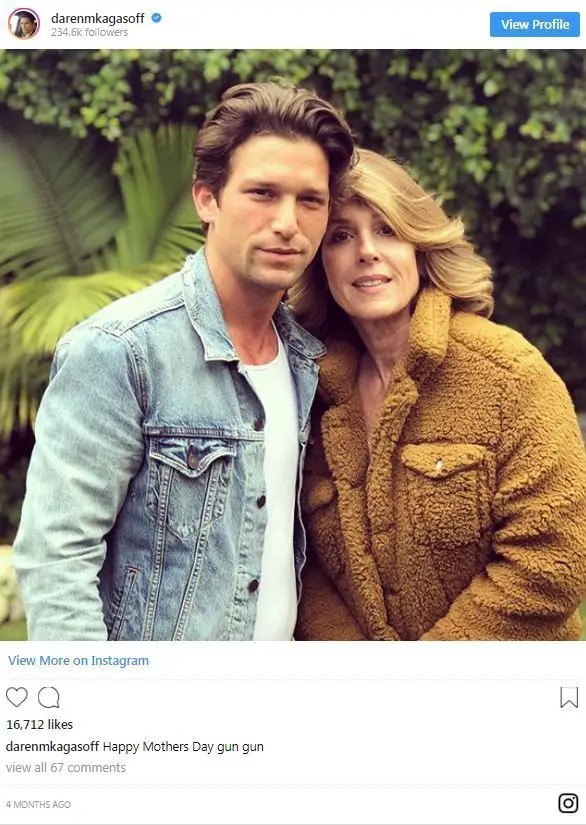 Daren Kagasoff wishes mother on Mother's Day (Photo: Daren Kagasoff's Instagram)
Similarly, on the father's day, he shared the picture with his dashing father on Instagram on 18 June 2018 wishing him, "Happy Father's Day." Aside from wishing father and mother, he is not seen sharing the picture with her siblings on the National Siblings Day.
He is born as the middle child who has an older brother named Justin and a younger sister named Natalie.
Career, "The Village"
Wrapping up personal affairs under his sleeves, Daren is having a great time in his professional career, and his private life seems to be just as good. He has been awfully competent at keeping himself away from the controversies.
You May Also Like:- CNN Hottie S. E. Cupp's Married life. Boyfriend-Turned-Husband John Goodwin and Their Baby
After closing the chapter of Secret Life of American Teenagers, he began a new episode of his career as the male lead in Delirium. Following this, Daren started to solidify his height in the Hollywood industry as an actor on the rise.
As of 2018, he has landed a regular role in NBC's drama The Village, which is produced and written by Daniels.  Also, he has been updating the information about his new series via social media. He took to Twitter on 13 May 2018 sharing the cover photo of The Village. 
Talking about his acting credits, his other notable performance include his work in the horror movie Ouija alongside Olivia Cooke, Ana Coto, Douglas Smith and Bianca A. Santos.
Think we're missing something? Do let us know in the comment section below!